Homeless man lives with dead people for 15 years
Grave-squatting Serbian survives on foraged candles, garbage scraps and cigarette butts.
The next time you find yourself complaining about the high cost of living consider this: You could always live in a cemetery. For free. That's what a 43-year-old homeless man from Serbia has been doing for the past 15 years, reports the International Business Times.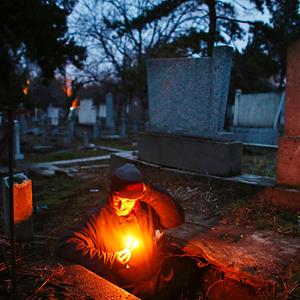 More from MSN Living: 40 time-saving tips 
Former construction worker, Bratislav Stojanovic, has been sleeping in a garbage-filled concrete space, spanning only two square yards in Nis, south Serbia. After getting robbed by other homeless people on several occasions, he moved to the cemetery, a place with minimal (live) human interference.
More from MSN Living: 7 easy ways to get better sleep
Stojanovic spends much of his time foraging for candles to keep his modest space warm and survives on a diet of food scraps he finds in the garbage.
From the outside, living a life six feet under looks like a lonely existence.
Bing: Strangest houses in the world
"I had a friend who also lived at the cemetery, but he left as his grave was damp," he told the International Business Times. "I had a girlfriend, also homeless, but she's gone. She died, but it is nicer to say that she's gone," he was quoted.
Living underground seems like a major lifestyle adjustment.
"I was afraid in the beginning, but I got used to it in time. Now I am more afraid of the living than of the dead," he told Reuters.
Read more of the rest of the story here.
What do you think of this unusual living situation?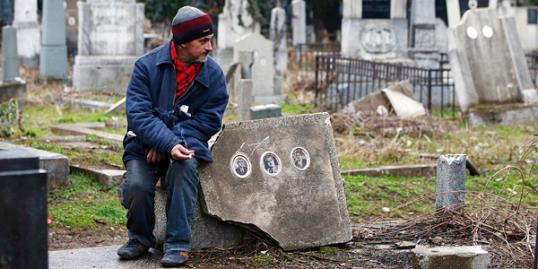 More from The Daily Dose:
The most common job for women?
Chinese New Year: Which animal are you?
Boy Scout gay policy: What would change?
Love content like this? Friend us on Facebook, follow us on Twitter and find us on Pinterest
Photos: Marko Djurica/Reuters                     
inspire: live a better life
Use these bucket-list ideas to enjoy the little time you have left.

Study points to benefits of improved living conditions.

Don't leave home without these must-have items.

Handshakes spread 20 times more germs, study says.

Drowning in debt? Maybe there's a silver lining.

"But it's not real life, you know. It's a vacation."

Our list of must-dos before hitting the road.

Summer traditions can be great, but if you're on year six of packing the same people into the same car to go on the same vacation, it's time to switch things up. Surfing in Portugal, perhaps – or cycling through Northern Ireland. We've put together a list of 15 places well off the beaten path that you should go to when you're ready to try something new.

Grab a sleeping bag and head out to one of these amazing campsites.

A dozen adventures that are well worth the trip.

Paper downplays the significance of practice over raw talent.

Survey says American teens aren't great at complex or basic financial tasks.