Homeless man lives with dead people for 15 years
Grave-squatting Serbian survives on foraged candles, garbage scraps and cigarette butts.
The next time you find yourself complaining about the high cost of living consider this: You could always live in a cemetery. For free. That's what a 43-year-old homeless man from Serbia has been doing for the past 15 years, reports the International Business Times.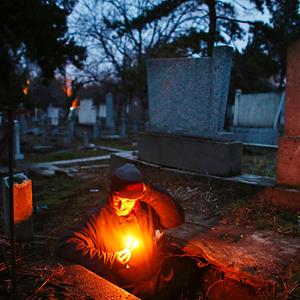 More from MSN Living: 40 time-saving tips 
Former construction worker, Bratislav Stojanovic, has been sleeping in a garbage-filled concrete space, spanning only two square yards in Nis, south Serbia. After getting robbed by other homeless people on several occasions, he moved to the cemetery, a place with minimal (live) human interference.
More from MSN Living: 7 easy ways to get better sleep
Stojanovic spends much of his time foraging for candles to keep his modest space warm and survives on a diet of food scraps he finds in the garbage.
From the outside, living a life six feet under looks like a lonely existence.
Bing: Strangest houses in the world
"I had a friend who also lived at the cemetery, but he left as his grave was damp," he told the International Business Times. "I had a girlfriend, also homeless, but she's gone. She died, but it is nicer to say that she's gone," he was quoted.
Living underground seems like a major lifestyle adjustment.
"I was afraid in the beginning, but I got used to it in time. Now I am more afraid of the living than of the dead," he told Reuters.
Read more of the rest of the story here.
What do you think of this unusual living situation?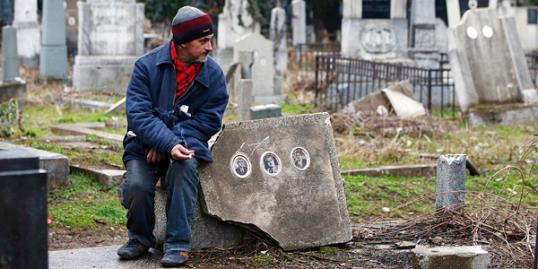 More from The Daily Dose:
The most common job for women?
Chinese New Year: Which animal are you?
Boy Scout gay policy: What would change?
Love content like this? Friend us on Facebook, follow us on Twitter and find us on Pinterest
Photos: Marko Djurica/Reuters                     
inspire: live a better life
Young or old, everyone loves a great fireworks show! So go on and celebrate America's birthday at these top fireworks displays across the USA.

Botanical gardens are more than the sum of their flora.

Expect that things will get better. Then take action to move toward serenity.

Those who do may be more conscientious than most.