Homeless man lives with dead people for 15 years
Grave-squatting Serbian survives on foraged candles, garbage scraps and cigarette butts.
The next time you find yourself complaining about the high cost of living consider this: You could always live in a cemetery. For free. That's what a 43-year-old homeless man from Serbia has been doing for the past 15 years, reports the International Business Times.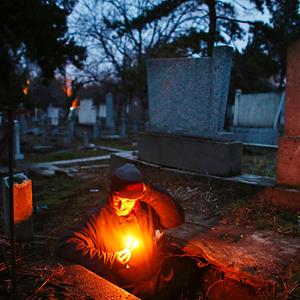 More from MSN Living: 40 time-saving tips 
Former construction worker, Bratislav Stojanovic, has been sleeping in a garbage-filled concrete space, spanning only two square yards in Nis, south Serbia. After getting robbed by other homeless people on several occasions, he moved to the cemetery, a place with minimal (live) human interference.
More from MSN Living: 7 easy ways to get better sleep
Stojanovic spends much of his time foraging for candles to keep his modest space warm and survives on a diet of food scraps he finds in the garbage.
From the outside, living a life six feet under looks like a lonely existence.
Bing: Strangest houses in the world
"I had a friend who also lived at the cemetery, but he left as his grave was damp," he told the International Business Times. "I had a girlfriend, also homeless, but she's gone. She died, but it is nicer to say that she's gone," he was quoted.
Living underground seems like a major lifestyle adjustment.
"I was afraid in the beginning, but I got used to it in time. Now I am more afraid of the living than of the dead," he told Reuters.
Read more of the rest of the story here.
What do you think of this unusual living situation?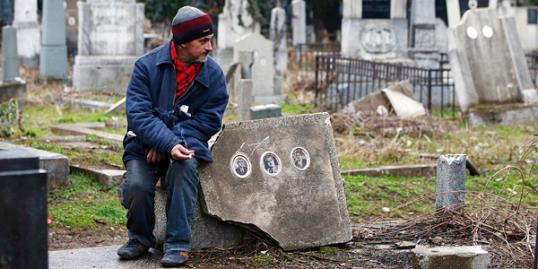 More from The Daily Dose:
The most common job for women?
Chinese New Year: Which animal are you?
Boy Scout gay policy: What would change?
Love content like this? Friend us on Facebook, follow us on Twitter and find us on Pinterest
Photos: Marko Djurica/Reuters                     
inspire: live a better life
Fear of Moving Away: How to conquer the latest cultural anxiety and embrace the unknown.

Adulthood has no eureka moment.

Just like your body, your brain needs a regular workout too.

Being a winner is a good feeling to have — especially in life. Winning doesn't solely relate to competitions or Charlie Sheen's coining of the term back in 2011. From achieving success to maintaining a work-life balance, find out what characteristics mean your life is going the way it should be. You may just even find an inspiration or two that you'll want to incorporate into your daily routine!

Sometimes it seems like you need a vacation from your vacation.

That'll get you and your 2 kids a house, SUV, and more, per a 'USA Today' analysis.

While most of us associate the Fourth of July with fireworks and barbecue (and taking a long weekend off from work), it's also an important day to give thanks to the people who help keep us safe.

For a truly out-of-the-box vacation, skip traditional hotels and opt for unique lodging.

Save money (and your sanity) whether you're flying, driving or riding the rails to your getaway

Get the inside track on exploring America by train with these three incredible itineraries.

Dramatic vistas! Tickling bubbles! Heavenly steam! Hot springs prove Mother Nature wanted us to luxuriate at one of these affordable spa escapes.

You're only going to make them feel worse, say researchers.