Homeless man lives with dead people for 15 years
Grave-squatting Serbian survives on foraged candles, garbage scraps and cigarette butts.
The next time you find yourself complaining about the high cost of living consider this: You could always live in a cemetery. For free. That's what a 43-year-old homeless man from Serbia has been doing for the past 15 years, reports the International Business Times.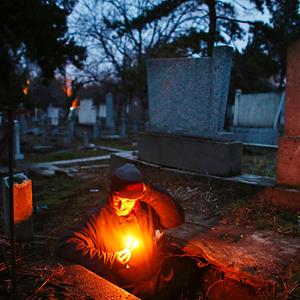 More from MSN Living: 40 time-saving tips 
Former construction worker, Bratislav Stojanovic, has been sleeping in a garbage-filled concrete space, spanning only two square yards in Nis, south Serbia. After getting robbed by other homeless people on several occasions, he moved to the cemetery, a place with minimal (live) human interference.
More from MSN Living: 7 easy ways to get better sleep
Stojanovic spends much of his time foraging for candles to keep his modest space warm and survives on a diet of food scraps he finds in the garbage.
From the outside, living a life six feet under looks like a lonely existence.
Bing: Strangest houses in the world
"I had a friend who also lived at the cemetery, but he left as his grave was damp," he told the International Business Times. "I had a girlfriend, also homeless, but she's gone. She died, but it is nicer to say that she's gone," he was quoted.
Living underground seems like a major lifestyle adjustment.
"I was afraid in the beginning, but I got used to it in time. Now I am more afraid of the living than of the dead," he told Reuters.
Read more of the rest of the story here.
What do you think of this unusual living situation?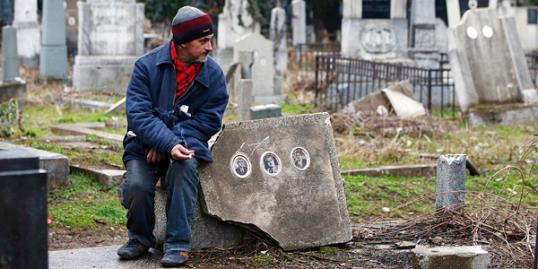 More from The Daily Dose:
The most common job for women?
Chinese New Year: Which animal are you?
Boy Scout gay policy: What would change?
Love content like this? Friend us on Facebook, follow us on Twitter and find us on Pinterest
Photos: Marko Djurica/Reuters                     
inspire: live a better life
When you think of Las Vegas, noisy casinos, clubs, smoking, crowds and loud music all come to mind. In the past few years, an increasing number of non-casino hotels have opened, catering to business travelers or leisure travelers seeking a peaceful retreat. According to the NY Times, tourists are coming to Las Vegas, but the amount they're spending on gambling is down. From the Mandarin Oriental to the Vdara Hotel & Space, many of these luxury hotels are smaller than their non-casino counterparts, which offers a more personalized experience. Visitors to these quiet, high-end hotels tend to spend their time in Las Vegas going to shops, eating at upscale restaurants, shopping and relaxing by the pool. Most of the quiet hotels are located on or near the strip, giving visitors easy access to activities but also an escape from the strip's sensory overload. I've rounded up a list of the top 5 non-casino hotels.

Happify shares their results of a recent study on how money affects our happiness.

A top exec reveals the company's secret code

Pro tips from the guy who's done it four times

Not all mistakes are as blatant as posting party pics when you're 'sick' at home.

Everyone struggles through weekday drudgery to reach their weekend fun. But what if you could reclaim every day of your life?

Ranked from the least to the most involved, here are the services, strategies, and products that can throw the data trackers off your trail.

Here are the 10 worst cities to have a morning commute, and a few tips for getting around the gridlock.

Zooming up the ladder is great, but questioning yourself 24/7 is no way to succeed. Manage your stressed self with these surefire tips.

Forget trying to control every little detail. Life is lots more fun (and less stressful) when you let go from the get-go.

Some compulsions come from urban legends -- that never shutting down your computer, for example, means never forcing it to make the processor-straining effort to turn itself back on. Others are fully unconscious, such as papering your PC desktop with saved files and wondering why it's suddenly stuttering or crashing, or charging your phone whenever you're near an outlet, and later complaining about your plummeting battery capacity. Here are some of the most common maladaptive tech habits, and the easiest ways to break them.

So, what exactly is this thing we call "happiness" and how do we get it?