The Limits of Loyalty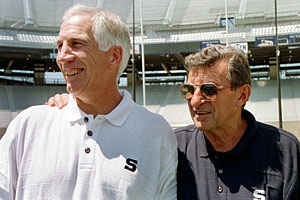 Nothing deserves attention in the Sandusky case as much as the bravery of the victims who have come forward, the horrors of a trusted authority figure, and the damning of every person responsible for concealing the truth. But one thread running through the many layers of this heinous case is the issue of loyalty. Was the seemingly admirable trait of loyalty, whether to a friend or to a venerated institution, behind the refusal of Paterno and others to blow the whistle on Sandusky?
The philosopher Simon Keller, in his award-winning book The Limits of Loyalty, begins to define loyalty as "the idea of a certain kind of relationship between individuals and the things to which they are loyal." Though loyalty has the potential to be an admirable trait, it's not in an of itself a virtue. It can be woven into a relationship with no acknowledgment at all of moral code. Think of what loyalty, whether blind or with eyes wide open, to certain people and causes has wrought over the course of history. Loyalty can be harnessed for good just as easily as it can be exploited for evil.
Loyalty to a legacy has now surfaced as a problem for Penn State alums and fans. Should the famous statue of Paterno remain standing in loyalty to the winningest coach in major-college football history? While the university decides, a guard is now posted to protect the sculpture. Comments on a NYT blog cover the range of responses: "That Paterno statue needs to come down Baghad-style today!"; "I'm numb to the lack of patience…Tear down a statue based on 61 years of service, the majority before the stain of one man arose?"; "Keep the statue, but turn it around 180 degrees because Paterno looked the other way."
There's no inherent value in loyalty without integrity. No virtue at all can be wrung out of the complicity of Joe Paterno and other Penn State officials in the Sandusky affair. Loyalty is justifiably smashed under the weight of moral corruption. Sandusky abdicated all loyalty with his atrocities. Paterno, Spanier, Shultz, Curley — none of them owed him a damn thing, and they should have known as much.
Photo: Paul Vathis/AP
inspire: live a better life
Drowning in debt? Maybe there's a silver lining.

"But it's not real life, you know. It's a vacation."

Our list of must-dos before hitting the road.

Summer traditions can be great, but if you're on year six of packing the same people into the same car to go on the same vacation, it's time to switch things up. Surfing in Portugal, perhaps – or cycling through Northern Ireland. We've put together a list of 15 places well off the beaten path that you should go to when you're ready to try something new.

Grab a sleeping bag and head out to one of these amazing campsites.

A dozen adventures that are well worth the trip.

Paper downplays the significance of practice over raw talent.

Survey says American teens aren't great at complex or basic financial tasks.

Fear of Moving Away: How to conquer the latest cultural anxiety and embrace the unknown.

Adulthood has no eureka moment.

Just like your body, your brain needs a regular workout too.

Being a winner is a good feeling to have — especially in life. Winning doesn't solely relate to competitions or Charlie Sheen's coining of the term back in 2011. From achieving success to maintaining a work-life balance, find out what characteristics mean your life is going the way it should be. You may just even find an inspiration or two that you'll want to incorporate into your daily routine!