The Limits of Loyalty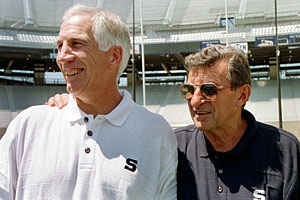 Nothing deserves attention in the Sandusky case as much as the bravery of the victims who have come forward, the horrors of a trusted authority figure, and the damning of every person responsible for concealing the truth. But one thread running through the many layers of this heinous case is the issue of loyalty. Was the seemingly admirable trait of loyalty, whether to a friend or to a venerated institution, behind the refusal of Paterno and others to blow the whistle on Sandusky?
The philosopher Simon Keller, in his award-winning book The Limits of Loyalty, begins to define loyalty as "the idea of a certain kind of relationship between individuals and the things to which they are loyal." Though loyalty has the potential to be an admirable trait, it's not in an of itself a virtue. It can be woven into a relationship with no acknowledgment at all of moral code. Think of what loyalty, whether blind or with eyes wide open, to certain people and causes has wrought over the course of history. Loyalty can be harnessed for good just as easily as it can be exploited for evil.
Loyalty to a legacy has now surfaced as a problem for Penn State alums and fans. Should the famous statue of Paterno remain standing in loyalty to the winningest coach in major-college football history? While the university decides, a guard is now posted to protect the sculpture. Comments on a NYT blog cover the range of responses: "That Paterno statue needs to come down Baghad-style today!"; "I'm numb to the lack of patience…Tear down a statue based on 61 years of service, the majority before the stain of one man arose?"; "Keep the statue, but turn it around 180 degrees because Paterno looked the other way."
There's no inherent value in loyalty without integrity. No virtue at all can be wrung out of the complicity of Joe Paterno and other Penn State officials in the Sandusky affair. Loyalty is justifiably smashed under the weight of moral corruption. Sandusky abdicated all loyalty with his atrocities. Paterno, Spanier, Shultz, Curley — none of them owed him a damn thing, and they should have known as much.
Photo: Paul Vathis/AP
inspire: live a better life
Summer and winter tend to hog all the glory when it comes to travel high seasons. Sure, you want to soak up all the time at the beach you can during the summer, and you just want to escape the cold during the last months of the year.

Who just wants to stand around and watch the red and gold leaves slowly fall from their tree branches to the ground as we move from summer to fall? Instead, take in the changing seasons while you're on the move.

In September, I'll turn 38. I'm at the age now where, when people ask how old I am, it takes me a minute to remember. I don't know if that's because I've already been 37 different ages and it's hard to keep straight which one I am now, or if it's because I'm in denial, or if it's because I am going senile. Maybe a combination of all of the above. Regardless, my 30s have flown by and soon they will be but a memory. So, in an effort to preserve the memory I have left (or at least keep a record of it), and to celebrate what has been an amazing decade so far, here are 30 things that have happened to me in my 30s (and will probably happen to you too):

Traveling doesn't have to be stressful. And what you can fit in your carry-on can make all the difference (and not just a fresh pair of socks), especially when you get that low battery signal.

Volunteering (and these other rituals) might be just as good as exercise when it comes to extending your life.

Use these tricks to set a better tone for the rest of the week.

Whether it involves a food fight, mermaids or a torch-lit procession, people the world over know how to have a good time. Here are some of the biggest, boldest, booziest celebrations around, along with some tips to get the full experience.

Research could mean more effective treatment for human disorders.

An entry a day might keep the doctor away (or at least the shrink).

One woman's shout-outs to daily moments of joy — and how to cultivate them.

Our best health and fitness tips including the one move that tones all, berry news, and more.