The Limits of Loyalty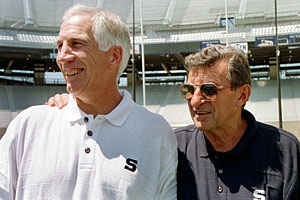 Nothing deserves attention in the Sandusky case as much as the bravery of the victims who have come forward, the horrors of a trusted authority figure, and the damning of every person responsible for concealing the truth. But one thread running through the many layers of this heinous case is the issue of loyalty. Was the seemingly admirable trait of loyalty, whether to a friend or to a venerated institution, behind the refusal of Paterno and others to blow the whistle on Sandusky?
The philosopher Simon Keller, in his award-winning book The Limits of Loyalty, begins to define loyalty as "the idea of a certain kind of relationship between individuals and the things to which they are loyal." Though loyalty has the potential to be an admirable trait, it's not in an of itself a virtue. It can be woven into a relationship with no acknowledgment at all of moral code. Think of what loyalty, whether blind or with eyes wide open, to certain people and causes has wrought over the course of history. Loyalty can be harnessed for good just as easily as it can be exploited for evil.
Loyalty to a legacy has now surfaced as a problem for Penn State alums and fans. Should the famous statue of Paterno remain standing in loyalty to the winningest coach in major-college football history? While the university decides, a guard is now posted to protect the sculpture. Comments on a NYT blog cover the range of responses: "That Paterno statue needs to come down Baghad-style today!"; "I'm numb to the lack of patience…Tear down a statue based on 61 years of service, the majority before the stain of one man arose?"; "Keep the statue, but turn it around 180 degrees because Paterno looked the other way."
There's no inherent value in loyalty without integrity. No virtue at all can be wrung out of the complicity of Joe Paterno and other Penn State officials in the Sandusky affair. Loyalty is justifiably smashed under the weight of moral corruption. Sandusky abdicated all loyalty with his atrocities. Paterno, Spanier, Shultz, Curley — none of them owed him a damn thing, and they should have known as much.
Photo: Paul Vathis/AP
inspire: live a better life
With all those deals you snagged on Black Friday, Small Business Saturday, and Cyber Monday, today is your chance to give back to those in need with #GivingTuesday.

Miss Manners provides guidance on how to handle a request for party contributions

Miss Manners instructs on why tit-for-tat never works

Miss Manners offers thoughts on guests who disregard dinner party instructions

Make big bucks, from home, having fun? These women got creative and figured out a way to have it all. You can too.

Your boss. You might like her, you probably respect her, but do you know how to approach someone who seems so different from you? (Spoiler: She's actually not.)

Over the weekend, Oprah decluttered her Montecito mansion and three other properties in a Santa Barbara yard sale that brought in more than $600,000(!). (Proceeds will benefit her girls' leadership academy in South Africa, and not half of a Crate and Barrel chair, the traditional end goal of yard-sale proceeds.)

Exclusively for MSN, we bring you a six-part series from the new book: MISS MANNERS MINDS YOUR BUSINESS by Judith and Nicholas Ivor Martin.

Miss Manners weighs in on the financial burdens of remote weddings

How Miss Manners suggests dealing with out of town guest who want tour guide services

Exclusively for MSN, we bring you a six-part series from the new book: MISS MANNERS MINDS YOUR BUSINESS by Judith and Nicholas Ivor Martin.