The sick, the blind and the busted
The very best and very worst of the news week ending Feb 15.
Every week, the Daily Dose reviews the news to select three very best and three very worst stories to come across our desk.
     —The Very Best —
• After five hungry, sickening and sometimes frightening days at sea, a disabled cruise ship carrying 4,200 people docked in Mobile, Alabama. The Carnival Triumph went adrift between Cozumel, Mexico, and Galveston, Texas, after an engine-room fire knocked out power and plumbing. Passengers sang "Sweet Home Alabama" as the ship concluded a torturously slow day-long docking.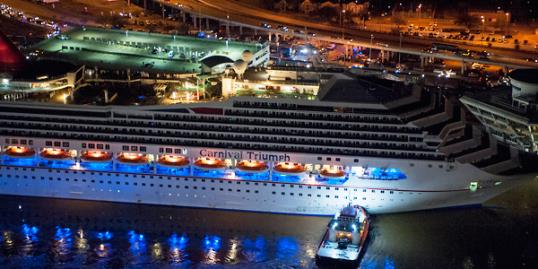 • Shocking pretty much the whole world, Pope Benedict XVI announced his resignation during a meeting of Vatican cardinals on Monday. Benedict is not the first but the fifth pope ever to step down, though the last one was 598 years ago. By explaining that he feels he is too elderly and infirm to lead the Roman Catholic Church, Benedict demonstrates that being responsible sometimes means breaking with tradition — a lesson the church itself has been slow to learn.
More from MSN Living: 40 time-saving tips
• A device that provides limited vision to blind people has been approved by the FDA. An artificial retina, glasses equipped with a camera, and a portable video processor are components of the device, called Argus II. The system allows visual signals to bypass the damaged portion of the retina and be transmitted to the brain. About 100,000 Americans have the particular blindness condition, retinitis pigmentosa, that can be improved by Argus II.
— The Very Worst —
• American Airlines and US Airways have agreed to merge, foretelling the integration of poor customer service with higher ticket prices for leisure travelers. The combined carrier reduces the number of major U.S. airlines to just four, with the new American Airlines to be the largest of all.
More from MSN Living: 7 easy ways to get better sleep
• An unprecedented filibuster among lawmakers is delaying a fair and timely vote on the confirmation of Chuck Hagel as Secretary of Defense. The stall has nothing to do with Hagel's qualifications — he's expected to be confirmed — but is instead driven by Republican infighting, the desire to make the Obama administration lose face and senators jockeying for position in next year's elections. Meantime, the leadership of the Pentagon is left to twist in the wind during wartime. 
• Paralympian Oscar Pistorius is being charged with the premeditated murder of his girlfriend, model Reeva Steenkamp. Prosecutors believe Pistorius shot Steenkamp to death on Valentine's Day in the Olympian's home in South Africa. Pistorius, a double amputee known as the "Blade Runner," made history at the 2012 games in London as the first amputee to compete in the Olympics. A Nike ad describing Pistorius as "the bullet in the chamber" has been pulled.
More from The Daily Dose:
Man lives in tomb for 15 years
The most common job for women?
Chinese New Year: Which animal are you?
Love content like this? Friend us on Facebook, follow us on Twitter and find us on Pinterest
Photo: Jeff Gammons/Getty Images
inspire: live a better life
Here's some tips to get to happiness going forward in your life.

People 60 to 82 did best on cognitive tasks before 10:30am.

Lucille Ball was born in 1911, and though we lost her long ago, her legacy as America's favorite redhead lives on through the timeless classic, "I Love Lucy." People of all generations still enjoy Lucy's antics as much as they did over 60 years ago when the show first premiered.

Summer is coming to an end, and in a few weeks, kids will be forced to trade in their beach bags for backpacks. But just because the season is fading away doesn't mean the memories from the past few months have to disappear with it.

Confidence and perceived competence are key, study finds.

Features lead to assumptions about character, study says.

Great gear for an afternoon spent shoreside.

Use these bucket-list ideas to enjoy the little time you have left.

Study points to benefits of improved living conditions.

Don't leave home without these must-have items.

Handshakes spread 20 times more germs, study says.

Drowning in debt? Maybe there's a silver lining.