Eiffel Tower workers on strike, monument closed
France's most recognizable monument, the Eiffel Tower, has been shut down because of a strike.
PARIS (AP) — The company that manages the Eiffel Tower says the CGT union, which represents most of the Eiffel Tower's 300 workers, called the walkout Tuesday morning.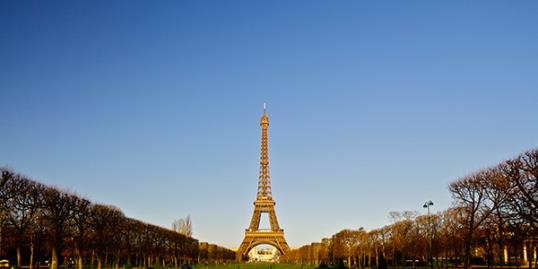 Company director Nicolas Lefebvre told The Associated Press that management and the union are in negotiations this week over salary raises, company profit-sharing policy and other issues.
Bing: Fun facts about the Eiffel Tower
The 124-year-old tower, normally open 365 days a year, sees about 25,000 tourists daily. It occasionally closes because of suicide threats, bomb threats or strikes.
More from Daily Dose:
Wallenda walks tightrope high over Ariz. gorge
Pay-what-you-weigh airline adds XL seats
Gettysburg celebrates milestone
Subscribe to the Daily Dose | Friend us on Facebook, follow us on Twitter and find us on Pinterest.
Photo: Eiffel Tower. Workers are on strike and monument is closed. / Kevin Yulianto/Getty Images
inspire: live a better life
How much do you really know about the Earth? In honor of Earth Day, April 22, we explore some interesting and fun facts about the fifth-largest planet of our solar system.

Happify shares their results of a recent study on how money affects our happiness.

A top exec reveals the company's secret code

Pro tips from the guy who's done it four times

Not all mistakes are as blatant as posting party pics when you're 'sick' at home.

Everyone struggles through weekday drudgery to reach their weekend fun. But what if you could reclaim every day of your life?

Zooming up the ladder is great, but questioning yourself 24/7 is no way to succeed. Manage your stressed self with these surefire tips.

Forget trying to control every little detail. Life is lots more fun (and less stressful) when you let go from the get-go.

So, what exactly is this thing we call "happiness" and how do we get it?

Mark Zuckerberg has an even bigger effect on your life than you thought.

Everyone makes mistakes, but some mistakes can be devastating. Here are 10 icons who fell from grace, and what they can do to redeem themselves.

Twitter turns eight years old today.