Eiffel Tower workers on strike, monument closed
France's most recognizable monument, the Eiffel Tower, has been shut down because of a strike.
PARIS (AP) — The company that manages the Eiffel Tower says the CGT union, which represents most of the Eiffel Tower's 300 workers, called the walkout Tuesday morning.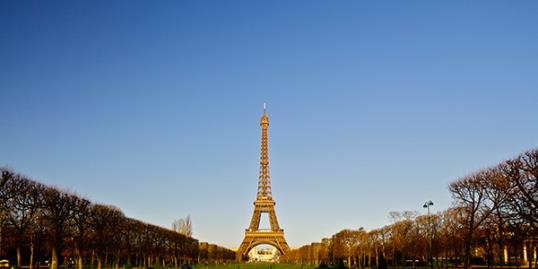 Company director Nicolas Lefebvre told The Associated Press that management and the union are in negotiations this week over salary raises, company profit-sharing policy and other issues.
Bing: Fun facts about the Eiffel Tower
The 124-year-old tower, normally open 365 days a year, sees about 25,000 tourists daily. It occasionally closes because of suicide threats, bomb threats or strikes.
More from Daily Dose:
Wallenda walks tightrope high over Ariz. gorge
Pay-what-you-weigh airline adds XL seats
Gettysburg celebrates milestone
Subscribe to the Daily Dose | Friend us on Facebook, follow us on Twitter and find us on Pinterest.
Photo: Eiffel Tower. Workers are on strike and monument is closed. / Kevin Yulianto/Getty Images
inspire: live a better life
Research could mean more effective treatment for human disorders.

An entry a day might keep the doctor away (or at least the shrink).

One woman's shout-outs to daily moments of joy — and how to cultivate them.

Volunteering (and these other rituals) might be just as good as exercise when it comes to extending your life.

Use these tricks to set a better tone for the rest of the week.

In September, I'll turn 38. I'm at the age now where, when people ask how old I am, it takes me a minute to remember. I don't know if that's because I've already been 37 different ages and it's hard to keep straight which one I am now, or if it's because I'm in denial, or if it's because I am going senile. Maybe a combination of all of the above. Regardless, my 30s have flown by and soon they will be but a memory. So, in an effort to preserve the memory I have left (or at least keep a record of it), and to celebrate what has been an amazing decade so far, here are 30 things that have happened to me in my 30s (and will probably happen to you too):

Our best health and fitness tips including the one move that tones all, berry news, and more.

Who just wants to stand around and watch the red and gold leaves slowly fall from their tree branches to the ground as we move from summer to fall? Instead, take in the changing seasons while you're on the move.

Here's some tips to get to happiness going forward in your life.

People 60 to 82 did best on cognitive tasks before 10:30am.

Lucille Ball was born in 1911, and though we lost her long ago, her legacy as America's favorite redhead lives on through the timeless classic, "I Love Lucy." People of all generations still enjoy Lucy's antics as much as they did over 60 years ago when the show first premiered.