Eiffel Tower workers on strike, monument closed
France's most recognizable monument, the Eiffel Tower, has been shut down because of a strike.
PARIS (AP) — The company that manages the Eiffel Tower says the CGT union, which represents most of the Eiffel Tower's 300 workers, called the walkout Tuesday morning.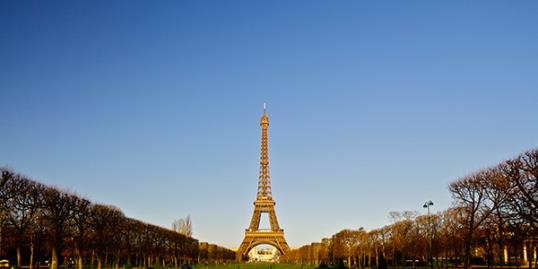 Company director Nicolas Lefebvre told The Associated Press that management and the union are in negotiations this week over salary raises, company profit-sharing policy and other issues.
Bing: Fun facts about the Eiffel Tower
The 124-year-old tower, normally open 365 days a year, sees about 25,000 tourists daily. It occasionally closes because of suicide threats, bomb threats or strikes.
More from Daily Dose:
Wallenda walks tightrope high over Ariz. gorge
Pay-what-you-weigh airline adds XL seats
Gettysburg celebrates milestone
Subscribe to the Daily Dose | Friend us on Facebook, follow us on Twitter and find us on Pinterest.
Photo: Eiffel Tower. Workers are on strike and monument is closed. / Kevin Yulianto/Getty Images
inspire: live a better life
You'll stave off credit card debt by the end of the year if you account for these often-forgotten expenses.

Mark Zuckerberg has an even bigger effect on your life than you thought.

Take this advice to finally tackle that nagging to-do list.

The iconic storyteller would have been 110-years-old

Take the time to appreciate women's contributions to society. Here are some of the women who inspire us by their example.

Cast of the iconic TV show reunites for Florence Henderson's birthday

We couldn't be more excited to watch the best athletes in the world compete at the Winter Olympics in Sochi. This year, about 44 percent of the competitors are women according to the International Olympic Committee—which is awesome but wasn't always the case. Let's look back at some of the amazing women who paved the way with incredible, memorable feats of girl power.

Still pulling yourself out of holiday credit card debt? Ready to pool some funds for that beach vacation you've been dreaming about at your desk? We're with you 100 percent.

"FOMO, the fear of missing out, is a form of social anxiety," says psychiatrist Gail Saltz. "This type of fear tends to cause compulsive behaviors, like checking out other social situations even as you are in the middle of one currently."

When The Shriver Report was released in early January, we shared some of the more interesting statistics about income equality, the wage gap, and other issues confronting women.

Clay Aiken to run for public office.

Here's how to boost your joy — and put more cash in your pocket.