Eiffel Tower workers on strike, monument closed
France's most recognizable monument, the Eiffel Tower, has been shut down because of a strike.
PARIS (AP) — The company that manages the Eiffel Tower says the CGT union, which represents most of the Eiffel Tower's 300 workers, called the walkout Tuesday morning.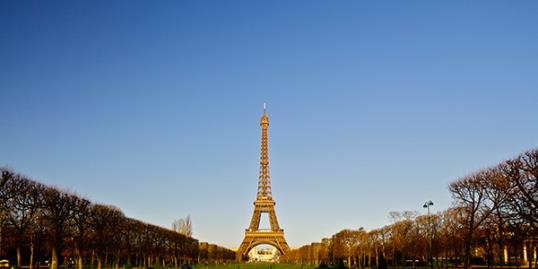 Company director Nicolas Lefebvre told The Associated Press that management and the union are in negotiations this week over salary raises, company profit-sharing policy and other issues.
Bing: Fun facts about the Eiffel Tower
The 124-year-old tower, normally open 365 days a year, sees about 25,000 tourists daily. It occasionally closes because of suicide threats, bomb threats or strikes.
More from Daily Dose:
Wallenda walks tightrope high over Ariz. gorge
Pay-what-you-weigh airline adds XL seats
Gettysburg celebrates milestone
Subscribe to the Daily Dose | Friend us on Facebook, follow us on Twitter and find us on Pinterest.
Photo: Eiffel Tower. Workers are on strike and monument is closed. / Kevin Yulianto/Getty Images
inspire: live a better life
Summer traditions can be great, but if you're on year six of packing the same people into the same car to go on the same vacation, it's time to switch things up. Surfing in Portugal, perhaps – or cycling through Northern Ireland. We've put together a list of 15 places well off the beaten path that you should go to when you're ready to try something new.

Grab a sleeping bag and head out to one of these amazing campsites.

A dozen adventures that are well worth the trip.

Paper downplays the significance of practice over raw talent.

Survey says American teens aren't great at complex or basic financial tasks.

Fear of Moving Away: How to conquer the latest cultural anxiety and embrace the unknown.

Adulthood has no eureka moment.

Just like your body, your brain needs a regular workout too.

Being a winner is a good feeling to have — especially in life. Winning doesn't solely relate to competitions or Charlie Sheen's coining of the term back in 2011. From achieving success to maintaining a work-life balance, find out what characteristics mean your life is going the way it should be. You may just even find an inspiration or two that you'll want to incorporate into your daily routine!

Sometimes it seems like you need a vacation from your vacation.

That'll get you and your 2 kids a house, SUV, and more, per a 'USA Today' analysis.

While most of us associate the Fourth of July with fireworks and barbecue (and taking a long weekend off from work), it's also an important day to give thanks to the people who help keep us safe.