Very best & very worst of the week
Highs and lows of this week's news.
Every week, the Daily Dose reviews the news to select three very best and three very worst stories to come across our desk.
 — The Very Best —
• Responsible conversations about guns are being had, sometimes even with advocates from opposing sides of the issue listening to one another. Though the NRA today maintained a defiant hard line in the wake of the Newtown shooting, the organization also released a genuinely sympathetic statement, gun shows in the region of Newtown were canceled, and even video gamers pledged to observe a national "Day of Online Shooter Cease Fire."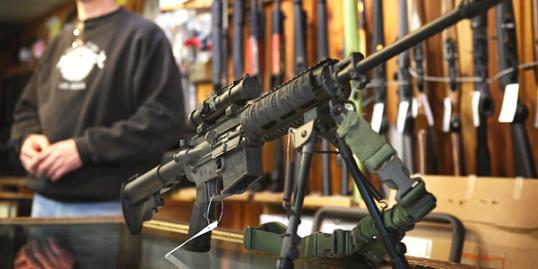 • Five members of an NBC news team returned home safely after being kidnapped in Syria. Chief foreign correspondent Richard Engel and his production team described their ordeal to the Today show's Savannah Guthrie and how they were rescued by an unidentified team of Syrian rebels.
• Researchers at University of California, Berkeley, presented the results of a study showing that applying pressure to women's breasts may help prevent malignant cells from triggering cancer. The news also prompted a Very Best headline of the week — "Squeezing breasts could prevent cancer, best study ever says" — and pages of colorful responses, mostly from overjoyed men.
Honorable mention: The world didn't end.
More from Living: Ugly holiday sweaters
— The Very Worst —
• Charity scams exploiting the tragedy in Newtown have begun to emerge. On Facebook, a user posing as the aunt of one shooting victim solicited PayPal donations to a phony funeral fund. A website in the same seven-year-old child's name was also established, with an undetermined motive, though the family was able to recover the domain and set up an official site for donations. Similar frauds in the wake of catastrophe are not uncommon as parasitic scammers seek avenues for capitalizing on other people's grief. 
More from Living: 20 Pinterest crafting 'fails'
• Instagram wanted to sell out its dedicated user base to advertisers. The photo-sharing service introduced new terms of service enabling advertisers in the Facebook network to use data like users' favorite places, restaurants, and hobbies, and to use their photographs and identity in ads. Faced with an uproar from angry users, Instagram backpedaled and reverted to previous terms of service.
• With only 11 days before automatic tax increases and slashes in government spending come into effect, House Speaker John Boehner was forced to cancel the "Plan B" vote on the fiscal cliff after members of his own Republican party revolted. While America awaits a new plan and passable plan to prevent the economy from reeling, Boehner offered the hopeful statement, "How we get there, God only knows." On the plus side, he didn't cry.
Photo: Scott Olson/Getty Images
Bing: Get the latest news headlines.
More from The Daily Dose:
Unknown Hans Christian Andersen fairy tale found
Why mistletoe and poinsettias are everywhere this time of year
Gender gaps in pay: Worst and best states
Subscribe to the Daily Dose

inspire: live a better life
Summer and winter tend to hog all the glory when it comes to travel high seasons. Sure, you want to soak up all the time at the beach you can during the summer, and you just want to escape the cold during the last months of the year.

Who just wants to stand around and watch the red and gold leaves slowly fall from their tree branches to the ground as we move from summer to fall? Instead, take in the changing seasons while you're on the move.

In September, I'll turn 38. I'm at the age now where, when people ask how old I am, it takes me a minute to remember. I don't know if that's because I've already been 37 different ages and it's hard to keep straight which one I am now, or if it's because I'm in denial, or if it's because I am going senile. Maybe a combination of all of the above. Regardless, my 30s have flown by and soon they will be but a memory. So, in an effort to preserve the memory I have left (or at least keep a record of it), and to celebrate what has been an amazing decade so far, here are 30 things that have happened to me in my 30s (and will probably happen to you too):

Traveling doesn't have to be stressful. And what you can fit in your carry-on can make all the difference (and not just a fresh pair of socks), especially when you get that low battery signal.

Volunteering (and these other rituals) might be just as good as exercise when it comes to extending your life.

Use these tricks to set a better tone for the rest of the week.

Whether it involves a food fight, mermaids or a torch-lit procession, people the world over know how to have a good time. Here are some of the biggest, boldest, booziest celebrations around, along with some tips to get the full experience.

Research could mean more effective treatment for human disorders.

An entry a day might keep the doctor away (or at least the shrink).

One woman's shout-outs to daily moments of joy — and how to cultivate them.

Our best health and fitness tips including the one move that tones all, berry news, and more.