Men less likely than women to leave the nest
Experts explain why it's easier for young men to live with Mom and Dad.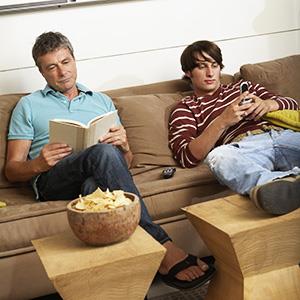 More young Americans than ever are living with Mom and Dad, according to new data from the Pew Research Center. Last year, the number of "millennials" living at home rose to 36 percent. Just five years earlier, the percentage was 32. Interestingly, men between the ages of 18 and 31 are more likely than their female counterparts to stay in the nest.
MSN Living: One-third of millennials regret going to college
Forty percent of millennial males and 32 percent of females live at home, according to a report from The Wall Street Journal's Marketwatch. So what's with the gender gap?
Bing: When were millennials born?
Zhenchao Qian, chair of sociology at Ohio State University, attempts to explain:
"There are more single young men than women out there. This gives unmarried men more time to live with their parents."
MSN Now: How millennials are radically changing America
But there's a potentially more controversial explanation. Kit Yarrow, chair of the psychology department at Golden Gate University in San Francisco, says "parents give their sons more freedom than their daughters … it's easier for a young man to live at home and still feel independent than it would be for a young woman."
Read more about this report here.
Join the editors from MSN Living, Good Housekeeping, Redbook and House Beautiful at NOON Pacific today, August 6 for a Twitter party! We're talking all things back-to-school at hashtag #MSNB2S: http://twitter.com/m​snliving
More from Daily Dose:
RI home lived in while family was on vacation
Alleged seductive audio recording from Lewinsky to Clinton surfaces
ELF vehicle is blend of car, bike
Subscribe to the Daily Dose | Friend us on Facebook, follow us on Twitter and find us on Pinterest.
Photo: Jupiterimages/Getty Images
inspire: live a better life
You'll stave off credit card debt by the end of the year if you account for these often-forgotten expenses.

Mark Zuckerberg has an even bigger effect on your life than you thought.

Take this advice to finally tackle that nagging to-do list.

The iconic storyteller would have been 110-years-old

Take the time to appreciate women's contributions to society. Here are some of the women who inspire us by their example.

Cast of the iconic TV show reunites for Florence Henderson's birthday

We couldn't be more excited to watch the best athletes in the world compete at the Winter Olympics in Sochi. This year, about 44 percent of the competitors are women according to the International Olympic Committee—which is awesome but wasn't always the case. Let's look back at some of the amazing women who paved the way with incredible, memorable feats of girl power.

Still pulling yourself out of holiday credit card debt? Ready to pool some funds for that beach vacation you've been dreaming about at your desk? We're with you 100 percent.

"FOMO, the fear of missing out, is a form of social anxiety," says psychiatrist Gail Saltz. "This type of fear tends to cause compulsive behaviors, like checking out other social situations even as you are in the middle of one currently."

When The Shriver Report was released in early January, we shared some of the more interesting statistics about income equality, the wage gap, and other issues confronting women.

Clay Aiken to run for public office.

Here's how to boost your joy — and put more cash in your pocket.