Men less likely than women to leave the nest
Experts explain why it's easier for young men to live with Mom and Dad.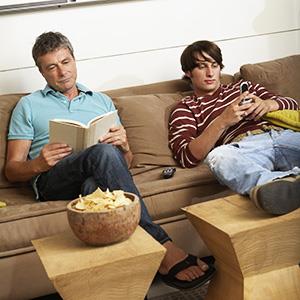 More young Americans than ever are living with Mom and Dad, according to new data from the Pew Research Center. Last year, the number of "millennials" living at home rose to 36 percent. Just five years earlier, the percentage was 32. Interestingly, men between the ages of 18 and 31 are more likely than their female counterparts to stay in the nest.
MSN Living: One-third of millennials regret going to college
Forty percent of millennial males and 32 percent of females live at home, according to a report from The Wall Street Journal's Marketwatch. So what's with the gender gap?
Bing: When were millennials born?
Zhenchao Qian, chair of sociology at Ohio State University, attempts to explain:
"There are more single young men than women out there. This gives unmarried men more time to live with their parents."
MSN Now: How millennials are radically changing America
But there's a potentially more controversial explanation. Kit Yarrow, chair of the psychology department at Golden Gate University in San Francisco, says "parents give their sons more freedom than their daughters … it's easier for a young man to live at home and still feel independent than it would be for a young woman."
Read more about this report here.
Join the editors from MSN Living, Good Housekeeping, Redbook and House Beautiful at NOON Pacific today, August 6 for a Twitter party! We're talking all things back-to-school at hashtag #MSNB2S: http://twitter.com/m​snliving
More from Daily Dose:
RI home lived in while family was on vacation
Alleged seductive audio recording from Lewinsky to Clinton surfaces
ELF vehicle is blend of car, bike
Subscribe to the Daily Dose | Friend us on Facebook, follow us on Twitter and find us on Pinterest.
Photo: Jupiterimages/Getty Images
inspire: live a better life
How much do you really know about the Earth? In honor of Earth Day, April 22, we explore some interesting and fun facts about the fifth-largest planet of our solar system.

Happify shares their results of a recent study on how money affects our happiness.

A top exec reveals the company's secret code

Pro tips from the guy who's done it four times

Not all mistakes are as blatant as posting party pics when you're 'sick' at home.

Everyone struggles through weekday drudgery to reach their weekend fun. But what if you could reclaim every day of your life?

Zooming up the ladder is great, but questioning yourself 24/7 is no way to succeed. Manage your stressed self with these surefire tips.

Forget trying to control every little detail. Life is lots more fun (and less stressful) when you let go from the get-go.

So, what exactly is this thing we call "happiness" and how do we get it?

Mark Zuckerberg has an even bigger effect on your life than you thought.

Everyone makes mistakes, but some mistakes can be devastating. Here are 10 icons who fell from grace, and what they can do to redeem themselves.

Twitter turns eight years old today.