Seattleites vie for world's largest snowball fight
More than 162,000 pounds of 'donated' snow will be trucked from the mountains.
Crazy or awesome? A group of Seattle professionals is taking winter fun to the extreme with plans to break the Guinness World Record for the world's largest snowball fight, reports KPLU.org. The record is currently held by the city of Taebaek City in the Republic of Korea.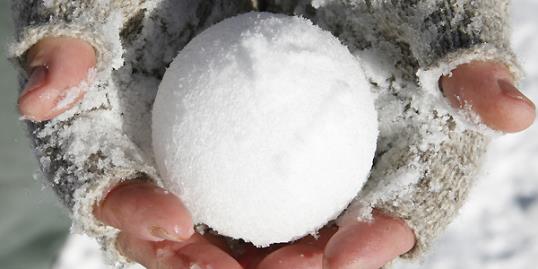 More on MSN Living: 100 ways to save money in 2013
There's one small logistical issue: They're holding this flake-filled showdown in a place where it typically doesn't snow – Seattle Center. To work around this weather-related detail, organizer Neil Bergquist plans to truck in more than 162,000 pounds of 'donated' snow from mountain landowners.
More on MSN Living: 50 best celebrity makeovers of all time
"There will be front loaders loading up the trucks and we'll have an assembly line. Dump trucks will be coming in, one every ten minutes for about five hours," Bergquist was quoted. He estimates that 30 dump trucks should be sufficient.
Think you have the snowball-throwing skills it takes to break a world record? Bergquist hopes to recruit roughly 6,000 adult participants for the Saturday, January 12th snowball fight. The event will be overseen by an official Guinness judge and benefit the Boys and Girls Clubs of King County. And yes, goggles will be provided.
Bing: Weirdest Guinness World Records
Photo: Geri Lavrov/Getty Images
More from MSN Living:
Mansion made from trash
2012's worst words
10 facts about guns in America
inspire: live a better life
You'll stave off credit card debt by the end of the year if you account for these often-forgotten expenses.

Mark Zuckerberg has an even bigger effect on your life than you thought.

The iconic storyteller would have been 110-years-old

Take the time to appreciate women's contributions to society. Here are some of the women who inspire us by their example.

Cast of the iconic TV show reunites for Florence Henderson's birthday

We couldn't be more excited to watch the best athletes in the world compete at the Winter Olympics in Sochi. This year, about 44 percent of the competitors are women according to the International Olympic Committee—which is awesome but wasn't always the case. Let's look back at some of the amazing women who paved the way with incredible, memorable feats of girl power.

Still pulling yourself out of holiday credit card debt? Ready to pool some funds for that beach vacation you've been dreaming about at your desk? We're with you 100 percent.

"FOMO, the fear of missing out, is a form of social anxiety," says psychiatrist Gail Saltz. "This type of fear tends to cause compulsive behaviors, like checking out other social situations even as you are in the middle of one currently."

When The Shriver Report was released in early January, we shared some of the more interesting statistics about income equality, the wage gap, and other issues confronting women.

Clay Aiken to run for public office.

Here's how to boost your joy — and put more cash in your pocket.

Our personal finance guru, Tanisha A. Sykes, shares how small investments can pay off big. Here's what you can do with the following: