Seattleites vie for world's largest snowball fight
More than 162,000 pounds of 'donated' snow will be trucked from the mountains.
Crazy or awesome? A group of Seattle professionals is taking winter fun to the extreme with plans to break the Guinness World Record for the world's largest snowball fight, reports KPLU.org. The record is currently held by the city of Taebaek City in the Republic of Korea.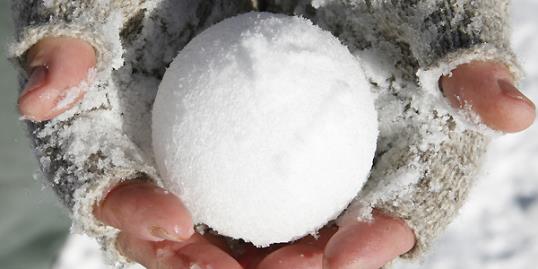 More on MSN Living: 100 ways to save money in 2013
There's one small logistical issue: They're holding this flake-filled showdown in a place where it typically doesn't snow – Seattle Center. To work around this weather-related detail, organizer Neil Bergquist plans to truck in more than 162,000 pounds of 'donated' snow from mountain landowners.
More on MSN Living: 50 best celebrity makeovers of all time
"There will be front loaders loading up the trucks and we'll have an assembly line. Dump trucks will be coming in, one every ten minutes for about five hours," Bergquist was quoted. He estimates that 30 dump trucks should be sufficient.
Think you have the snowball-throwing skills it takes to break a world record? Bergquist hopes to recruit roughly 6,000 adult participants for the Saturday, January 12th snowball fight. The event will be overseen by an official Guinness judge and benefit the Boys and Girls Clubs of King County. And yes, goggles will be provided.
Bing: Weirdest Guinness World Records
Photo: Geri Lavrov/Getty Images
More from MSN Living:
Mansion made from trash
2012's worst words
10 facts about guns in America
inspire: live a better life
How much do you really know about the Earth? In honor of Earth Day, April 22, we explore some interesting and fun facts about the fifth-largest planet of our solar system.

Happify shares their results of a recent study on how money affects our happiness.

A top exec reveals the company's secret code

Pro tips from the guy who's done it four times

Not all mistakes are as blatant as posting party pics when you're 'sick' at home.

Everyone struggles through weekday drudgery to reach their weekend fun. But what if you could reclaim every day of your life?

Zooming up the ladder is great, but questioning yourself 24/7 is no way to succeed. Manage your stressed self with these surefire tips.

Forget trying to control every little detail. Life is lots more fun (and less stressful) when you let go from the get-go.

So, what exactly is this thing we call "happiness" and how do we get it?

Mark Zuckerberg has an even bigger effect on your life than you thought.

Everyone makes mistakes, but some mistakes can be devastating. Here are 10 icons who fell from grace, and what they can do to redeem themselves.

Twitter turns eight years old today.