Seattleites vie for world's largest snowball fight
More than 162,000 pounds of 'donated' snow will be trucked from the mountains.
Crazy or awesome? A group of Seattle professionals is taking winter fun to the extreme with plans to break the Guinness World Record for the world's largest snowball fight, reports KPLU.org. The record is currently held by the city of Taebaek City in the Republic of Korea.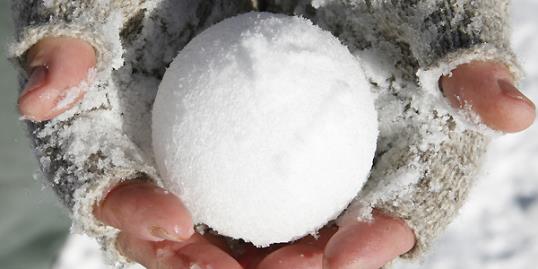 More on MSN Living: 100 ways to save money in 2013
There's one small logistical issue: They're holding this flake-filled showdown in a place where it typically doesn't snow – Seattle Center. To work around this weather-related detail, organizer Neil Bergquist plans to truck in more than 162,000 pounds of 'donated' snow from mountain landowners.
More on MSN Living: 50 best celebrity makeovers of all time
"There will be front loaders loading up the trucks and we'll have an assembly line. Dump trucks will be coming in, one every ten minutes for about five hours," Bergquist was quoted. He estimates that 30 dump trucks should be sufficient.
Think you have the snowball-throwing skills it takes to break a world record? Bergquist hopes to recruit roughly 6,000 adult participants for the Saturday, January 12th snowball fight. The event will be overseen by an official Guinness judge and benefit the Boys and Girls Clubs of King County. And yes, goggles will be provided.
Bing: Weirdest Guinness World Records
Photo: Geri Lavrov/Getty Images
More from MSN Living:
Mansion made from trash
2012's worst words
10 facts about guns in America
inspire: live a better life
Don't leave home without these must-have items.

Handshakes spread 20 times more germs, study says.

Drowning in debt? Maybe there's a silver lining.

"But it's not real life, you know. It's a vacation."

Our list of must-dos before hitting the road.

Summer traditions can be great, but if you're on year six of packing the same people into the same car to go on the same vacation, it's time to switch things up. Surfing in Portugal, perhaps – or cycling through Northern Ireland. We've put together a list of 15 places well off the beaten path that you should go to when you're ready to try something new.

Grab a sleeping bag and head out to one of these amazing campsites.

A dozen adventures that are well worth the trip.

Paper downplays the significance of practice over raw talent.

Survey says American teens aren't great at complex or basic financial tasks.

Fear of Moving Away: How to conquer the latest cultural anxiety and embrace the unknown.

Adulthood has no eureka moment.