Munchies from marijuana festival fetch $50 online
Seattle Police public affairs officers gave out bags of Doritos with a sticker affixed that helped spell out rules for marijuana users.
SEATTLE (AP) — A few eBay users are seeing a money-making opportunity in the free bags of chips that were given out by police over the weekend at Seattle's pot festival known as Hempfest.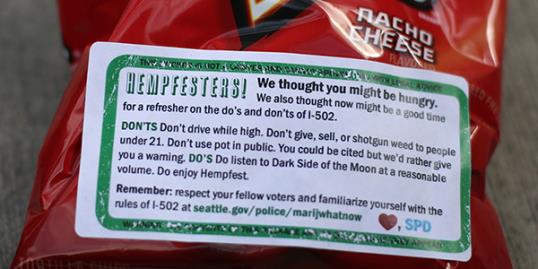 An unopened Doritos bag from Hempfest had drawn eight bids by Monday afternoon, pushing the price to $58. One bag listed as "used" was fetching $50.

Search: Weird items for sale on Ebay

The nacho-cheese-flavore​d Doritos were a popular topic surrounding the event because Seattle police distributed them for free along with stickers designed to inform pot consumers about the state's legal pot law.

More on MSN Living: Use Ebay to decorate on a dime

Officers handed out only 1,000 bags of chips at an event that draws as many as 85,000 people per day.
Photo: Seattle Police public affairs officers gave out bags of Doritos with a sticker affixed that helped spell out rules for marijuana users during the second day of Seattle's annual Hempfest on Aug. 17 (Joshua
Trujillo/AP/seattlep​i.com)
More from The Daily Dose:
5 celebrities who quit Scientology like Leah Remini
Greenpeace activists scale London's Shard building to protest oil drilling
Hunger strike in California prisons — will it work?
inspire: live a better life
Summer traditions can be great, but if you're on year six of packing the same people into the same car to go on the same vacation, it's time to switch things up. Surfing in Portugal, perhaps – or cycling through Northern Ireland. We've put together a list of 15 places well off the beaten path that you should go to when you're ready to try something new.

Grab a sleeping bag and head out to one of these amazing campsites.

A dozen adventures that are well worth the trip.

Paper downplays the significance of practice over raw talent.

Survey says American teens aren't great at complex or basic financial tasks.

Fear of Moving Away: How to conquer the latest cultural anxiety and embrace the unknown.

Adulthood has no eureka moment.

Just like your body, your brain needs a regular workout too.

Being a winner is a good feeling to have — especially in life. Winning doesn't solely relate to competitions or Charlie Sheen's coining of the term back in 2011. From achieving success to maintaining a work-life balance, find out what characteristics mean your life is going the way it should be. You may just even find an inspiration or two that you'll want to incorporate into your daily routine!

Sometimes it seems like you need a vacation from your vacation.

That'll get you and your 2 kids a house, SUV, and more, per a 'USA Today' analysis.

While most of us associate the Fourth of July with fireworks and barbecue (and taking a long weekend off from work), it's also an important day to give thanks to the people who help keep us safe.