5 Ways To Ruin Your Summer Vacation
Or, how to save money and be happy at home.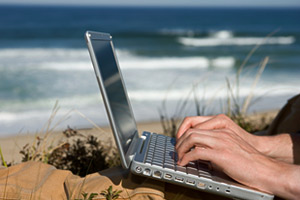 "No matter where you go, there you are."
For a lot of people, the joke in that old Steven Wright line is a cruel one. You can plan a getaway from work and obligations, but you're still going to pack up your psychological baggage and strap it to the roof of the car with the beach chairs and the dog.
Matt Richtel, a tech reporter for the New York Times, penned a piece earlier this summer explaining how he spoiled his last vacation by stressing about his pool back home and lamenting the rain that sprinkled his week in Hawaii. Setting aside a few nagging questions for Mr. Richtel (how can an NYT writer afford a week in Hawaii? Or a pool?), he's come up with some sage advice for salvaging the next trip. Hoping he's still away and won't catch us putting a new spin on his work, here are some surefire methods for self-sabotaging a summer break.
Plan for Perfection
Chances are good that your destination will share the characteristics of other places on Earth, including such features as weather and other humans. To ensure a bad time, allow the presence of clouds and slow restaurant personnel to gnaw at your insides like a parasite from the Mexican water supply.
Expect More of the Kids
When you have small children, vacation is a lot like being back home except that you have to pay $10.95 for mac 'n cheese. Offspring under the age of 6 should be expected to recline silently in the shade reading printed materials for a minimum three hours daily, and should not express the need to urinate until dinnertime.
Remember the Clock is Ticking
Don't rush your mental slide into the vacation mindset. The proven formula for pacing a week-long vacation is to spend the first three days telling yourself to relax, and the last three days dreading the end.
Cram in All Possible Relaxation
On trips to foreign cities, schedule visits to all historic sites, major galleries, recommended eateries, places of worship, graveyards, and seats of government. Do not leave the hotel without having mastered the language. In tropical locales, go scuba diving whether or not you're comfortable in deep water, and be sure to visit with local villagers to be reminded your budget for sunscreen exceeds their monthly allowance for food.
Be Reachable
Just because you're on vacation doesn't mean your smartphone deserves a siesta. Time wasted in a museum or admiring a sunset may be better spent chipping away at the mountain of texts and spam awaiting your return. Remember, you're American.
Photo: Vegar Abelsnes Photography/Getty Images



inspire: live a better life
From international roaming fees to skipping travel insurance, these mistakes can put a damper on your next vacation.

Where in the world do you want to go? Somewhere unique? Any of the places described here are sure to make your next world-travel adventure truly memorable.

It's easy to lead, but it takes courage and conviction to be a truly great leader. Here are 10 inspiring leaders and what we can learn from them.

Some say it's a small world. We beg to differ. Earth has so many wondrous places worth exploring, and most of us are lucky to see a handful of them. Here are 30 of the top trips of a lifetime.

The semi-annual glitch in your daily routine is back this weekend.

You'll stave off credit card debt by the end of the year if you account for these often-forgotten expenses.

Mark Zuckerberg has an even bigger effect on your life than you thought.

Take this advice to finally tackle that nagging to-do list.

The iconic storyteller would have been 110-years-old

Take the time to appreciate women's contributions to society. Here are some of the women who inspire us by their example.

Cast of the iconic TV show reunites for Florence Henderson's birthday

We couldn't be more excited to watch the best athletes in the world compete at the Winter Olympics in Sochi. This year, about 44 percent of the competitors are women according to the International Olympic Committee—which is awesome but wasn't always the case. Let's look back at some of the amazing women who paved the way with incredible, memorable feats of girl power.