5 Ways To Ruin Your Summer Vacation
Or, how to save money and be happy at home.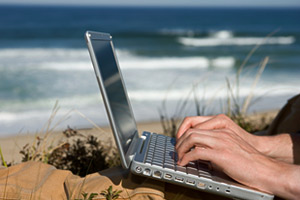 "No matter where you go, there you are."
For a lot of people, the joke in that old Steven Wright line is a cruel one. You can plan a getaway from work and obligations, but you're still going to pack up your psychological baggage and strap it to the roof of the car with the beach chairs and the dog.
Matt Richtel, a tech reporter for the New York Times, penned a piece earlier this summer explaining how he spoiled his last vacation by stressing about his pool back home and lamenting the rain that sprinkled his week in Hawaii. Setting aside a few nagging questions for Mr. Richtel (how can an NYT writer afford a week in Hawaii? Or a pool?), he's come up with some sage advice for salvaging the next trip. Hoping he's still away and won't catch us putting a new spin on his work, here are some surefire methods for self-sabotaging a summer break.
Plan for Perfection
Chances are good that your destination will share the characteristics of other places on Earth, including such features as weather and other humans. To ensure a bad time, allow the presence of clouds and slow restaurant personnel to gnaw at your insides like a parasite from the Mexican water supply.
Expect More of the Kids
When you have small children, vacation is a lot like being back home except that you have to pay $10.95 for mac 'n cheese. Offspring under the age of 6 should be expected to recline silently in the shade reading printed materials for a minimum three hours daily, and should not express the need to urinate until dinnertime.
Remember the Clock is Ticking
Don't rush your mental slide into the vacation mindset. The proven formula for pacing a week-long vacation is to spend the first three days telling yourself to relax, and the last three days dreading the end.
Cram in All Possible Relaxation
On trips to foreign cities, schedule visits to all historic sites, major galleries, recommended eateries, places of worship, graveyards, and seats of government. Do not leave the hotel without having mastered the language. In tropical locales, go scuba diving whether or not you're comfortable in deep water, and be sure to visit with local villagers to be reminded your budget for sunscreen exceeds their monthly allowance for food.
Be Reachable
Just because you're on vacation doesn't mean your smartphone deserves a siesta. Time wasted in a museum or admiring a sunset may be better spent chipping away at the mountain of texts and spam awaiting your return. Remember, you're American.
Photo: Vegar Abelsnes Photography/Getty Images



inspire: live a better life
With all those deals you snagged on Black Friday, Small Business Saturday, and Cyber Monday, today is your chance to give back to those in need with #GivingTuesday.

Miss Manners provides guidance on how to handle a request for party contributions

Miss Manners instructs on why tit-for-tat never works

Miss Manners offers thoughts on guests who disregard dinner party instructions

Make big bucks, from home, having fun? These women got creative and figured out a way to have it all. You can too.

Your boss. You might like her, you probably respect her, but do you know how to approach someone who seems so different from you? (Spoiler: She's actually not.)

Over the weekend, Oprah decluttered her Montecito mansion and three other properties in a Santa Barbara yard sale that brought in more than $600,000(!). (Proceeds will benefit her girls' leadership academy in South Africa, and not half of a Crate and Barrel chair, the traditional end goal of yard-sale proceeds.)

Exclusively for MSN, we bring you a six-part series from the new book: MISS MANNERS MINDS YOUR BUSINESS by Judith and Nicholas Ivor Martin.

Miss Manners weighs in on the financial burdens of remote weddings

How Miss Manners suggests dealing with out of town guest who want tour guide services

Exclusively for MSN, we bring you a six-part series from the new book: MISS MANNERS MINDS YOUR BUSINESS by Judith and Nicholas Ivor Martin.