Positive thinking can make you miserable
Exploring the dark side of happiness
"For a civilization so fixated on achieving happiness," writes Oliver Burkeman, "we seem remarkably incompetent at the task."
Why is that, and how can we gain some competence? Burkeman, author of the just-released book The Antidote: Happiness for People Who Can't Stand Positive Thinking, champions a modern psychological perspective that says too much positivity is a problem, not a solution.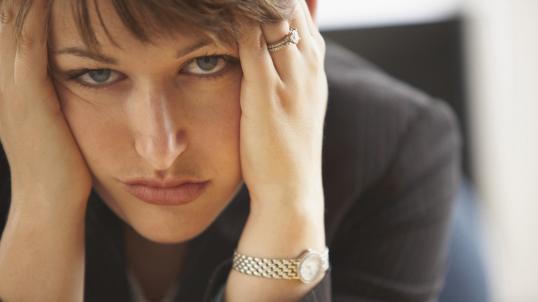 The "backwards law" of happiness is neatly summed up in a metaphor from philosopher Alan Watts that appears as an epigraph in Burkeman's book: When you try to stay on the surface of the water, you sink; but when you try to sink, you float.
Our culture not only advertises happiness and contentment but very nearly insists on it. If you don't drink the cultural Kool-Aid, you're in desperate need of help, they tell us, and there's a rich industry of motivational speakers and self-help publishers eager to have you drink up. Never mind that the people most likely to purchase a self-help book are those who bought one 18 months prior. Just keep buyin' and tryin'.
More on MSN Living: 50 things everyone should know about marriage
For many — not just the clinically depressed, but the chronically pensive — the Pollyanna positivism and you-can-do-it attitude doesn't keep happiness afloat for long. Yet we're still bombarded with the message that "there's something terribly, terribly wrong with not feeling incredibly excited and cheerful every moment of the day," as Burkeman told NPR.
The author steeped himself in that happy-face culture while researching The Antidote and also traveled around the world to learn from cultures that aren't so entangled in a positive bias. He deduced that relentless optimism is a pretty terrible path to happiness. The worst thing you can do is subscribe to a doctrine of positive thinking that demands you banish all sadness and disappointment rather than embrace negativity as half, or at least a necessary part, of life's whole.
More on MSN Living: The top 10 traits women want in a man
"The negative path to happiness" seems like a radical concept but is in fact ancient. In the yin-yang of Buddhism, forces of shadow and light are co-reliant and interactive. One has no power or potential without the other.
"Positive thinking demands that you change unwelcome thoughts and feelings," Burkeman told TheHairpin.com "[I]t seems to me that something like Buddhist meditation, and some modern forms of therapy, are focused much more on learning to observe thoughts and feelings without giving in to the urge to try to manipulate them. So that's the paradox: perhaps the best change you can make is resisting the compulsion to change."
Bing: Is positive thinking good for you?
Photo: Purestock/Getty Images
More from MSN Living:
25 things she finds sexiest about you
8 words that give away a liar
The trends men love ... and the ones they hate

inspire: live a better life
Over the weekend, Oprah decluttered her Montecito mansion and three other properties in a Santa Barbara yard sale that brought in more than $600,000(!). (Proceeds will benefit her girls' leadership academy in South Africa, and not half of a Crate and Barrel chair, the traditional end goal of yard-sale proceeds.)

Exclusively for MSN, we bring you a six-part series from the new book: MISS MANNERS MINDS YOUR BUSINESS by Judith and Nicholas Ivor Martin.

Miss Manners weighs in on the financial burdens of remote weddings

How Miss Manners suggests dealing with out of town guest who want tour guide services

Exclusively for MSN, we bring you a six-part series from the new book: MISS MANNERS MINDS YOUR BUSINESS by Judith and Nicholas Ivor Martin.

Miss Manners offers perspective on a mother's concern over her daughter's friendships

Working through lunch has been proven to slow you down later in the day. Here's how to take back your lunch break.

A college education has both tangible and intangible benefits, from increasing your income to enriching your life in countless ways. Here are 10 benefits of earning a college degree that make the work worthwhile. By Larry West

Experts say there's money in hills of clothes, junk, and paperwork at home. We'll help you find it.

No matter how much you plan ahead, Thanksgiving always end up being stressful. These three tips will keep you calm on Turkey Day.

One of the great lessons of my adulthood is realizing that outer order contributes to inner calm — far more than you might expect. Yet as much as you want to stay organized, it's tough. You may blame the sheer tediousness of trying to keep clutter at bay, but I think we often buy into certain notions about decluttering that make it harder to maintain order. Read on to discover 8 myths that will keep you stuck with too much stuff — plus easy ways to conquer clutter and find happiness.

We all have that friend: As you struggle to pay off credit card debt and keep up on your mortgage, she's blissfully unencumbered by money problems. Here are six women who could be that friend, and they're sharing their best-kept secrets about how they do it.