Trouble with Mars travel: Getting good sleep
Astronauts were confined for 18 months in a space-travel experiment.
It took NASA about eight years and $2.5 billion to plan and successfully execute the landing of the Mars rover Curiosity, a stunning feat of robotic engineering, physics, and rocket science that will be remembered as a breakthrough in human history. About 20 minutes later, people started asking when they could go. You know, to get a good look at the place, and maybe get in early on the real estate.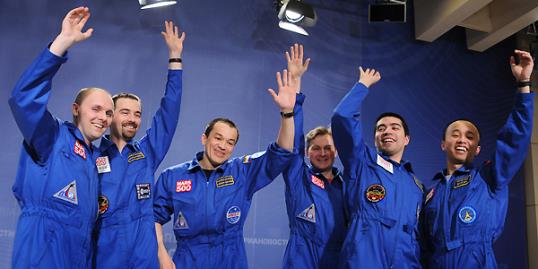 But long trips aren't just a matter of throwing the kids in the back of the station wagon with sleeping bags and putting the pedal down. For really long journeys — say, the eight months it would take for a capsule carrying astronauts to travel the minimum 35,000,000 miles from Earth to Mars — one major issue is sleep.
Not only is there nowhere to stop for coffee, but the physiological stressors of disrupted sleep can easily jeopardize space missions and the lives of the crew.
To explore the human impact of a manned mission to Mars, an international team of researchers conducted a simulated mission, the results of which have been published online in Proceedings of the National Academy of Sciences.
Back on June 3, 2010, a six-man team of volunteers stepped into a confinement facility somewhere in Russia to simulate a 250-day deep-space flight to Mars, 30 days on the surface, and a 240-day return trip. That's right: for 520 days, these guys were hold up in a windowless, 550-cubic meter complex conducting experiments. And when they walked out, they were still in Russia.
Among the most significant findings was that the disruption to circadian rhythms — sleep patterns governed primarily by exposure to natural light — affected crew members differently, implying compromises in safety on an actual manned mission. Though all the volunteers left the confinement facility in reasonably good health, each had a unique response to prolonged periods of isolation and confinement.
Within about a month of entering the simulated craft, the crew started sleeping longer and moving less while awake. A major issue was that the subjects' sleep patterns went out of sync.
One crew member slipped into a sleep pattern that eventually set him opposite the rest of the crew, such that his body told him to sleep while the rest of the crew was carrying out critical "daytime" responsibilities of the mission.
Studies on sleep deprivation and isolation have implications not only in deep space but in the Earth-bound lives of air-traffic controllers, truckers, and nuclear-plant workers.
"As a global society, we need to reevaluate how we view sleep as it relates to our overall health and ability to lead productive lives," said David F. Dinges, PhD, professor and chief, Division of Sleep and Chronobiology in the Department of Psychiatry at the Perelman School of Medicine, and co-lead author of the study. "Whether it is an astronaut being challenged to reach another planet or a newborn baby just learning to walk, the human body's need for sleep is as essential as our need for food and water and integral to our ability to thrive."
Photo: The six members of the Mars500 crew emerge from isolation on November 4 after spending almost one-and-a-half-years​ locked away from the world (Alexander Nemenov/AFP/Getty Images)
Sources: NASA, Proceedings of the National Academy of Sciences, The Telegraph (UK), ScienceDaily
inspire: live a better life
Summer and winter tend to hog all the glory when it comes to travel high seasons. Sure, you want to soak up all the time at the beach you can during the summer, and you just want to escape the cold during the last months of the year.

Who just wants to stand around and watch the red and gold leaves slowly fall from their tree branches to the ground as we move from summer to fall? Instead, take in the changing seasons while you're on the move.

In September, I'll turn 38. I'm at the age now where, when people ask how old I am, it takes me a minute to remember. I don't know if that's because I've already been 37 different ages and it's hard to keep straight which one I am now, or if it's because I'm in denial, or if it's because I am going senile. Maybe a combination of all of the above. Regardless, my 30s have flown by and soon they will be but a memory. So, in an effort to preserve the memory I have left (or at least keep a record of it), and to celebrate what has been an amazing decade so far, here are 30 things that have happened to me in my 30s (and will probably happen to you too):

Traveling doesn't have to be stressful. And what you can fit in your carry-on can make all the difference (and not just a fresh pair of socks), especially when you get that low battery signal.

Volunteering (and these other rituals) might be just as good as exercise when it comes to extending your life.

Use these tricks to set a better tone for the rest of the week.

Whether it involves a food fight, mermaids or a torch-lit procession, people the world over know how to have a good time. Here are some of the biggest, boldest, booziest celebrations around, along with some tips to get the full experience.

Research could mean more effective treatment for human disorders.

An entry a day might keep the doctor away (or at least the shrink).

One woman's shout-outs to daily moments of joy — and how to cultivate them.

Our best health and fitness tips including the one move that tones all, berry news, and more.