Paralyzed by a pretty face
Insecurity lands an airline passenger in the hospital.
Anyone who has flown knows the feeling. You're just getting settled into your cramped coach quarters when the heavy guy you saw in the airport comes heaving his way down the aisle and — uh-oh — it looks like he's headed for your row.
Now imagine you are the overweight person on the plane.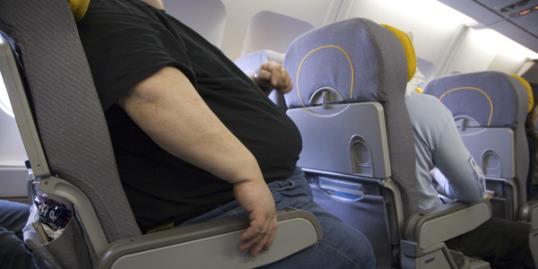 You can see the eyes rolling and the looks of dread as you find your seat. After the embarrassment of walking the aisle like it's a gauntlet, and blocking the way while you stuff your bag overhead, you cram into your window seat. But now your nightmare comes walking down the aisle. It's the nice-looking passenger you saw in the airport and — uh-oh — it looks like they're headed for your row.
More from MSN Living: 25 ways technology has changed our lives
That's what happened to a man on a five-hour flight in Asia. According to local reports, a 40-year-old passenger was in a window seat when a beautiful woman boarded and took the seat next to him. Rather than being thrilled by his luck, he was overcome by anxiety.
The unnamed man was so painfully self-conscious about his physical shape that he committed himself to not moving for the duration of the flight. He wasn't going to squeeze past that lovely woman to go the bathroom, so he refrained from drinking anything at all for the five hours onboard, despite the familiar recommendation to stay well hydrated while flying. Because he didn't want her to catch a glimpse of his gut, he didn't even dare stretch out his arms or excuse himself to extend his legs. He sat there, immobile, for five hours.
More from MSN Living: 20 things everyone should do at least once
When the plane landed in the Fujian province, passengers deboarded but the man couldn't move. He soon lost consciousness altogether. He was rushed to a local hospital and diagnosed with deep vein thrombosis, in which a long period of sitting causes blood clots to form in the legs. It's a serious condition. A clot can travel from the legs to the lungs and result in a fatal pulmonary embolism.
The reports don't cite the man's weight, and even a slimmer guy might have been overcome by insecurity in the same situation. But there's another side to the fat jokes that flow as easily as cracks about airplane food, and it's more than a little sad.
More from Daily Dose:
4 women who are changing the world
Daylight Saving Time: For or against?
2085: The year the gender gap closes
Love content like this? Friend us on Facebook, follow us on Twitter and find us on Pinterest
Photo: Oote Boe/Getty Images


He made a decision and his deep vein thrombosis was the result of that decision.

Let's call things the way they are and not disguise them with words like "paralysis" to create misleading impressions. I'm sick and tired of seeing human beings portrayed as helpless victims buffeted around by tragic circumstances.
Are you sure you want to delete this comment?
inspire: live a better life
Summer and winter tend to hog all the glory when it comes to travel high seasons. Sure, you want to soak up all the time at the beach you can during the summer, and you just want to escape the cold during the last months of the year.

Who just wants to stand around and watch the red and gold leaves slowly fall from their tree branches to the ground as we move from summer to fall? Instead, take in the changing seasons while you're on the move.

In September, I'll turn 38. I'm at the age now where, when people ask how old I am, it takes me a minute to remember. I don't know if that's because I've already been 37 different ages and it's hard to keep straight which one I am now, or if it's because I'm in denial, or if it's because I am going senile. Maybe a combination of all of the above. Regardless, my 30s have flown by and soon they will be but a memory. So, in an effort to preserve the memory I have left (or at least keep a record of it), and to celebrate what has been an amazing decade so far, here are 30 things that have happened to me in my 30s (and will probably happen to you too):

Traveling doesn't have to be stressful. And what you can fit in your carry-on can make all the difference (and not just a fresh pair of socks), especially when you get that low battery signal.

Volunteering (and these other rituals) might be just as good as exercise when it comes to extending your life.

Use these tricks to set a better tone for the rest of the week.

Whether it involves a food fight, mermaids or a torch-lit procession, people the world over know how to have a good time. Here are some of the biggest, boldest, booziest celebrations around, along with some tips to get the full experience.

Research could mean more effective treatment for human disorders.

An entry a day might keep the doctor away (or at least the shrink).

One woman's shout-outs to daily moments of joy — and how to cultivate them.

Our best health and fitness tips including the one move that tones all, berry news, and more.