Paralyzed by a pretty face
Insecurity lands an airline passenger in the hospital.
Anyone who has flown knows the feeling. You're just getting settled into your cramped coach quarters when the heavy guy you saw in the airport comes heaving his way down the aisle and — uh-oh — it looks like he's headed for your row.
Now imagine you are the overweight person on the plane.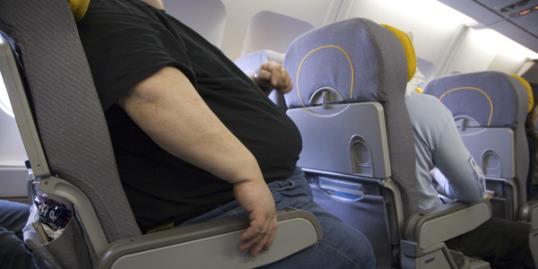 You can see the eyes rolling and the looks of dread as you find your seat. After the embarrassment of walking the aisle like it's a gauntlet, and blocking the way while you stuff your bag overhead, you cram into your window seat. But now your nightmare comes walking down the aisle. It's the nice-looking passenger you saw in the airport and — uh-oh — it looks like they're headed for your row.
More from MSN Living: 25 ways technology has changed our lives
That's what happened to a man on a five-hour flight in Asia. According to local reports, a 40-year-old passenger was in a window seat when a beautiful woman boarded and took the seat next to him. Rather than being thrilled by his luck, he was overcome by anxiety.
The unnamed man was so painfully self-conscious about his physical shape that he committed himself to not moving for the duration of the flight. He wasn't going to squeeze past that lovely woman to go the bathroom, so he refrained from drinking anything at all for the five hours onboard, despite the familiar recommendation to stay well hydrated while flying. Because he didn't want her to catch a glimpse of his gut, he didn't even dare stretch out his arms or excuse himself to extend his legs. He sat there, immobile, for five hours.
More from MSN Living: 20 things everyone should do at least once
When the plane landed in the Fujian province, passengers deboarded but the man couldn't move. He soon lost consciousness altogether. He was rushed to a local hospital and diagnosed with deep vein thrombosis, in which a long period of sitting causes blood clots to form in the legs. It's a serious condition. A clot can travel from the legs to the lungs and result in a fatal pulmonary embolism.
The reports don't cite the man's weight, and even a slimmer guy might have been overcome by insecurity in the same situation. But there's another side to the fat jokes that flow as easily as cracks about airplane food, and it's more than a little sad.
More from Daily Dose:
4 women who are changing the world
Daylight Saving Time: For or against?
2085: The year the gender gap closes
Love content like this? Friend us on Facebook, follow us on Twitter and find us on Pinterest
Photo: Oote Boe/Getty Images


He made a decision and his deep vein thrombosis was the result of that decision.

Let's call things the way they are and not disguise them with words like "paralysis" to create misleading impressions. I'm sick and tired of seeing human beings portrayed as helpless victims buffeted around by tragic circumstances.
Are you sure you want to delete this comment?
inspire: live a better life
With all those deals you snagged on Black Friday, Small Business Saturday, and Cyber Monday, today is your chance to give back to those in need with #GivingTuesday.

Miss Manners provides guidance on how to handle a request for party contributions

Miss Manners instructs on why tit-for-tat never works

Miss Manners offers thoughts on guests who disregard dinner party instructions

Make big bucks, from home, having fun? These women got creative and figured out a way to have it all. You can too.

Your boss. You might like her, you probably respect her, but do you know how to approach someone who seems so different from you? (Spoiler: She's actually not.)

Over the weekend, Oprah decluttered her Montecito mansion and three other properties in a Santa Barbara yard sale that brought in more than $600,000(!). (Proceeds will benefit her girls' leadership academy in South Africa, and not half of a Crate and Barrel chair, the traditional end goal of yard-sale proceeds.)

Exclusively for MSN, we bring you a six-part series from the new book: MISS MANNERS MINDS YOUR BUSINESS by Judith and Nicholas Ivor Martin.

Miss Manners weighs in on the financial burdens of remote weddings

How Miss Manners suggests dealing with out of town guest who want tour guide services

Exclusively for MSN, we bring you a six-part series from the new book: MISS MANNERS MINDS YOUR BUSINESS by Judith and Nicholas Ivor Martin.