Do smoking bans really work?
With a wave of new restrictions, the smoke is starting to clear.
All across the country, smoking bans have been picking up some serious momentum.
Smoking will be smothered in the sand this summer as bans go into effect on public beaches, including seaside spots in Delaware, Massachusetts, North Carolina and Pennsylvania. On June 1, Starbucks instituted a ban within 25 feet of some 7,000 locations, imposing a trial separation on the long-term relationship between coffee and cigarettes.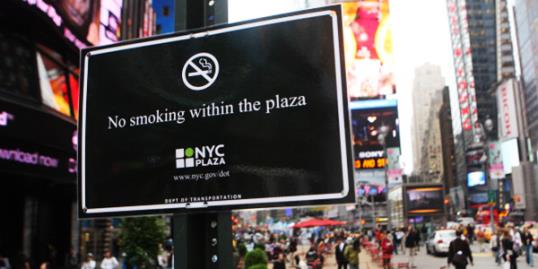 New bans and restrictions stretching from California, across the Plains and clear across to New York, are being voted into law. According to data from the American Nonsmokers' Rights Foundation, 22,470 municipalities representing 81.3 percent of the U.S. population are covered by completely smoke-free provisions in workplaces, restaurants and/or bars.
It's not just an American phenomenon, either. In Russia (the world's second-largest tobacco market after China), a law enacted this past Saturday bans smoking in airports, railway stations, playgrounds, on busses, and at schools, universities and hospitals. They're even clearing cigarette ads from public streets. Korea's tourism board proudly announced a nationwide ban against smoking in public places last December. And some politicians in New Zealand have designs on making their country the world's first entirely smoke-free nation.
Do the bans have a positive effect? Tobacco companies have maintained that smoke-free ordinances have a negative impact on businesses and tourism, though advocates cite studies adamantly refuting such claims, and other opponents of the bans call the legality of restricting outside smoking into question.
Smoking bans on the campuses of U.S. colleges and universities have prompted some vehement protests by students who see them as a constraint of personal freedom. Regardless, restrictive smoking policies in higher-ed communities indicate that bans can indeed yield measurable changes in people's attitudes, with positive results in slashing smoking prevalence.
Back in 2008, a study was launched as Indiana University initiated a campus-wide smoke-free air policy. Researchers wanted to compare habits and attitudes at IU with those at nearby Purdue University, where smoking was allowed outside a 30-foot radius from buildings. Even though IU's ban wasn't strictly enforced, the ban served a secondary function as an awareness campaign. Within two years, the percentage of smokers at IU fell from 16.5 percent to 12.8 percent, while at Purdue the rate increased from 9.5 to 10.1 percent. Even among smokers, the average number of cigarettes smoked fell at IU and rose at Purdue.
An April 2013 publication from the ANR indicates that at least 1,159 campuses in the U.S. are currently 100 percent smoke-free.
More from Daily Dose:
Missing man walks up to news crew covering his story
Man had pencil in head for 15 years
FBI investigated song 'Louie Louie' for 2 years
Subscribe to the Daily Dose | Friend us on Facebook, follow us on Twitter and find us on Pinterest.
Photo: A no-smoking sign is posted in the pedestrian plaza located in Times Square  last month. A new smoking law took effect in New York City Monday, prohibiting smokers from lighting up in certain public places, including parks and beaches. (Photo by Daniel Barry/Getty Images)
inspire: live a better life
How much do you really know about the Earth? In honor of Earth Day, April 22, we explore some interesting and fun facts about the fifth-largest planet of our solar system.

Happify shares their results of a recent study on how money affects our happiness.

A top exec reveals the company's secret code

Pro tips from the guy who's done it four times

Not all mistakes are as blatant as posting party pics when you're 'sick' at home.

Everyone struggles through weekday drudgery to reach their weekend fun. But what if you could reclaim every day of your life?

Zooming up the ladder is great, but questioning yourself 24/7 is no way to succeed. Manage your stressed self with these surefire tips.

Forget trying to control every little detail. Life is lots more fun (and less stressful) when you let go from the get-go.

So, what exactly is this thing we call "happiness" and how do we get it?

Mark Zuckerberg has an even bigger effect on your life than you thought.

Everyone makes mistakes, but some mistakes can be devastating. Here are 10 icons who fell from grace, and what they can do to redeem themselves.

Twitter turns eight years old today.