Do smoking bans really work?
With a wave of new restrictions, the smoke is starting to clear.
All across the country, smoking bans have been picking up some serious momentum.
Smoking will be smothered in the sand this summer as bans go into effect on public beaches, including seaside spots in Delaware, Massachusetts, North Carolina and Pennsylvania. On June 1, Starbucks instituted a ban within 25 feet of some 7,000 locations, imposing a trial separation on the long-term relationship between coffee and cigarettes.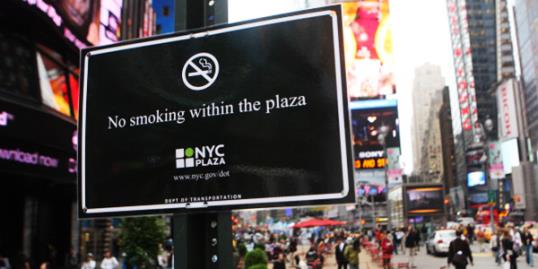 New bans and restrictions stretching from California, across the Plains and clear across to New York, are being voted into law. According to data from the American Nonsmokers' Rights Foundation, 22,470 municipalities representing 81.3 percent of the U.S. population are covered by completely smoke-free provisions in workplaces, restaurants and/or bars.
It's not just an American phenomenon, either. In Russia (the world's second-largest tobacco market after China), a law enacted this past Saturday bans smoking in airports, railway stations, playgrounds, on busses, and at schools, universities and hospitals. They're even clearing cigarette ads from public streets. Korea's tourism board proudly announced a nationwide ban against smoking in public places last December. And some politicians in New Zealand have designs on making their country the world's first entirely smoke-free nation.
Do the bans have a positive effect? Tobacco companies have maintained that smoke-free ordinances have a negative impact on businesses and tourism, though advocates cite studies adamantly refuting such claims, and other opponents of the bans call the legality of restricting outside smoking into question.
Smoking bans on the campuses of U.S. colleges and universities have prompted some vehement protests by students who see them as a constraint of personal freedom. Regardless, restrictive smoking policies in higher-ed communities indicate that bans can indeed yield measurable changes in people's attitudes, with positive results in slashing smoking prevalence.
Back in 2008, a study was launched as Indiana University initiated a campus-wide smoke-free air policy. Researchers wanted to compare habits and attitudes at IU with those at nearby Purdue University, where smoking was allowed outside a 30-foot radius from buildings. Even though IU's ban wasn't strictly enforced, the ban served a secondary function as an awareness campaign. Within two years, the percentage of smokers at IU fell from 16.5 percent to 12.8 percent, while at Purdue the rate increased from 9.5 to 10.1 percent. Even among smokers, the average number of cigarettes smoked fell at IU and rose at Purdue.
An April 2013 publication from the ANR indicates that at least 1,159 campuses in the U.S. are currently 100 percent smoke-free.
More from Daily Dose:
Missing man walks up to news crew covering his story
Man had pencil in head for 15 years
FBI investigated song 'Louie Louie' for 2 years
Subscribe to the Daily Dose | Friend us on Facebook, follow us on Twitter and find us on Pinterest.
Photo: A no-smoking sign is posted in the pedestrian plaza located in Times Square  last month. A new smoking law took effect in New York City Monday, prohibiting smokers from lighting up in certain public places, including parks and beaches. (Photo by Daniel Barry/Getty Images)
inspire: live a better life
With all those deals you snagged on Black Friday, Small Business Saturday, and Cyber Monday, today is your chance to give back to those in need with #GivingTuesday.

Miss Manners provides guidance on how to handle a request for party contributions

Miss Manners instructs on why tit-for-tat never works

Miss Manners offers thoughts on guests who disregard dinner party instructions

Make big bucks, from home, having fun? These women got creative and figured out a way to have it all. You can too.

Your boss. You might like her, you probably respect her, but do you know how to approach someone who seems so different from you? (Spoiler: She's actually not.)

Over the weekend, Oprah decluttered her Montecito mansion and three other properties in a Santa Barbara yard sale that brought in more than $600,000(!). (Proceeds will benefit her girls' leadership academy in South Africa, and not half of a Crate and Barrel chair, the traditional end goal of yard-sale proceeds.)

Exclusively for MSN, we bring you a six-part series from the new book: MISS MANNERS MINDS YOUR BUSINESS by Judith and Nicholas Ivor Martin.

Miss Manners weighs in on the financial burdens of remote weddings

How Miss Manners suggests dealing with out of town guest who want tour guide services

Exclusively for MSN, we bring you a six-part series from the new book: MISS MANNERS MINDS YOUR BUSINESS by Judith and Nicholas Ivor Martin.