Why should you talk like a pirate today?
Get hoistin' the Jolly Roger, ye lily-livered landlubbers.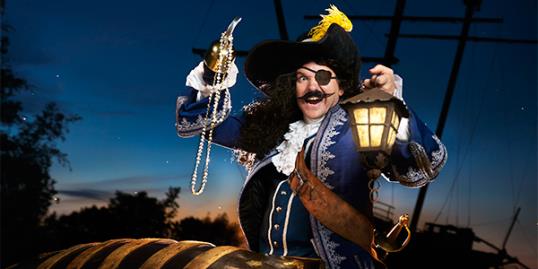 The change of seasons this week is a time for remembrance and self-reflection, and there's a holiday nestled into the calendar today marking this pensive transition to autumn. We're speaking, of course, of International Talk Like A Pirate Day.
Why hurl salty insults at your friends and loved ones today like you're a one-eyed raider of the high seas? The intent behind today's holiday is for young and old alike to enjoy the seafaring dialects that first entered pop culture when "Treasure Island" was published in 1883 and peaked around the time Johnny Depp first appeared in "Pirates of the Caribbean" as Keith Richards' flamboyant younger brother. Mistaking the holiday for an opportunity to terrorize people in a dinghy while speaking Somali could get you arrested. Sure, they used to do the same awful things back in the early 18th century's "golden age" of piracy, but back then they wore hoop earrings and baboushkas and said things like, "I'll slash ye guts and feed yer to the sharks, ye pox-faced sea dog." Being pillaged was a lot more fun in the old-timey days.
Greetings: Send an ecard for Talk Like a Pirate Day
 Given the dark and nightmarish history of piracy, you can see why Disney knew it would make a good marketing theme for kids. Years after "Peter Pan," a grudging love/hate for Captain Hook gave way to a huge wave of pirate-themed amusement park rides, lunchboxes, T-shirts, Halloween costumes, children's books, movies and cartoons, like "Jake & The Never Land Pirates." So go ahead and let the child in you swing down from the crow's nest today and tell your boss he's a lice-infested bilge rat. Threaten to twist his ears off and tell him he's not fit to swab your poop deck.  It'll be great. If you're at a loss for words, try out this Insult-O-Matic translator in Pirate Mode.
Two mates from Oregon who like to be known as Cap'n Slappy and Ol' Chumbucket contrived the Sept. 19 holiday back in 1995 when one of them was hurt in a game of racquetball and exclaimed, "Arrrr." By their own description, the pair founded International Talk Like A Pirate Day, or ITLAPD, just because talking like a pirate is fun. Syndicated columnist Dave Barry helped these two butt barnacles hoist the Jolly Roger back in 2002, advising, "You HAVE the buckles, darn it: Don't be afraid to swash them!"
Sorry to say, kids, that school will not be canceled in observance of ITLAPD. But if you do decide to tell your teacher she's a scurvy-ridden wench today, note that you will not need a puffy shirt, a peg leg or a parrot perched on your shoulder. It's not International Dress Like a Pirate Day. That would be dumb.
More from Daily Dose:
Man's epic obituary goes viral
US death toll from mass shootings has doubled since Columbine
Thief returns bike after written plea
Subscribe to the Daily Dose | Friend us on Facebook, follow us on Twitter and find us on Pinterest.
Photo: Oleksiy Maksymenko/Getty Images

inspire: live a better life
Don't leave home without these must-have items.

Handshakes spread 20 times more germs, study says.

Drowning in debt? Maybe there's a silver lining.

"But it's not real life, you know. It's a vacation."

Our list of must-dos before hitting the road.

Vacations are relaxing, yet sometimes stressful.

Summer traditions can be great, but if you're on year six of packing the same people into the same car to go on the same vacation, it's time to switch things up. Surfing in Portugal, perhaps – or cycling through Northern Ireland. We've put together a list of 15 places well off the beaten path that you should go to when you're ready to try something new.

Grab a sleeping bag and head out to one of these amazing campsites.

A dozen adventures that are well worth the trip.

Paper downplays the significance of practice over raw talent.

Survey says American teens aren't great at complex or basic financial tasks.

Fear of Moving Away: How to conquer the latest cultural anxiety and embrace the unknown.