Extreme gingerbread house makeover
Holiday cookie creations get the high art treatment as pastry chefs and architects go pro.
We see some pretty sumptuous gingerbread houses during the holiday season, but nothing quite like the structures described by the Associated Press today. Exhibited at various luxury hotels across the country, some of these sweet, homemade stunners are contest entries or creations made to raise money for charity during the holidays.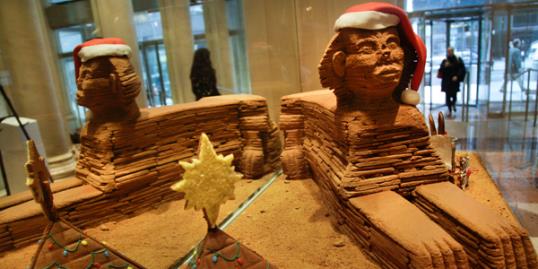 They're all fabulously detailed, many requiring the talent of pastry chefs, architects and sometimes even historians.
More on MSN Living: Best sweater for your body type
For extravagant gingerbread displays, here are four hotels to check out:
In midtown Manhattan, Le Parker Meridien is hosting a collection of landmark replicas, including the Egyptian Sphinx, the Mexican temple Chichen Itza and the Lincoln Memorial.
At the Sheraton Princess Kailuani in Hawaii, global sites such as London's Tower Bridge, the Eiffel Tower, a pagoda from Yakushiji Temple in the ancient Japanese capital of Nara, and Hawaii's own Iolani Palace are recreated.
In Little Rock, Ark., The Capital Hotel puts a local spin on its cookie creation with an Arkansas countryside theme, including cows, horses, deer, rabbits and ducks along with a barn and an Ozark shack.
For two decades, entrants have been competing for more than $7,500 in cash and prizes with their edible gingerbread creations at the Grove Park Inn in Asheville, N.C. This year's 182 entries — including some from teens and children — were judged by a panel that included pastry chefs, cookbook authors and a museum curator.
More on MSN Living: 10 habits that keep marriages strong
Since it's unlikely that even the most ambitious of home bakers will try to attempt one of these elaborate creations, Susan Matheson, co-author of the book, "The Gingerbread Architect: Recipes and Blueprints for Twelve Classic American Homes," told the AP that there's still a lot to be said for "the rough cut, over-iced, slumped and out of plumb gingerbread house with the candy pieces that slid out of position before the icing dried."
Photo: Bebeto Matthews/AP
Bing: Easy gingerbread house recipes
Read the full story on MSN Local.
More from MSN Living:
Worst cringe-worthy style and beauty fashions of 2012
The best beauty and style looks of the year
Marriage counselors: The trickiest issues we've ever solved 
inspire: live a better life
Summer traditions can be great, but if you're on year six of packing the same people into the same car to go on the same vacation, it's time to switch things up. Surfing in Portugal, perhaps – or cycling through Northern Ireland. We've put together a list of 15 places well off the beaten path that you should go to when you're ready to try something new.

Grab a sleeping bag and head out to one of these amazing campsites.

A dozen adventures that are well worth the trip.

Paper downplays the significance of practice over raw talent.

Survey says American teens aren't great at complex or basic financial tasks.

Fear of Moving Away: How to conquer the latest cultural anxiety and embrace the unknown.

Adulthood has no eureka moment.

Just like your body, your brain needs a regular workout too.

Being a winner is a good feeling to have — especially in life. Winning doesn't solely relate to competitions or Charlie Sheen's coining of the term back in 2011. From achieving success to maintaining a work-life balance, find out what characteristics mean your life is going the way it should be. You may just even find an inspiration or two that you'll want to incorporate into your daily routine!

Sometimes it seems like you need a vacation from your vacation.

That'll get you and your 2 kids a house, SUV, and more, per a 'USA Today' analysis.

While most of us associate the Fourth of July with fireworks and barbecue (and taking a long weekend off from work), it's also an important day to give thanks to the people who help keep us safe.