Extreme gingerbread house makeover
Holiday cookie creations get the high art treatment as pastry chefs and architects go pro.
We see some pretty sumptuous gingerbread houses during the holiday season, but nothing quite like the structures described by the Associated Press today. Exhibited at various luxury hotels across the country, some of these sweet, homemade stunners are contest entries or creations made to raise money for charity during the holidays.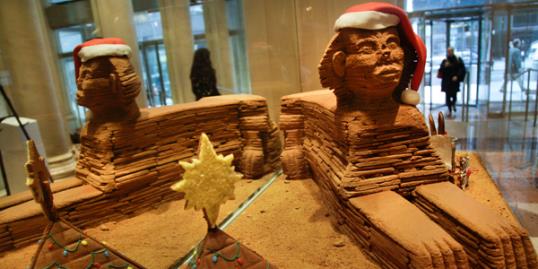 They're all fabulously detailed, many requiring the talent of pastry chefs, architects and sometimes even historians.
More on MSN Living: Best sweater for your body type
For extravagant gingerbread displays, here are four hotels to check out:
In midtown Manhattan, Le Parker Meridien is hosting a collection of landmark replicas, including the Egyptian Sphinx, the Mexican temple Chichen Itza and the Lincoln Memorial.
At the Sheraton Princess Kailuani in Hawaii, global sites such as London's Tower Bridge, the Eiffel Tower, a pagoda from Yakushiji Temple in the ancient Japanese capital of Nara, and Hawaii's own Iolani Palace are recreated.
In Little Rock, Ark., The Capital Hotel puts a local spin on its cookie creation with an Arkansas countryside theme, including cows, horses, deer, rabbits and ducks along with a barn and an Ozark shack.
For two decades, entrants have been competing for more than $7,500 in cash and prizes with their edible gingerbread creations at the Grove Park Inn in Asheville, N.C. This year's 182 entries — including some from teens and children — were judged by a panel that included pastry chefs, cookbook authors and a museum curator.
More on MSN Living: 10 habits that keep marriages strong
Since it's unlikely that even the most ambitious of home bakers will try to attempt one of these elaborate creations, Susan Matheson, co-author of the book, "The Gingerbread Architect: Recipes and Blueprints for Twelve Classic American Homes," told the AP that there's still a lot to be said for "the rough cut, over-iced, slumped and out of plumb gingerbread house with the candy pieces that slid out of position before the icing dried."
Photo: Bebeto Matthews/AP
Bing: Easy gingerbread house recipes
Read the full story on MSN Local.
More from MSN Living:
Worst cringe-worthy style and beauty fashions of 2012
The best beauty and style looks of the year
Marriage counselors: The trickiest issues we've ever solved 
inspire: live a better life
You'll stave off credit card debt by the end of the year if you account for these often-forgotten expenses.

Mark Zuckerberg has an even bigger effect on your life than you thought.

Take this advice to finally tackle that nagging to-do list.

The iconic storyteller would have been 110-years-old

Take the time to appreciate women's contributions to society. Here are some of the women who inspire us by their example.

Cast of the iconic TV show reunites for Florence Henderson's birthday

We couldn't be more excited to watch the best athletes in the world compete at the Winter Olympics in Sochi. This year, about 44 percent of the competitors are women according to the International Olympic Committee—which is awesome but wasn't always the case. Let's look back at some of the amazing women who paved the way with incredible, memorable feats of girl power.

Still pulling yourself out of holiday credit card debt? Ready to pool some funds for that beach vacation you've been dreaming about at your desk? We're with you 100 percent.

"FOMO, the fear of missing out, is a form of social anxiety," says psychiatrist Gail Saltz. "This type of fear tends to cause compulsive behaviors, like checking out other social situations even as you are in the middle of one currently."

When The Shriver Report was released in early January, we shared some of the more interesting statistics about income equality, the wage gap, and other issues confronting women.

Clay Aiken to run for public office.

Here's how to boost your joy — and put more cash in your pocket.