Extreme gingerbread house makeover
Holiday cookie creations get the high art treatment as pastry chefs and architects go pro.
We see some pretty sumptuous gingerbread houses during the holiday season, but nothing quite like the structures described by the Associated Press today. Exhibited at various luxury hotels across the country, some of these sweet, homemade stunners are contest entries or creations made to raise money for charity during the holidays.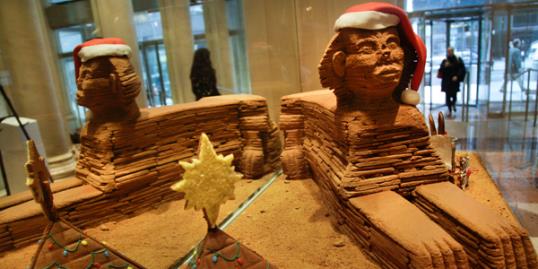 They're all fabulously detailed, many requiring the talent of pastry chefs, architects and sometimes even historians.
More on MSN Living: Best sweater for your body type
For extravagant gingerbread displays, here are four hotels to check out:
In midtown Manhattan, Le Parker Meridien is hosting a collection of landmark replicas, including the Egyptian Sphinx, the Mexican temple Chichen Itza and the Lincoln Memorial.
At the Sheraton Princess Kailuani in Hawaii, global sites such as London's Tower Bridge, the Eiffel Tower, a pagoda from Yakushiji Temple in the ancient Japanese capital of Nara, and Hawaii's own Iolani Palace are recreated.
In Little Rock, Ark., The Capital Hotel puts a local spin on its cookie creation with an Arkansas countryside theme, including cows, horses, deer, rabbits and ducks along with a barn and an Ozark shack.
For two decades, entrants have been competing for more than $7,500 in cash and prizes with their edible gingerbread creations at the Grove Park Inn in Asheville, N.C. This year's 182 entries — including some from teens and children — were judged by a panel that included pastry chefs, cookbook authors and a museum curator.
More on MSN Living: 10 habits that keep marriages strong
Since it's unlikely that even the most ambitious of home bakers will try to attempt one of these elaborate creations, Susan Matheson, co-author of the book, "The Gingerbread Architect: Recipes and Blueprints for Twelve Classic American Homes," told the AP that there's still a lot to be said for "the rough cut, over-iced, slumped and out of plumb gingerbread house with the candy pieces that slid out of position before the icing dried."
Photo: Bebeto Matthews/AP
Bing: Easy gingerbread house recipes
Read the full story on MSN Local.
More from MSN Living:
Worst cringe-worthy style and beauty fashions of 2012
The best beauty and style looks of the year
Marriage counselors: The trickiest issues we've ever solved 
inspire: live a better life
No one looks forward to washing windows or storing the ski gear or the other chores associated with spring-cleaning. But this annual ritual does not have to be a drag, if you approach it in a slightly different way. "You've been cooped up with this cave-like mentality all winter; now it's time to break free and play," says R.D. Chin, a feng shui architect and consultant in New York City. "It's time to follow the cycle of nature, get rid of the clutter, and free up your mind." Here's our idea of what a truly effective spring-cleaning can look like.

American presidents garner most votes over celebrities in a poll ranking the 100 most significant citizens.

Heading to a world-class beach town is always a safe bet for a great vacation, but if you want something that tests your limits, consider a more extreme spot. Here are 10 places around the world that require a winter coat year-round and offer spectacular glaciers, ice features, and the best snow anywhere.

From the Grand Canyon to the Statue of Liberty, the U.S. boasts world-famous national parks, historical sites and landmarks. Beyond the well-known locations, there's a wealth of undiscovered destinations stretching from coast to coast worth visiting. From scenic sand dunes to wild mountains, here's 51 places within America that you've probably never heard of.

How much do you really know about the Earth? In honor of Earth Day, April 22, we explore some interesting and fun facts about the fifth-largest planet of our solar system.

Most of the stuff we worry about never happens.

You've written an email, and need to wrap it up. You could end with a simple "Sincerely," tack on your name, and then shoot it out the door, proving definitively that you suck at communication.

Here are nine of the most extreme trips on the planet -- and the outfitters that take adventurers over the edge and back again.

A true challenge is within your reach. All it takes is a few months to get in shape and a few days off work.

Think you got what it takes to be included in the pages of the Guinness Book of World Records? We consult one of the judges to help you on your quest.

Just a few years ago, the term "home automation" meant a bunch of blinking lights and a headache. But thanks to simpler interfaces and the rise of smartphones, new tech can transform your house into a safer, more comfortable, less wasteful place.

If you're like most people, flying around in a big metal tube in the sky isn't your idea of a fun time. From the terrible food to the cramped space, flying can be a miserable experience. Don't make the flight even more soul-sucking by breaking airplane etiquette. We've compiled a list of the worst-inflight offenders. by Rebecca Pattee