The Most Racist Cities in the U.S.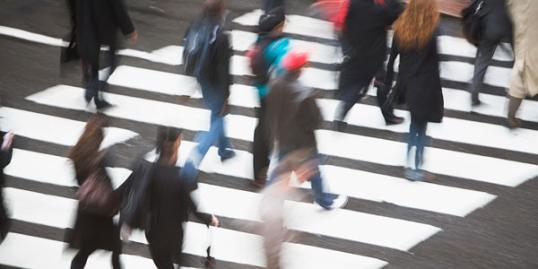 The issue of racism has gone largely unaddressed by this year's nominees for president, but there's no question that many voters see the contest in black and white. Racism runs deep and wide in America, despite the better angels of our nature and the bitter divisions of our past. Anyone searching for evidence won't have to look far — you can find it in your neighborhood, if not at your own breakfast table. But where is bigotry most rampant? Which cities are America's most racist?
Drew Magary, an editor at Gawker, wants to find out. After penning a piece on the Five Most Racist Cities in America — naming Birmingham, Boston, Phoenix, New York and Cincinnati — Magary drew comments from users complaining that their city did not make his original, admittedly unscientific list. Surely, there are cities more deserving of the title, they balked, where ignorance runs through like it's in the water supply. To be sure he doesn't show any bias to one metropolis over the next, Magary has invited readers to help in the Search for the Most Racist City in America.
Initial candidates in the racist-city census have been posted this week. First up is Philadelphia. The City of Brotherly Love, Magary notes, has been home to historic race riots, and deified mayor Frank Rizzo had a volatile relationship with Philly's African-American community during his tenure in the '70s. The horrific incident on Osage Avenue in 1985, in which police dropped a bomb from a helicopter to end an armed confrontation with the radical group MOVE — touching off a neighborhood fire and killing 11 people, including five children — also helps earn Philly an ignoble distinction. Boston was next to be dishonored, with a nod to the Sox for being the last MLB team to integrate their roster, followed by St. Louis, with a note from one Missourian about how the city is carved up into black and white sections "like a checkerboard."
Racism comes in all different colors, so to speak, and your city may make a winning candidate whether it's woven through with longstanding, institutionalized racism, racism acquired based on personal experiences, or what-not-me denial. So show some love and tell them where you see hate.

Good thing, at least, that racism is contained within city lines. All clear in the 'burbs.
An earlier version of this post mischaracterized the MOVE incident of 1985. A prior incident between MOVE and police resulted in the shooting death of one police officer in 1978.

More on MSN Living:
Are These Earrings Racist? 
Men No Longer Willing to Pay for First Date 
Rethinking the American Dream 
Photo: Image Source/Getty Images
inspire: live a better life
With all those deals you snagged on Black Friday, Small Business Saturday, and Cyber Monday, today is your chance to give back to those in need with #GivingTuesday.

Miss Manners provides guidance on how to handle a request for party contributions

Miss Manners instructs on why tit-for-tat never works

Miss Manners offers thoughts on guests who disregard dinner party instructions

Make big bucks, from home, having fun? These women got creative and figured out a way to have it all. You can too.

Your boss. You might like her, you probably respect her, but do you know how to approach someone who seems so different from you? (Spoiler: She's actually not.)

Over the weekend, Oprah decluttered her Montecito mansion and three other properties in a Santa Barbara yard sale that brought in more than $600,000(!). (Proceeds will benefit her girls' leadership academy in South Africa, and not half of a Crate and Barrel chair, the traditional end goal of yard-sale proceeds.)

Exclusively for MSN, we bring you a six-part series from the new book: MISS MANNERS MINDS YOUR BUSINESS by Judith and Nicholas Ivor Martin.

Miss Manners weighs in on the financial burdens of remote weddings

How Miss Manners suggests dealing with out of town guest who want tour guide services

Exclusively for MSN, we bring you a six-part series from the new book: MISS MANNERS MINDS YOUR BUSINESS by Judith and Nicholas Ivor Martin.