5 reasons to have hope in Congress (maybe)
Goodbye to a 112th session no one will miss.
With the pounding of a gavel, the 113th Congress came into session last Thursday, officially bringing the welcome end to a 112th session that has been vilified as a dysfunctional, ineffective, do-nothing Congress. But that's only because it was dysfunctional, ineffective, and did nothing.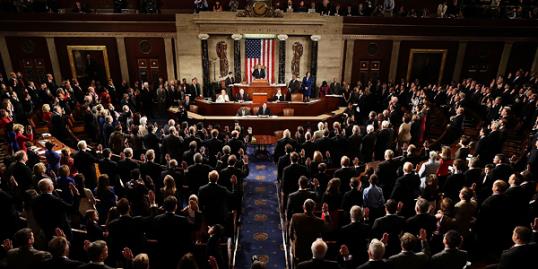 Time will tell whether a shake-up of the congressional make-up, including 82 new members of the House and 13 new members of the Senate, will restore some faith and confidence in the lawmakers of Capitol Hill.
In a piece published a day after the new session began (i.e., before the politicians have had time to disappoint), moderate news outlet The Week summed up five reasons to believe the 113th will be better than the 112th.
1. The era of the Tea Party, which helped establish a hard line in the 112th that proved to more obstructive than constructive, appears to be at an end.
2. The demographic mix of the 113th in terms of religion, gender, sexual orientation, and age more closely mirrors the diversity in America today.
3. The crash and burn of Newt Gingrich-style politicking, in which defeating the opposing party was more highly prioritized than solving America's problems, suggests a coming détente.
4. Could 113 be a lucky number? The Week notes that #13 is considered charmed in sports and in Italy, despite stateside superstitions, and that the 13th Congress was responsible for ending the War of 1812.
5. It would be hard for the 113th to be worse than the 112th. But you know, we've been surprised before.
Photo: Mark Wilson/Getty Images
inspire: live a better life
How much do you really know about the Earth? In honor of Earth Day, April 22, we explore some interesting and fun facts about the fifth-largest planet of our solar system.

Happify shares their results of a recent study on how money affects our happiness.

A top exec reveals the company's secret code

Pro tips from the guy who's done it four times

Not all mistakes are as blatant as posting party pics when you're 'sick' at home.

Everyone struggles through weekday drudgery to reach their weekend fun. But what if you could reclaim every day of your life?

Zooming up the ladder is great, but questioning yourself 24/7 is no way to succeed. Manage your stressed self with these surefire tips.

Forget trying to control every little detail. Life is lots more fun (and less stressful) when you let go from the get-go.

So, what exactly is this thing we call "happiness" and how do we get it?

Mark Zuckerberg has an even bigger effect on your life than you thought.

Everyone makes mistakes, but some mistakes can be devastating. Here are 10 icons who fell from grace, and what they can do to redeem themselves.

Twitter turns eight years old today.