5 reasons to have hope in Congress (maybe)
Goodbye to a 112th session no one will miss.
With the pounding of a gavel, the 113th Congress came into session last Thursday, officially bringing the welcome end to a 112th session that has been vilified as a dysfunctional, ineffective, do-nothing Congress. But that's only because it was dysfunctional, ineffective, and did nothing.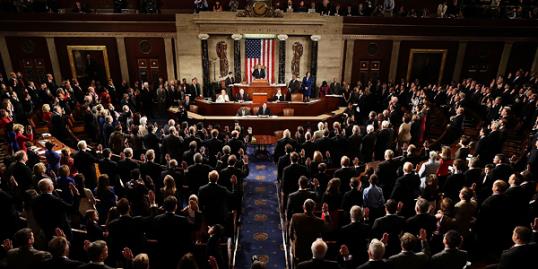 Time will tell whether a shake-up of the congressional make-up, including 82 new members of the House and 13 new members of the Senate, will restore some faith and confidence in the lawmakers of Capitol Hill.
In a piece published a day after the new session began (i.e., before the politicians have had time to disappoint), moderate news outlet The Week summed up five reasons to believe the 113th will be better than the 112th.
1. The era of the Tea Party, which helped establish a hard line in the 112th that proved to more obstructive than constructive, appears to be at an end.
2. The demographic mix of the 113th in terms of religion, gender, sexual orientation, and age more closely mirrors the diversity in America today.
3. The crash and burn of Newt Gingrich-style politicking, in which defeating the opposing party was more highly prioritized than solving America's problems, suggests a coming détente.
4. Could 113 be a lucky number? The Week notes that #13 is considered charmed in sports and in Italy, despite stateside superstitions, and that the 13th Congress was responsible for ending the War of 1812.
5. It would be hard for the 113th to be worse than the 112th. But you know, we've been surprised before.
Photo: Mark Wilson/Getty Images
inspire: live a better life
Where in the world do you want to go? Somewhere unique? Any of the places described here are sure to make your next world-travel adventure truly memorable.

It's easy to lead, but it takes courage and conviction to be a truly great leader. Here are 10 inspiring leaders and what we can learn from them.

Some say it's a small world. We beg to differ. Earth has so many wondrous places worth exploring, and most of us are lucky to see a handful of them. Here are 30 of the top trips of a lifetime.

You'll stave off credit card debt by the end of the year if you account for these often-forgotten expenses.

Mark Zuckerberg has an even bigger effect on your life than you thought.

Take this advice to finally tackle that nagging to-do list.

The iconic storyteller would have been 110-years-old

Take the time to appreciate women's contributions to society. Here are some of the women who inspire us by their example.

Cast of the iconic TV show reunites for Florence Henderson's birthday

We couldn't be more excited to watch the best athletes in the world compete at the Winter Olympics in Sochi. This year, about 44 percent of the competitors are women according to the International Olympic Committee—which is awesome but wasn't always the case. Let's look back at some of the amazing women who paved the way with incredible, memorable feats of girl power.

Still pulling yourself out of holiday credit card debt? Ready to pool some funds for that beach vacation you've been dreaming about at your desk? We're with you 100 percent.

"FOMO, the fear of missing out, is a form of social anxiety," says psychiatrist Gail Saltz. "This type of fear tends to cause compulsive behaviors, like checking out other social situations even as you are in the middle of one currently."