5 reasons to have hope in Congress (maybe)
Goodbye to a 112th session no one will miss.
With the pounding of a gavel, the 113th Congress came into session last Thursday, officially bringing the welcome end to a 112th session that has been vilified as a dysfunctional, ineffective, do-nothing Congress. But that's only because it was dysfunctional, ineffective, and did nothing.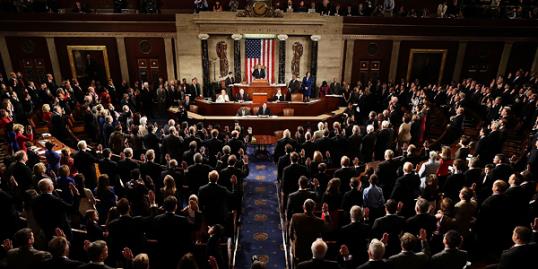 Time will tell whether a shake-up of the congressional make-up, including 82 new members of the House and 13 new members of the Senate, will restore some faith and confidence in the lawmakers of Capitol Hill.
In a piece published a day after the new session began (i.e., before the politicians have had time to disappoint), moderate news outlet The Week summed up five reasons to believe the 113th will be better than the 112th.
1. The era of the Tea Party, which helped establish a hard line in the 112th that proved to more obstructive than constructive, appears to be at an end.
2. The demographic mix of the 113th in terms of religion, gender, sexual orientation, and age more closely mirrors the diversity in America today.
3. The crash and burn of Newt Gingrich-style politicking, in which defeating the opposing party was more highly prioritized than solving America's problems, suggests a coming détente.
4. Could 113 be a lucky number? The Week notes that #13 is considered charmed in sports and in Italy, despite stateside superstitions, and that the 13th Congress was responsible for ending the War of 1812.
5. It would be hard for the 113th to be worse than the 112th. But you know, we've been surprised before.
Photo: Mark Wilson/Getty Images
inspire: live a better life
For those who would rather pay it forward, proceeds from this gift guide go to deserving charities — and these presents happen to be pretty fabulous as well. Plus, shop more gifts for stylish women.

Miss Manners considers when to celebrate milestones

Miss Manners provides guidance on meeting others

No, money doesn't grow on Christmas trees, but you can green up your holiday with readers' savviest money-saving tips.

A look back on all of the tiny tasks that 30 years of technology has saved you from.

What sets you apart from everyone else looking for a new job or bigger paycheck? Your profile!

With all those deals you snagged on Black Friday, Small Business Saturday, and Cyber Monday, today is your chance to give back to those in need with #GivingTuesday.

Miss Manners provides guidance on how to handle a request for party contributions

Miss Manners instructs on why tit-for-tat never works

Miss Manners offers thoughts on guests who disregard dinner party instructions

Make big bucks, from home, having fun? These women got creative and figured out a way to have it all. You can too.