5 reasons to have hope in Congress (maybe)
Goodbye to a 112th session no one will miss.
With the pounding of a gavel, the 113th Congress came into session last Thursday, officially bringing the welcome end to a 112th session that has been vilified as a dysfunctional, ineffective, do-nothing Congress. But that's only because it was dysfunctional, ineffective, and did nothing.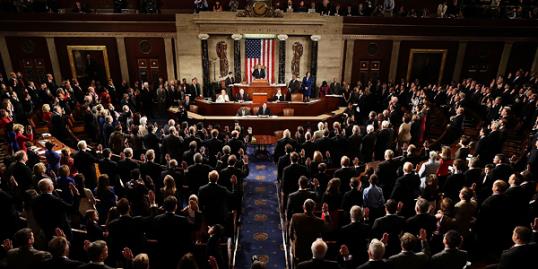 Time will tell whether a shake-up of the congressional make-up, including 82 new members of the House and 13 new members of the Senate, will restore some faith and confidence in the lawmakers of Capitol Hill.
In a piece published a day after the new session began (i.e., before the politicians have had time to disappoint), moderate news outlet The Week summed up five reasons to believe the 113th will be better than the 112th.
1. The era of the Tea Party, which helped establish a hard line in the 112th that proved to more obstructive than constructive, appears to be at an end.
2. The demographic mix of the 113th in terms of religion, gender, sexual orientation, and age more closely mirrors the diversity in America today.
3. The crash and burn of Newt Gingrich-style politicking, in which defeating the opposing party was more highly prioritized than solving America's problems, suggests a coming détente.
4. Could 113 be a lucky number? The Week notes that #13 is considered charmed in sports and in Italy, despite stateside superstitions, and that the 13th Congress was responsible for ending the War of 1812.
5. It would be hard for the 113th to be worse than the 112th. But you know, we've been surprised before.
Photo: Mark Wilson/Getty Images
inspire: live a better life
Editor's note: We will now be publishing Miss Manners articles twice weekly, but you will only see one question and answer per article. You can expect to see these articles appear on Tuesdays and Thursdays going forward.

President Harry S. Truman was behind efforts to establish the first Armed Forces Day in 1950, and decades later the nation continues to set aside the third Saturday in May to recognize and thank members of the U.S. military for their patriotic service. With these five homecoming images, we salute all service members at home and abroad.

There's much to be desired about working from home: the stress-free commute, flexible hours, and improved work-life balance.

Wishing for the fountain of youth? You may not need it. We've rounded up real-women secrets, tried-and-true beauty tips, and the latest research to help you fight aging.

Experts weigh in on when to bite your tongue at the office.

Oh, the places you'll go — to get some "me" time, that is. REDBOOK readers confess all on Facebook.

How much money you make isn't nearly as important as how you use it, according to Elizabeth Dunn and Michael Norton, authors of the new book Happy Money.

Plus, how do you ask people to not bring gifts to a shower?

Looking for a career upgrade? Follow these tips for a foot in the door.

These tanning and skin cancer myths aren't just wrong — they can do serious harm. Wise up and head into a healthier future. P.S. You'll look a lot younger too.

It's possible to rejigger your brain circuitry and feel more joy, even on Monday mornings. Here's how.

Inner peace just got easier. You don't need quiet, incense or hours to meditate, and you can scrap the chanting. Better: Ninety-five percent of you say you're calmer after a single 10-minute session. Whatever your excuse (see ours), get your om on and reap the rewards.