5 reasons to have hope in Congress (maybe)
Goodbye to a 112th session no one will miss.
With the pounding of a gavel, the 113th Congress came into session last Thursday, officially bringing the welcome end to a 112th session that has been vilified as a dysfunctional, ineffective, do-nothing Congress. But that's only because it was dysfunctional, ineffective, and did nothing.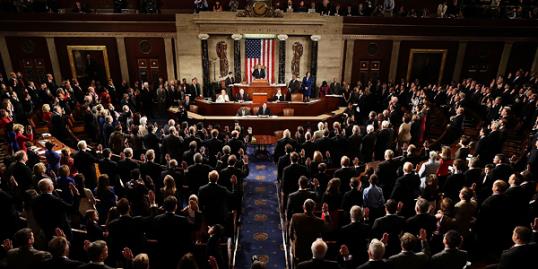 Time will tell whether a shake-up of the congressional make-up, including 82 new members of the House and 13 new members of the Senate, will restore some faith and confidence in the lawmakers of Capitol Hill.
In a piece published a day after the new session began (i.e., before the politicians have had time to disappoint), moderate news outlet The Week summed up five reasons to believe the 113th will be better than the 112th.
1. The era of the Tea Party, which helped establish a hard line in the 112th that proved to more obstructive than constructive, appears to be at an end.
2. The demographic mix of the 113th in terms of religion, gender, sexual orientation, and age more closely mirrors the diversity in America today.
3. The crash and burn of Newt Gingrich-style politicking, in which defeating the opposing party was more highly prioritized than solving America's problems, suggests a coming détente.
4. Could 113 be a lucky number? The Week notes that #13 is considered charmed in sports and in Italy, despite stateside superstitions, and that the 13th Congress was responsible for ending the War of 1812.
5. It would be hard for the 113th to be worse than the 112th. But you know, we've been surprised before.
Photo: Mark Wilson/Getty Images
inspire: live a better life
Here's some tips to get to happiness going forward in your life.

People 60 to 82 did best on cognitive tasks before 10:30am.

Lucille Ball was born in 1911, and though we lost her long ago, her legacy as America's favorite redhead lives on through the timeless classic, "I Love Lucy." People of all generations still enjoy Lucy's antics as much as they did over 60 years ago when the show first premiered.

Summer is coming to an end, and in a few weeks, kids will be forced to trade in their beach bags for backpacks. But just because the season is fading away doesn't mean the memories from the past few months have to disappear with it.

Confidence and perceived competence are key, study finds.

Features lead to assumptions about character, study says.

Great gear for an afternoon spent shoreside.

Use these bucket-list ideas to enjoy the little time you have left.

Study points to benefits of improved living conditions.

Don't leave home without these must-have items.

Handshakes spread 20 times more germs, study says.

Drowning in debt? Maybe there's a silver lining.