Pop goes the mission to cross Atlantic by balloon cluster
Balloonist forced down in Newfoundland.
Jonathan Trappe, the man who was attempting an Atlantic Ocean crossing by balloons in the fashion of the animated movie "Up," has landed far short of his goal.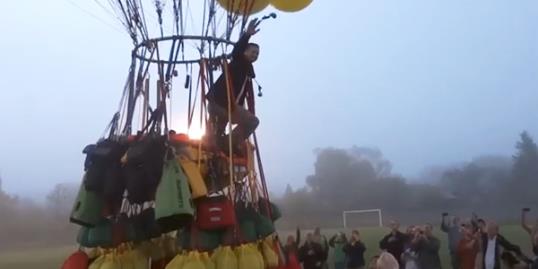 AP reports that Trappe, who struck a cartoonish figure suspended beneath 300 colorful helium-filled balloons, has landed in Newfoundland. He had lifted off Thursday morning from Caribou, Maine, about 350 miles from his landing point, and hoped to cross the ocean in a fashion never attempted before. But even before he launched, wind forecasts did not auger well for his journey.
Bing: Famous failed space missions
"Hmm, this doesn't look like France," Trappe joked sportingly on his Facebook page after landing in a remote location south of Newfoundland's York Harbour. Coincidentally, a scenic natural preserve named Blow Me Down Provincial Park juts into the Gulf of St. Lawrence near the area of the balloonist's forced landing.
 Trappe, who is from North Carolina, has been successful in prior balloon-cluster missions. He ambitiously used a cluster to cross the English Channel in 2010 and once lifted a fabricated house in a live imitation of "Up," the 2009 Disney-Pixar movie. He'd been planning his Atlantic crossing for two years.
More from Daily Dose:
Roller coaster to reopen after fatal accident
9/11 museum unveils Survivor Tree seedling program
Wash. firefighters rescue man stuck in chimney
Subscribe to the Daily Dose | Friend us on Facebook, follow us on Twitter and find us on Pinterest.
Photo: Jonathan Trappe balloon liftoff (NorthernMaine via YouTube, http://aka.ms/Jonath​anTrappe)
inspire: live a better life
Summer and winter tend to hog all the glory when it comes to travel high seasons. Sure, you want to soak up all the time at the beach you can during the summer, and you just want to escape the cold during the last months of the year.

Who just wants to stand around and watch the red and gold leaves slowly fall from their tree branches to the ground as we move from summer to fall? Instead, take in the changing seasons while you're on the move.

In September, I'll turn 38. I'm at the age now where, when people ask how old I am, it takes me a minute to remember. I don't know if that's because I've already been 37 different ages and it's hard to keep straight which one I am now, or if it's because I'm in denial, or if it's because I am going senile. Maybe a combination of all of the above. Regardless, my 30s have flown by and soon they will be but a memory. So, in an effort to preserve the memory I have left (or at least keep a record of it), and to celebrate what has been an amazing decade so far, here are 30 things that have happened to me in my 30s (and will probably happen to you too):

Traveling doesn't have to be stressful. And what you can fit in your carry-on can make all the difference (and not just a fresh pair of socks), especially when you get that low battery signal.

Volunteering (and these other rituals) might be just as good as exercise when it comes to extending your life.

Use these tricks to set a better tone for the rest of the week.

Whether it involves a food fight, mermaids or a torch-lit procession, people the world over know how to have a good time. Here are some of the biggest, boldest, booziest celebrations around, along with some tips to get the full experience.

Research could mean more effective treatment for human disorders.

An entry a day might keep the doctor away (or at least the shrink).

One woman's shout-outs to daily moments of joy — and how to cultivate them.

Our best health and fitness tips including the one move that tones all, berry news, and more.