Pop goes the mission to cross Atlantic by balloon cluster
Balloonist forced down in Newfoundland.
Jonathan Trappe, the man who was attempting an Atlantic Ocean crossing by balloons in the fashion of the animated movie "Up," has landed far short of his goal.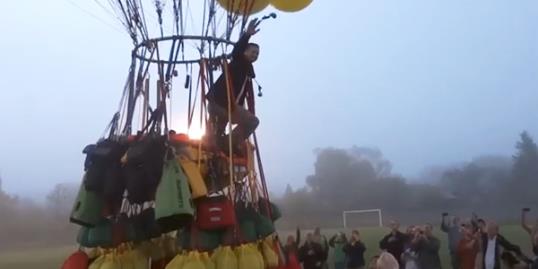 AP reports that Trappe, who struck a cartoonish figure suspended beneath 300 colorful helium-filled balloons, has landed in Newfoundland. He had lifted off Thursday morning from Caribou, Maine, about 350 miles from his landing point, and hoped to cross the ocean in a fashion never attempted before. But even before he launched, wind forecasts did not auger well for his journey.
Bing: Famous failed space missions
"Hmm, this doesn't look like France," Trappe joked sportingly on his Facebook page after landing in a remote location south of Newfoundland's York Harbour. Coincidentally, a scenic natural preserve named Blow Me Down Provincial Park juts into the Gulf of St. Lawrence near the area of the balloonist's forced landing.
 Trappe, who is from North Carolina, has been successful in prior balloon-cluster missions. He ambitiously used a cluster to cross the English Channel in 2010 and once lifted a fabricated house in a live imitation of "Up," the 2009 Disney-Pixar movie. He'd been planning his Atlantic crossing for two years.
More from Daily Dose:
Roller coaster to reopen after fatal accident
9/11 museum unveils Survivor Tree seedling program
Wash. firefighters rescue man stuck in chimney
Subscribe to the Daily Dose | Friend us on Facebook, follow us on Twitter and find us on Pinterest.
Photo: Jonathan Trappe balloon liftoff (NorthernMaine via YouTube, http://aka.ms/Jonath​anTrappe)
inspire: live a better life
For those who would rather pay it forward, proceeds from this gift guide go to deserving charities — and these presents happen to be pretty fabulous as well. Plus, shop more gifts for stylish women.

Miss Manners considers when to celebrate milestones

Miss Manners provides guidance on meeting others

No, money doesn't grow on Christmas trees, but you can green up your holiday with readers' savviest money-saving tips.

A look back on all of the tiny tasks that 30 years of technology has saved you from.

What sets you apart from everyone else looking for a new job or bigger paycheck? Your profile!

With all those deals you snagged on Black Friday, Small Business Saturday, and Cyber Monday, today is your chance to give back to those in need with #GivingTuesday.

Miss Manners provides guidance on how to handle a request for party contributions

Miss Manners instructs on why tit-for-tat never works

Miss Manners offers thoughts on guests who disregard dinner party instructions

Make big bucks, from home, having fun? These women got creative and figured out a way to have it all. You can too.