Pop goes the mission to cross Atlantic by balloon cluster
Balloonist forced down in Newfoundland.
Jonathan Trappe, the man who was attempting an Atlantic Ocean crossing by balloons in the fashion of the animated movie "Up," has landed far short of his goal.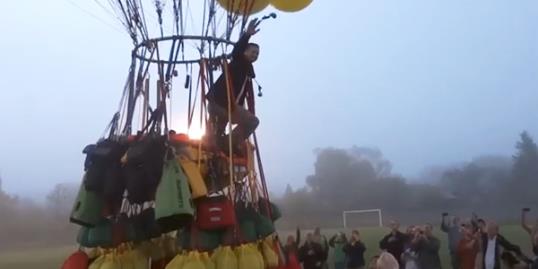 AP reports that Trappe, who struck a cartoonish figure suspended beneath 300 colorful helium-filled balloons, has landed in Newfoundland. He had lifted off Thursday morning from Caribou, Maine, about 350 miles from his landing point, and hoped to cross the ocean in a fashion never attempted before. But even before he launched, wind forecasts did not auger well for his journey.
Bing: Famous failed space missions
"Hmm, this doesn't look like France," Trappe joked sportingly on his Facebook page after landing in a remote location south of Newfoundland's York Harbour. Coincidentally, a scenic natural preserve named Blow Me Down Provincial Park juts into the Gulf of St. Lawrence near the area of the balloonist's forced landing.
 Trappe, who is from North Carolina, has been successful in prior balloon-cluster missions. He ambitiously used a cluster to cross the English Channel in 2010 and once lifted a fabricated house in a live imitation of "Up," the 2009 Disney-Pixar movie. He'd been planning his Atlantic crossing for two years.
More from Daily Dose:
Roller coaster to reopen after fatal accident
9/11 museum unveils Survivor Tree seedling program
Wash. firefighters rescue man stuck in chimney
Subscribe to the Daily Dose | Friend us on Facebook, follow us on Twitter and find us on Pinterest.
Photo: Jonathan Trappe balloon liftoff (NorthernMaine via YouTube, http://aka.ms/Jonath​anTrappe)
inspire: live a better life
Drowning in debt? Maybe there's a silver lining.

"But it's not real life, you know. It's a vacation."

Our list of must-dos before hitting the road.

Summer traditions can be great, but if you're on year six of packing the same people into the same car to go on the same vacation, it's time to switch things up. Surfing in Portugal, perhaps – or cycling through Northern Ireland. We've put together a list of 15 places well off the beaten path that you should go to when you're ready to try something new.

Grab a sleeping bag and head out to one of these amazing campsites.

A dozen adventures that are well worth the trip.

Paper downplays the significance of practice over raw talent.

Survey says American teens aren't great at complex or basic financial tasks.

Fear of Moving Away: How to conquer the latest cultural anxiety and embrace the unknown.

Adulthood has no eureka moment.

Just like your body, your brain needs a regular workout too.

Being a winner is a good feeling to have — especially in life. Winning doesn't solely relate to competitions or Charlie Sheen's coining of the term back in 2011. From achieving success to maintaining a work-life balance, find out what characteristics mean your life is going the way it should be. You may just even find an inspiration or two that you'll want to incorporate into your daily routine!