Who Could Blow $640 Million?
Tales of mega-loss among lottery winners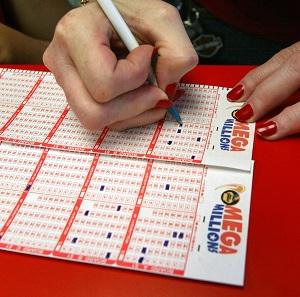 At over $640,000,000 and climbing, tonight's Mega-Millions draw promises the biggest lottery payday ever. It's an incomprehensible number, really, and it's equally hard to think of anything you couldn't afford even after a few hundred mill goes to taxes. You could buy an island and a helicopter to get you there. You could bail your entire community out of debt. You could fill up your gas tank at least 8 or 10 times.
But does a lucky ticket amount to pennies from heaven or a deal with the devil? Beware that plenty of lottery winners past have been taken to unimaginable financial heights only to make spectacular and sometimes tragic falls. In case you're the one to hit the numbers tonight, here are a few cautionary tales.
Abraham Shakespeare pegged the Florida Lottery in 2006 and took home a lump sum of  $17 million. Shakespeare was conservative with his winnings but, hounded by pleas for money, once told his brother, "I'd have been better off broke." He had no idea how much better off: four years later his body was found under a concrete slab. A woman named DeeDee Moore, who had conned Shakespeare into a business deal and siphoned cash, professed innocence when questioned, but her defense began falling apart as authorities realized she was in possession of Shakespeare's phone and had been texting his friends to pretend he was still alive.
Callie Rogers won a British lottery paying the equivalent of about USD $3 million at the tender and vulnerable age of 16. She bought homes for family members, but also burned untold thousands on vacations, clothes, and cars — and over $360,000 on cocaine. She has attempted suicide three times (found once, with bleeding wrists, by her drug dealer) and now lives at her mother's house with her two children. At last report, Callie had less than $30,000 left in a bank account.  "I honestly wish I'd never won the lottery money," Rogers said in a 2009 interview. "All that money has brought me is heartache."
Billy Bob Harrell of Texas had a job stocking shelves in a Home Depot when he hit for $31 million in 1997. Deeply religious and kind-hearted, he lavished as much luxury on family and friends as he did on strangers and his beloved church. But Harrell's life came undone as spending and lending took its toll: he once told a financial advisor, "Winning the lottery is the worst thing that ever happened to me." Less than two years after becoming a multimillionaire, with his marriage in tatters, Harrell took his own life with a shotgun.
Andrew "Jack" Whittaker won the Powerball on Christmas of 2002 — at $314 million, the West Virginian had won the biggest undivided jackpot in lottery history. A do-gooder and instant celebrity, easily recognized in his ever-present black duds and cowboy hat, Jack hired three people just to open the letters begging him for money. Of the $113 million he took home, Jack gave away $14 million and spent at least another $45 million on his own. Jack also lost money to thieves and cons, but his greatest losses were more deeply personal. His drug-addled granddaughter, Brandi, who'd also been pursued for the fortune of her "Paw Paw," died in 2004 at age 17. His daughter Ginger, mother to Brandi, died in 2009. Whittaker has also been sued by the Caesars casino in Atlantic City for bouncing $1.5 million in checks to cover gambling losses.

William "Bud" Post III won the Pennsylvania lottery for $16.2 million in 1988. Bud had been an orphan and a drifter, but his biggest problems came with the money. According to the Washington Post, his brother tried to hire a contract killer to take out Bud and his wife (his sixth wife). His landlady forced a third of his jackpot from his hand. Bud squandered his remaining fortune on cars, motorcycles, and a sailboat. When a debt collector knocked on the door of his crumbling mansion, which had windows covered with plywood and a pool filled with junk, Bud fired a shotgun at him. Bud served a prison sentence, and at the time of his death from respiratory failure in 2006 was living on a monthly $450 check for disability. Sloshing around his decrepit home, he once told an interviewer through false teeth, "I was much happier when I was broke."

Good luck with your numbers.
inspire: live a better life
Miss Manners advises on how to respond when one gets unsolicited advice about weight issues.

Editor's note: We will now be publishing Miss Manners articles twice weekly, but you will only see one question and answer per article. You can expect to see these articles appear on Tuesdays and Thursdays going forward.

President Harry S. Truman was behind efforts to establish the first Armed Forces Day in 1950, and decades later the nation continues to set aside the third Saturday in May to recognize and thank members of the U.S. military for their patriotic service. With these five homecoming images, we salute all service members at home and abroad.

There's much to be desired about working from home: the stress-free commute, flexible hours, and improved work-life balance.

Wishing for the fountain of youth? You may not need it. We've rounded up real-women secrets, tried-and-true beauty tips, and the latest research to help you fight aging.

Experts weigh in on when to bite your tongue at the office.

Oh, the places you'll go — to get some "me" time, that is. REDBOOK readers confess all on Facebook.

How much money you make isn't nearly as important as how you use it, according to Elizabeth Dunn and Michael Norton, authors of the new book Happy Money.

Plus, how do you ask people to not bring gifts to a shower?

Looking for a career upgrade? Follow these tips for a foot in the door.

These tanning and skin cancer myths aren't just wrong — they can do serious harm. Wise up and head into a healthier future. P.S. You'll look a lot younger too.

It's possible to rejigger your brain circuitry and feel more joy, even on Monday mornings. Here's how.