Wake-up call: Your email is not safe
Think yours is secure? So did the director of the CIA.
By now it's obvious to anyone paying attention that David Petraeus was as unwilling or unable to secure his email as he was to secure his belt buckle. If the director of one of the world's greatest intelligence agencies could not manage to protect his digital communications, what hope do the rest of us have?
If your email privacy has never been invaded, there's really only one explanation: No one has wanted to yet.
More on MSN Living: 50 things everyone should know about marriage
Of the many confusing factors in the Petraeus scandal, one nagging head-scratcher is how the top spy in the United States could get busted via email. Don't these guys use invisible ink or embed chips under their skin anymore? You can get a secret decoder ring in a box of Cap'n Crunch that offers more security than Petraeus and his paramour employed.
Their first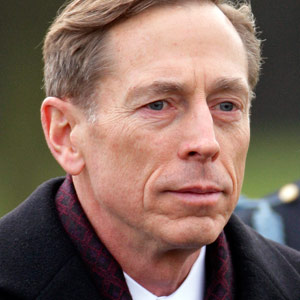 mistake, aside from their personal indiscretions, was using a Web-based email account. Petraeus and biographer Paula Broadwell thought they were being pretty clever by not exchanging emails between them; instead, they opened a Gmail account and saved messages to each other in a drafts folder, a tactic that had been used previously by terrorists.
That may have kept their spouses from discovering emails on a laptop, but it wouldn't even protect someone involved in a minor lawsuit. As the New York Times has noted, courts wield search-and-subpoena powers enabling a lawyer from the other side to access emails and info on a computer, on a smartphone or stored on a cloud. Tick off the authorities with a potential breach of national security, and you can bet they will be up in your stuff faster than you can say "empty trash."
More on MSN Living: The top 10 traits women want in a man
Their second major flub was not masking Broadwell's IP address, the Internet Protocol number that identifies an individual device. Though the shared Gmail account was ostensibly anonymous, Broadwell never cloaked the IP address when using her computer on hotel Wi-Fi networks. When she harassed Jill Kelley using the same computer, Kelley forwarded the messages to the F.B.I., who were easily able to cross-reference IP addresses on hotel Wi-Fi's with hotel guest lists and track the computer to Broadwell.
Despite the many missteps of an intelligence expert who should have known better, there are numerous options for covering — or obliterating — your digital tracks, from virtual private networks that offer protection on public Wi-Fi's to encryption services to email messages that self-destruct on a timer. But the only surefire method to avoiding the discovery of wrongdoing, online or off, is not doing wrong in the first place.
Photo: Indigo/Getty Images
 More from MSN Living:
25 things she finds sexiest about you
8 words that give away a liar
The trends men love ... and the ones they hate

inspire: live a better life
Editor's note: We will now be publishing Miss Manners articles twice weekly, but you will only see one question and answer per article. You can expect to see these articles appear on Tuesdays and Thursdays going forward.

President Harry S. Truman was behind efforts to establish the first Armed Forces Day in 1950, and decades later the nation continues to set aside the third Saturday in May to recognize and thank members of the U.S. military for their patriotic service. With these five homecoming images, we salute all service members at home and abroad.

There's much to be desired about working from home: the stress-free commute, flexible hours, and improved work-life balance.

Wishing for the fountain of youth? You may not need it. We've rounded up real-women secrets, tried-and-true beauty tips, and the latest research to help you fight aging.

Experts weigh in on when to bite your tongue at the office.

Oh, the places you'll go — to get some "me" time, that is. REDBOOK readers confess all on Facebook.

How much money you make isn't nearly as important as how you use it, according to Elizabeth Dunn and Michael Norton, authors of the new book Happy Money.

Plus, how do you ask people to not bring gifts to a shower?

Looking for a career upgrade? Follow these tips for a foot in the door.

These tanning and skin cancer myths aren't just wrong — they can do serious harm. Wise up and head into a healthier future. P.S. You'll look a lot younger too.

It's possible to rejigger your brain circuitry and feel more joy, even on Monday mornings. Here's how.

Inner peace just got easier. You don't need quiet, incense or hours to meditate, and you can scrap the chanting. Better: Ninety-five percent of you say you're calmer after a single 10-minute session. Whatever your excuse (see ours), get your om on and reap the rewards.