Beyoncé, DNA and MLK mark this week's highs and lows
Very best & very worst of the news this week.
Every week, the Daily Dose reviews the news to select three very best and three very worst stories to come across our desk.
— The Very Best —
Plenty of Americans couldn't care less that Beyoncé lip-synched the national anthem. Where was all this stink when Yo-Yo Ma's quartet pumped in a recording at the 2009 inauguration, anyway? Guess that guy just can't play. Aretha Franklin — who did sing the stripes off "The Star-Spangled Banner" that year — gave Beyoncé respect and explained that the cold temperatures on Inauguration Day just didn't make for "good singing weather."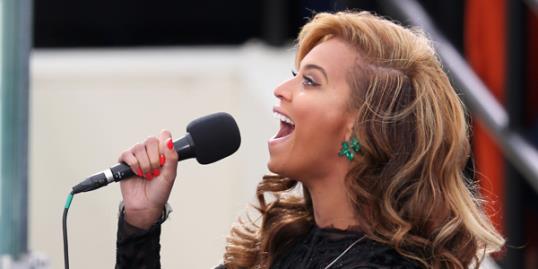 Scientists have learned how to store digital information on strands of DNA. The journal Nature reports how UK researchers, building on prior knowledge, archived and then retrieved 739 kilobytes of computer data — including Shakespeare's sonnets and a portion of Martin Luther King's "I Have A Dream" speech — on atoms of synthesized human DNA. Someday you'll be able to store all of your MP3 songs on a molecule you can't see. Or at least your kids will.
More from the MSN Living: Your 2013 bargain calendar
In an MLK Day rant on The Daily Show, fake correspondent Larry Willmore scorched a number of opportunists who have commandeered the name of Martin Luther King, Jr. to advance their own interests. Willmore ran a clip of Arizona Representative Trent Franks arguing against abortion and saying he has "every conviction that…King would not be silent in the face of such an outrage." Willmore retorted, "I think it's an outrage that your state spent 10 years fighting not to observe Dr. King's birthday."
— The Very Worst —
The man who once voiced Charlie Brown, the strangely bald child of the Peanuts comics and animated specials, was arrested as he crossed the border from Tijuana. MSNBC reports that Peter Robbins, 56, had threatened and stalked a plastic surgeon after the doctor refused to give him a refund for his ex-girlfriend's breast enhancement surgery. Psychiatric help will be available to Robbins in prison for five cents.
More from the MSN Living: 25 things that will keep you young
In a semi-rural town just outside of Albuquerque, a 15-year-old shot and killed his parents and three grade-school siblings. Several firearms and a semi-automatic rifle known by police to be one of the murder weapons were recovered at the scene. The teen, Nehemiah Griego, told investigators after his arrest that he had planned to end his spree "at a Wal-Mart, with mass destruction."
The Coalition To Stop Gun Violence sacrificed the moral high ground when they selectively edited an NRA ad featuring Georgia Congressman John Barrow for their own attack ad. News reports from Sandy Hook were spliced in with quotes from a proud Barrow about how his grandfather once wielded his Smith & Wesson to help stop a lynching, and how his father kept the same gun to keep the family safe. But Coalition editors cut out the parts about the lynching and keeping the family safe.
More from Daily Dose:
Facebook can't get you fired
5 promises Obama might still keep
Infographic: A look at guns in America
Love content like this? Friend us on Facebook, follow us on Twitter and find us on Pinterest.
Photo: Mark Wilson/Getty Images
inspire: live a better life
How much do you really know about the Earth? In honor of Earth Day, April 22, we explore some interesting and fun facts about the fifth-largest planet of our solar system.

Happify shares their results of a recent study on how money affects our happiness.

A top exec reveals the company's secret code

Pro tips from the guy who's done it four times

Not all mistakes are as blatant as posting party pics when you're 'sick' at home.

Everyone struggles through weekday drudgery to reach their weekend fun. But what if you could reclaim every day of your life?

Zooming up the ladder is great, but questioning yourself 24/7 is no way to succeed. Manage your stressed self with these surefire tips.

Forget trying to control every little detail. Life is lots more fun (and less stressful) when you let go from the get-go.

So, what exactly is this thing we call "happiness" and how do we get it?

Mark Zuckerberg has an even bigger effect on your life than you thought.

Everyone makes mistakes, but some mistakes can be devastating. Here are 10 icons who fell from grace, and what they can do to redeem themselves.

Twitter turns eight years old today.