Beyoncé, DNA and MLK mark this week's highs and lows
Very best & very worst of the news this week.
Every week, the Daily Dose reviews the news to select three very best and three very worst stories to come across our desk.
— The Very Best —
Plenty of Americans couldn't care less that Beyoncé lip-synched the national anthem. Where was all this stink when Yo-Yo Ma's quartet pumped in a recording at the 2009 inauguration, anyway? Guess that guy just can't play. Aretha Franklin — who did sing the stripes off "The Star-Spangled Banner" that year — gave Beyoncé respect and explained that the cold temperatures on Inauguration Day just didn't make for "good singing weather."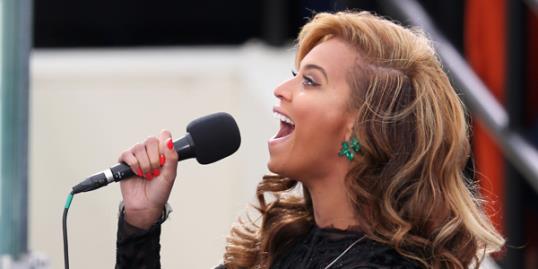 Scientists have learned how to store digital information on strands of DNA. The journal Nature reports how UK researchers, building on prior knowledge, archived and then retrieved 739 kilobytes of computer data — including Shakespeare's sonnets and a portion of Martin Luther King's "I Have A Dream" speech — on atoms of synthesized human DNA. Someday you'll be able to store all of your MP3 songs on a molecule you can't see. Or at least your kids will.
More from the MSN Living: Your 2013 bargain calendar
In an MLK Day rant on The Daily Show, fake correspondent Larry Willmore scorched a number of opportunists who have commandeered the name of Martin Luther King, Jr. to advance their own interests. Willmore ran a clip of Arizona Representative Trent Franks arguing against abortion and saying he has "every conviction that…King would not be silent in the face of such an outrage." Willmore retorted, "I think it's an outrage that your state spent 10 years fighting not to observe Dr. King's birthday."
— The Very Worst —
The man who once voiced Charlie Brown, the strangely bald child of the Peanuts comics and animated specials, was arrested as he crossed the border from Tijuana. MSNBC reports that Peter Robbins, 56, had threatened and stalked a plastic surgeon after the doctor refused to give him a refund for his ex-girlfriend's breast enhancement surgery. Psychiatric help will be available to Robbins in prison for five cents.
More from the MSN Living: 25 things that will keep you young
In a semi-rural town just outside of Albuquerque, a 15-year-old shot and killed his parents and three grade-school siblings. Several firearms and a semi-automatic rifle known by police to be one of the murder weapons were recovered at the scene. The teen, Nehemiah Griego, told investigators after his arrest that he had planned to end his spree "at a Wal-Mart, with mass destruction."
The Coalition To Stop Gun Violence sacrificed the moral high ground when they selectively edited an NRA ad featuring Georgia Congressman John Barrow for their own attack ad. News reports from Sandy Hook were spliced in with quotes from a proud Barrow about how his grandfather once wielded his Smith & Wesson to help stop a lynching, and how his father kept the same gun to keep the family safe. But Coalition editors cut out the parts about the lynching and keeping the family safe.
More from Daily Dose:
Facebook can't get you fired
5 promises Obama might still keep
Infographic: A look at guns in America
Love content like this? Friend us on Facebook, follow us on Twitter and find us on Pinterest.
Photo: Mark Wilson/Getty Images
inspire: live a better life
Editor's note: We will now be publishing Miss Manners articles twice weekly, but you will only see one question and answer per article. You can expect to see these articles appear on Tuesdays and Thursdays going forward.

President Harry S. Truman was behind efforts to establish the first Armed Forces Day in 1950, and decades later the nation continues to set aside the third Saturday in May to recognize and thank members of the U.S. military for their patriotic service. With these five homecoming images, we salute all service members at home and abroad.

There's much to be desired about working from home: the stress-free commute, flexible hours, and improved work-life balance.

Wishing for the fountain of youth? You may not need it. We've rounded up real-women secrets, tried-and-true beauty tips, and the latest research to help you fight aging.

Experts weigh in on when to bite your tongue at the office.

Oh, the places you'll go — to get some "me" time, that is. REDBOOK readers confess all on Facebook.

How much money you make isn't nearly as important as how you use it, according to Elizabeth Dunn and Michael Norton, authors of the new book Happy Money.

Plus, how do you ask people to not bring gifts to a shower?

Looking for a career upgrade? Follow these tips for a foot in the door.

These tanning and skin cancer myths aren't just wrong — they can do serious harm. Wise up and head into a healthier future. P.S. You'll look a lot younger too.

It's possible to rejigger your brain circuitry and feel more joy, even on Monday mornings. Here's how.

Inner peace just got easier. You don't need quiet, incense or hours to meditate, and you can scrap the chanting. Better: Ninety-five percent of you say you're calmer after a single 10-minute session. Whatever your excuse (see ours), get your om on and reap the rewards.