Creationist offers $10K to prove Bible wrong
Betting that science supports Genesis and not Darwin.
A die-hard creationist is putting his money where his faith is.
Dr. Joseph Mastropaolo believes unequivocally that the Bible's book of Genesis is a literal account of our universe's origin. Standing firmly behind his convictions, which he believes can be scientifically demonstrated, Mastropaolo has issued a challenge: Anyone who can prove, using hard evidence, that science contradicts the literal reading of Genesis walks away $10,000 richer.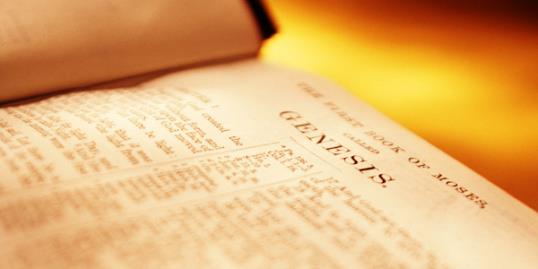 Be warned: You don't want to sign up for this challenge without your facts in order. Contestants must arrive ready to argue their position against Mastropaolo with their own $10k in hand — and be willing to lose the money if Mastropaolo's scientific evidence of creationism prevails. So it's not so much a reward situation as a high-stakes bet. Whether or not the Bible says gambling is a sin remains a debate for another time.
More from MSN Living: 40 time-saving tips to save you an hour a day
 The Literal Genesis Trial Contest is detailed at the Creation Science Hall of Fame — "Honoring those who honored God's Word as literally written in Genesis" — where the challenge is addressed, in good competitive spirit, to theistic evolutionists, allegoricallists, and "all you 'Long Agers.'" 
According to contest rules, a mini-trial will be held in a courthouse where the contestant and Mastropaolo are to each put $10,000 in escrow. A superior court justice will decide which party prevails and is awarded the $20,000. (The Creation Science Hall of Fame is hosting the challenge but says it is not a party to the judge or any other entity involved.)
More from MSN Living: Spring cleaning: 13 things to replace now
If you plan on arriving with a high schooler's grasp of evolution and a copy of Darwin's "On the Origin of Species," well, may God be with you. Mastropaolo is a highly educated, highly accomplished scientist. He's a recognized expert in kinesiology (the scientific study of body movement, aka human kinetics) and a recipient of Vice Presidential Awards for his studies on life in space. 
And he believes that evolution cannot be proved. 
"[Evolutionists] are not stupid people," Mastropaolo told The Guardian. "They are bright, but they are bright enough to know there is no scientific evidence they can give in a mini-trial."
Mastropaolo's bio indicates he has already scientifically proved that Adam and Eve were genetically perfect, that "ape-men are frauds" and that the Earth is 6,800 years old, give or take eight and a half centuries. 
More from Daily Dose:
Universe is older than we thought
'Smart guns' may help prevent violence
'Ghost island' vanishes
Subscribe to the Daily Dose
Love content like this? Friend us on Facebook, follow us on Twitter and find us on Pinterest
Photo: Man offers reward to prove Bible wrong / Malcolm Piers/Getty Images
inspire: live a better life
Summer traditions can be great, but if you're on year six of packing the same people into the same car to go on the same vacation, it's time to switch things up. Surfing in Portugal, perhaps – or cycling through Northern Ireland. We've put together a list of 15 places well off the beaten path that you should go to when you're ready to try something new.

Grab a sleeping bag and head out to one of these amazing campsites.

A dozen adventures that are well worth the trip.

Paper downplays the significance of practice over raw talent.

Survey says American teens aren't great at complex or basic financial tasks.

Fear of Moving Away: How to conquer the latest cultural anxiety and embrace the unknown.

Adulthood has no eureka moment.

Just like your body, your brain needs a regular workout too.

Being a winner is a good feeling to have — especially in life. Winning doesn't solely relate to competitions or Charlie Sheen's coining of the term back in 2011. From achieving success to maintaining a work-life balance, find out what characteristics mean your life is going the way it should be. You may just even find an inspiration or two that you'll want to incorporate into your daily routine!

Sometimes it seems like you need a vacation from your vacation.

That'll get you and your 2 kids a house, SUV, and more, per a 'USA Today' analysis.

While most of us associate the Fourth of July with fireworks and barbecue (and taking a long weekend off from work), it's also an important day to give thanks to the people who help keep us safe.