Oregon smoke jumpers skydive into illegal pot garden
Authorities say the site was being cultivated for Mexican drug gangs.
MEDFORD, Ore. (AP) — A team of smoke jumpers parachuting to fight a fire in the mountains of southern Oregon landed in an illegal marijuana garden being prepared for growing season.
The six smoke jumpers from a base in Redmond found the site Monday evening, when there was a rash of lightning strikes.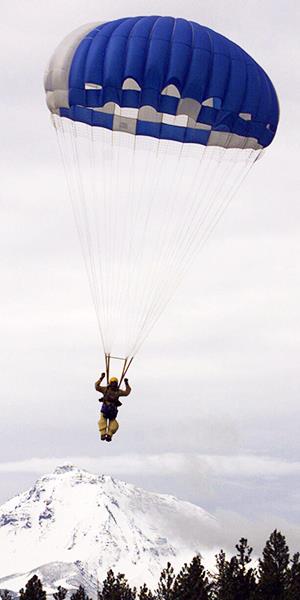 Gallery: Funniest Internet memes
Jackson County sheriff's spokeswoman Andrea Carlson says the smoke jumpers notified authorities, who hiked into the remote site in the Rogue River-Siskiyou National Forest. They seized two guns and more than 1,000 little pot plants.
Carlson says that the site near the community of Applegate was being cultivated by growers for Mexican drug gangs and that it has been used before.
Gallery: Home projects you should NOT DIY
She says the smoke jumpers saw some people but weren't sure whether they were pot growers, so no one was arrested.
Bing: Facts about cannabis
The smoke jumpers extinguished the fire after it burned less than an acre.
More from Daily Dose:
Nazi-themed opera canceled in Germany
Brazilian woman survives harpoon shooting
What makes a kidnapper?
Love content like this? Friend us on Facebook, follow us on Twitter and find us on Pinterest.
Photo: File photo of a smoke jumper near Sisters, Ore.//Jack Smith/AP
inspire: live a better life
How much do you really know about the Earth? In honor of Earth Day, April 22, we explore some interesting and fun facts about the fifth-largest planet of our solar system.

Happify shares their results of a recent study on how money affects our happiness.

A top exec reveals the company's secret code

Pro tips from the guy who's done it four times

Not all mistakes are as blatant as posting party pics when you're 'sick' at home.

Everyone struggles through weekday drudgery to reach their weekend fun. But what if you could reclaim every day of your life?

Zooming up the ladder is great, but questioning yourself 24/7 is no way to succeed. Manage your stressed self with these surefire tips.

Forget trying to control every little detail. Life is lots more fun (and less stressful) when you let go from the get-go.

So, what exactly is this thing we call "happiness" and how do we get it?

Mark Zuckerberg has an even bigger effect on your life than you thought.

Everyone makes mistakes, but some mistakes can be devastating. Here are 10 icons who fell from grace, and what they can do to redeem themselves.

Twitter turns eight years old today.