Oregon smoke jumpers skydive into illegal pot garden
Authorities say the site was being cultivated for Mexican drug gangs.
MEDFORD, Ore. (AP) — A team of smoke jumpers parachuting to fight a fire in the mountains of southern Oregon landed in an illegal marijuana garden being prepared for growing season.
The six smoke jumpers from a base in Redmond found the site Monday evening, when there was a rash of lightning strikes.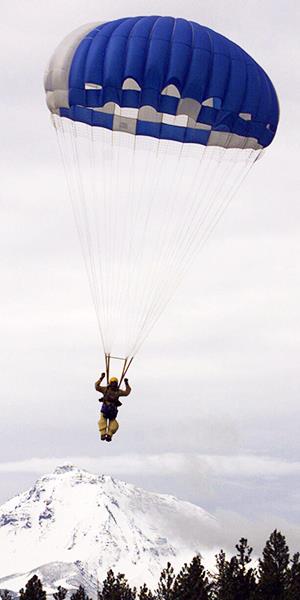 Gallery: Funniest Internet memes
Jackson County sheriff's spokeswoman Andrea Carlson says the smoke jumpers notified authorities, who hiked into the remote site in the Rogue River-Siskiyou National Forest. They seized two guns and more than 1,000 little pot plants.
Carlson says that the site near the community of Applegate was being cultivated by growers for Mexican drug gangs and that it has been used before.
Gallery: Home projects you should NOT DIY
She says the smoke jumpers saw some people but weren't sure whether they were pot growers, so no one was arrested.
Bing: Facts about cannabis
The smoke jumpers extinguished the fire after it burned less than an acre.
More from Daily Dose:
Nazi-themed opera canceled in Germany
Brazilian woman survives harpoon shooting
What makes a kidnapper?
Love content like this? Friend us on Facebook, follow us on Twitter and find us on Pinterest.
Photo: File photo of a smoke jumper near Sisters, Ore.//Jack Smith/AP
inspire: live a better life
You'll stave off credit card debt by the end of the year if you account for these often-forgotten expenses.

Mark Zuckerberg has an even bigger effect on your life than you thought.

Take this advice to finally tackle that nagging to-do list.

The iconic storyteller would have been 110-years-old

Take the time to appreciate women's contributions to society. Here are some of the women who inspire us by their example.

Cast of the iconic TV show reunites for Florence Henderson's birthday

We couldn't be more excited to watch the best athletes in the world compete at the Winter Olympics in Sochi. This year, about 44 percent of the competitors are women according to the International Olympic Committee—which is awesome but wasn't always the case. Let's look back at some of the amazing women who paved the way with incredible, memorable feats of girl power.

Still pulling yourself out of holiday credit card debt? Ready to pool some funds for that beach vacation you've been dreaming about at your desk? We're with you 100 percent.

"FOMO, the fear of missing out, is a form of social anxiety," says psychiatrist Gail Saltz. "This type of fear tends to cause compulsive behaviors, like checking out other social situations even as you are in the middle of one currently."

When The Shriver Report was released in early January, we shared some of the more interesting statistics about income equality, the wage gap, and other issues confronting women.

Clay Aiken to run for public office.

Here's how to boost your joy — and put more cash in your pocket.