Oregon smoke jumpers skydive into illegal pot garden
Authorities say the site was being cultivated for Mexican drug gangs.
MEDFORD, Ore. (AP) — A team of smoke jumpers parachuting to fight a fire in the mountains of southern Oregon landed in an illegal marijuana garden being prepared for growing season.
The six smoke jumpers from a base in Redmond found the site Monday evening, when there was a rash of lightning strikes.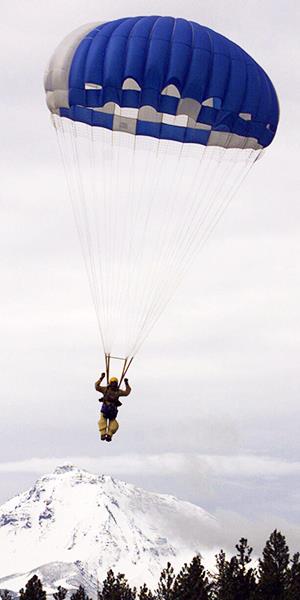 Gallery: Funniest Internet memes
Jackson County sheriff's spokeswoman Andrea Carlson says the smoke jumpers notified authorities, who hiked into the remote site in the Rogue River-Siskiyou National Forest. They seized two guns and more than 1,000 little pot plants.
Carlson says that the site near the community of Applegate was being cultivated by growers for Mexican drug gangs and that it has been used before.
Gallery: Home projects you should NOT DIY
She says the smoke jumpers saw some people but weren't sure whether they were pot growers, so no one was arrested.
Bing: Facts about cannabis
The smoke jumpers extinguished the fire after it burned less than an acre.
More from Daily Dose:
Nazi-themed opera canceled in Germany
Brazilian woman survives harpoon shooting
What makes a kidnapper?
Love content like this? Friend us on Facebook, follow us on Twitter and find us on Pinterest.
Photo: File photo of a smoke jumper near Sisters, Ore.//Jack Smith/AP
inspire: live a better life
Study points to benefits of improved living conditions.

Don't leave home without these must-have items.

Handshakes spread 20 times more germs, study says.

Drowning in debt? Maybe there's a silver lining.

"But it's not real life, you know. It's a vacation."

Our list of must-dos before hitting the road.

Summer traditions can be great, but if you're on year six of packing the same people into the same car to go on the same vacation, it's time to switch things up. Surfing in Portugal, perhaps – or cycling through Northern Ireland. We've put together a list of 15 places well off the beaten path that you should go to when you're ready to try something new.

Grab a sleeping bag and head out to one of these amazing campsites.

A dozen adventures that are well worth the trip.

Paper downplays the significance of practice over raw talent.

Survey says American teens aren't great at complex or basic financial tasks.

Fear of Moving Away: How to conquer the latest cultural anxiety and embrace the unknown.