Will robots take over our lives?
There may be real intelligence behind the fear of artificial intelligence.
Are robots going to take over our lives? And if so, would they just get on with it already?
We human types seem to have something of a love-hate relationship with bots, 'borgs, and droids. Just consider all those mechanical-hearted beings we're on a first-name basis with, from C-3PO and R2-D2 to the Terminator (models T-800 and T-1000), HAL, Data, and Ash, and ever forward to our more recent love affairs with WALL-E and Siri.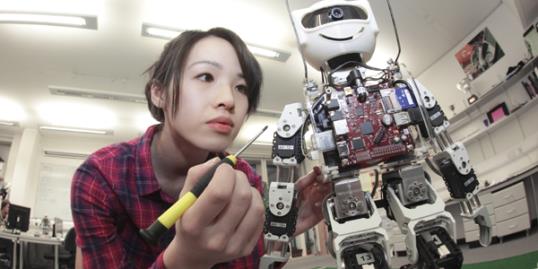 Yet, as a number of recent articles have pointed out, a new phase of anti-robot sentiment seems to be stirring. The New York Times ran a piece this weekend called "Raging (Again) Against the Robots," Business Insider regularly tracks stories on robot takeover, and 60 Minutes recently aired the segment "Are robots hurting job growth?"
More from MSN Living: Top 2013 tech trends
Ah yes, the jobs. That's what it's all about. Man has resented the machines he's built ever since the first loom reduced the workforce of weaving women. For centuries, every major innovation in mechanics or technology has come at the cost of human jobs, and we've never gotten used to it. Nevermind that ATM's aren't prone to the same errors as human tellers are, or that self-driving cars will get in fewer accidents, or that robotic surgery represents the next best hope in surgical medicine. Robots are cute for conveniences but, understandably, people don't want to lose their jobs to some artifical intelligence form. Even today's news included a "chilling sign" of things to come.
More from MSN Living: The best tech for your home this year
What's curious is that humanoid paranoia seems to be predominantly an American phenomenon. Quoting an official from the International Federation of Robotics, The New York Times notes that a fear of robotic overlords is virtually unheard-of in the "equally mechanized economies of contemporary Japan and Europe."
But in those countries, the Times also notes, there are more protections for human workers. It's harder to fire people in those nations even when automation renders their jobs obsolete. In Japan's tech-boom of the 1980s, human productivity and creativity even saw an increase as workers were incentivized to improve the efficiency of the bot workforce that was nipping at their heels and cutting into their paychecks.
Robot anxiety is stoked here in America by a sagging economy and high unemployment. When better days come we may once again be more receptive to sharing the work with robots. Till then, we'll have to resist the urge to pull their plugs.
More from Daily Dose:
Can animals predict weather?
Life found above Earth
Facebook can't get you fired
Love content like this? Friend us on Facebook, follow us on Twitter and find us on Pinterest
Photo: Peter Cade/Getty Images
inspire: live a better life
Don't leave home without these must-have items.

Handshakes spread 20 times more germs, study says.

Drowning in debt? Maybe there's a silver lining.

"But it's not real life, you know. It's a vacation."

Our list of must-dos before hitting the road.

Summer traditions can be great, but if you're on year six of packing the same people into the same car to go on the same vacation, it's time to switch things up. Surfing in Portugal, perhaps – or cycling through Northern Ireland. We've put together a list of 15 places well off the beaten path that you should go to when you're ready to try something new.

Grab a sleeping bag and head out to one of these amazing campsites.

A dozen adventures that are well worth the trip.

Paper downplays the significance of practice over raw talent.

Survey says American teens aren't great at complex or basic financial tasks.

Fear of Moving Away: How to conquer the latest cultural anxiety and embrace the unknown.

Adulthood has no eureka moment.