Top Tweets of 2012
Twitter releases end-of-the-year highlights.
You can have your Best Dressed/Worst Dressed, your Top Films, your Handsomest/Prettiest​/Funniest. All of those year-end wrap-ups may sell a lot of magazines, but the lists are formulated behind office doors by a handful of self-appointed experts Thanks to online analytics, social media stats offer a quantifiable take on what the rest of us are talking about.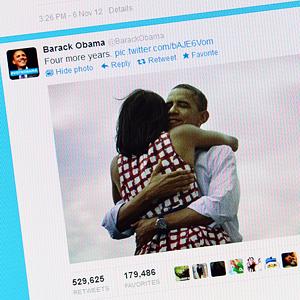 More on MSN Living: Break the rules for a better romance
We've already shared the most frequently searched terms of 2012. Today, Twitter released its own year-end highlights based on its active user base of some 140 million active users. Here's a selection of top tweets.


Most Retweets
"Four more years."  The most retweeted message of the year came from President Obama when his election victory was confirmed. The three-worder — plus an image of Obama, eyes closed, hugging the First Lady  — was retweeted over 810,000 times by people in more than 200 countries, and marked as a favorite by over 300,000 users.
"RIP Avalanna. i love you"  A sweet picture of Justin Bieber smiling and holding a young fan tells a sad story. In a September 26th tweet, Bieber said goodbye to six-year-old Avalanna Routh, who had suffered from a rare form of brain cancer. It was retweeted more than 220,000 times.
"F*** it NFL.. Fine me and use the money to pay the regular refs."  The infamous call made by a replacement ref in a September game between the Seahawks and the Packers inspired over a million tweets from fans who were angry about the  referees' labor standoff with the NFL. Green Bay's TJ Lang shared some choice words for the league (the asterisks are ours) and generated the third most retweets of the year.
More on MSN Living: World's greatest body shapers
Biggest Conversations
The Summer Olympics   During the Summer Games in London, the athletic event to generate the biggest spike in tweets — at 80,000 per minute — was the 200-meter sprint, which was won by the most-discussed athlete, Jamaica's Usain Bolt. But Bolt lost the twitter race to the Spice Girls, who generated 116,000 tweets per minute during the closing ceremonies. Overall, the Games generated 150 million tweets.
U.S. Election   More than 31 million tweets were sent about the election on Election Day, peaking at 327,452 tweets per minute as news outlets called state results that night.
MTV Video Music Awards   Twitter says over 52 million votes were cast via tweets for the "Most Sharable Video" during this year's MTV awards show. Yes, that means 21 million more people tweeted about One Direction and their fellow nominees than about the nominees for President of the United States.
Superstorm Sandy   Users shared both the the awe and agony of the storm in over 20 million Sandy-related tweets, and social media played a role in emergency communications.  From space, astronauts tweeted live images to the wind-torn planet below.
Goodbye, Whitney Houston — The news released on February 11th generated more than 10 million tweets, with many of Houston's fan's learning through social media that she had died.
Other top conversations: Super Bowl, Euro 2012, EUFA Champions League Semi-Final, "Summer Wars" obsession
Only on Twitter
Take me to your tweeter    Live pictures of Curiosity were tweeted from NASA's Jet Propulsion Laboratory as the Mars rover descended onto the Martian surface.
Everest ascent   Japanese mountaineer Nobukazu Kuriki tweeted his was way toward the planet's highest peak — but wasn't able to summit due to high winds.
King of the underworld   From the highest highs to the lowest lows. James Cameron tweeted from the bottom of the Mariana Trench, becoming the first person to tweet from 35,755 feet under the sea.
Photo: Gabriel Bouys/AFP/Getty Images
Bing: Top 12 headlines of 2012.
More from MSN Living:
Instant classic: Pinup suits
10 ways to feel good every day
What your engagement ring says about you
inspire: live a better life
Your boss. You might like her, you probably respect her, but do you know how to approach someone who seems so different from you? (Spoiler: She's actually not.)

Over the weekend, Oprah decluttered her Montecito mansion and three other properties in a Santa Barbara yard sale that brought in more than $600,000(!). (Proceeds will benefit her girls' leadership academy in South Africa, and not half of a Crate and Barrel chair, the traditional end goal of yard-sale proceeds.)

Exclusively for MSN, we bring you a six-part series from the new book: MISS MANNERS MINDS YOUR BUSINESS by Judith and Nicholas Ivor Martin.

Miss Manners weighs in on the financial burdens of remote weddings

How Miss Manners suggests dealing with out of town guest who want tour guide services

Exclusively for MSN, we bring you a six-part series from the new book: MISS MANNERS MINDS YOUR BUSINESS by Judith and Nicholas Ivor Martin.

Miss Manners offers perspective on a mother's concern over her daughter's friendships

Working through lunch has been proven to slow you down later in the day. Here's how to take back your lunch break.

A college education has both tangible and intangible benefits, from increasing your income to enriching your life in countless ways. Here are 10 benefits of earning a college degree that make the work worthwhile. By Larry West

Experts say there's money in hills of clothes, junk, and paperwork at home. We'll help you find it.

No matter how much you plan ahead, Thanksgiving always end up being stressful. These three tips will keep you calm on Turkey Day.

One of the great lessons of my adulthood is realizing that outer order contributes to inner calm — far more than you might expect. Yet as much as you want to stay organized, it's tough. You may blame the sheer tediousness of trying to keep clutter at bay, but I think we often buy into certain notions about decluttering that make it harder to maintain order. Read on to discover 8 myths that will keep you stuck with too much stuff — plus easy ways to conquer clutter and find happiness.