Hit-and-run deaths on the rise
National Highway Traffic Safety Administration reports increase in cyclist and pedestrian fatalities
If you live in Los Angeles or New York, you may want to pay extra close attention on the road. According to the U.S. Department of Transportation's National Highway Traffic Safety Administration (NHTSA), these cities have the highest rates of pedestrian and cyclist deaths.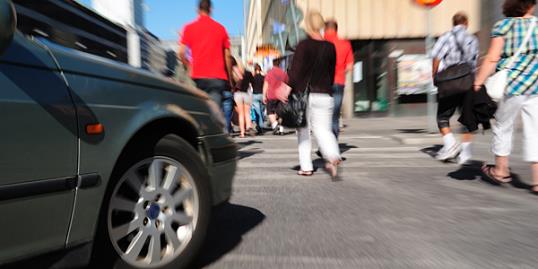 A new study from NHTSA indicates that total fatalities decreased by 1.9 percent from 2010, but cyclist and pedestrian deaths increased. This mixed report shows alarming numbers: 8.7 percent increase in cyclist fatalities and three percent increase in pedestrian fatalities in 2011.
More on MSN Living: 100 ways to save money in 2013 
In L.A., hit and runs involving pedestrians occur almost daily, reports NPR. In 2012, the Los Angeles Police Department (LAPD) recorded more than 2,500 motor vehicle vs. pedestrian incidents ranging from minor injury to death. Pedestrian traffic fatalities in Los Angeles are nearly triple the national average, cites a study by the University of Michigan Transportation Research Institute.
More on MSN Living: 50 best celebrity makeovers of all times
"Just in the last few days, we've had three pedestrians who were killed when they were crossing the street," Detective Bill Busto, the office in charge of LAPD's Valley Traffic Division was quoted. He says that lie many cities across the country, L.A. drivers and pedestrians are increasingly distracted by electronic devices.
"Here we live in our vehicle practically, we commute everywhere we go," Busto was quoted.
Bing: Traffic fatalities by state
"There's so much – so many cases, so many victims, and not enough hours in the day," LAPD officer Rhiannon Talley was quoted.
The need is clear: It is important to continue to keep overall traffic fatalities down and educate the public on driver distraction, red light running and speed in our intersections.
Drivers, pedestrians and cyclists – how do you practice caution and share the road?
Photo: Ola Dusegard/Getty Images
More from MSN Living:
Mansion made from trash
2012's worst words
10 facts about guns in America
inspire: live a better life
Miss Manners advises on how to respond when one gets unsolicited advice about weight issues.

Editor's note: We will now be publishing Miss Manners articles twice weekly, but you will only see one question and answer per article. You can expect to see these articles appear on Tuesdays and Thursdays going forward.

President Harry S. Truman was behind efforts to establish the first Armed Forces Day in 1950, and decades later the nation continues to set aside the third Saturday in May to recognize and thank members of the U.S. military for their patriotic service. With these five homecoming images, we salute all service members at home and abroad.

There's much to be desired about working from home: the stress-free commute, flexible hours, and improved work-life balance.

Wishing for the fountain of youth? You may not need it. We've rounded up real-women secrets, tried-and-true beauty tips, and the latest research to help you fight aging.

Experts weigh in on when to bite your tongue at the office.

Oh, the places you'll go — to get some "me" time, that is. REDBOOK readers confess all on Facebook.

How much money you make isn't nearly as important as how you use it, according to Elizabeth Dunn and Michael Norton, authors of the new book Happy Money.

Plus, how do you ask people to not bring gifts to a shower?

Looking for a career upgrade? Follow these tips for a foot in the door.

These tanning and skin cancer myths aren't just wrong — they can do serious harm. Wise up and head into a healthier future. P.S. You'll look a lot younger too.

It's possible to rejigger your brain circuitry and feel more joy, even on Monday mornings. Here's how.