Hit-and-run deaths on the rise
National Highway Traffic Safety Administration reports increase in cyclist and pedestrian fatalities
If you live in Los Angeles or New York, you may want to pay extra close attention on the road. According to the U.S. Department of Transportation's National Highway Traffic Safety Administration (NHTSA), these cities have the highest rates of pedestrian and cyclist deaths.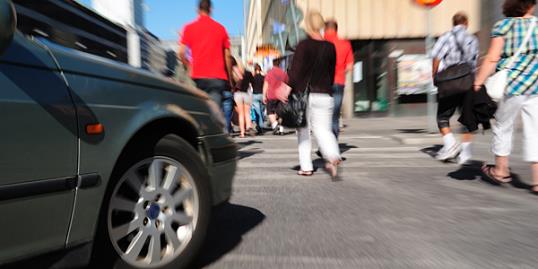 A new study from NHTSA indicates that total fatalities decreased by 1.9 percent from 2010, but cyclist and pedestrian deaths increased. This mixed report shows alarming numbers: 8.7 percent increase in cyclist fatalities and three percent increase in pedestrian fatalities in 2011.
More on MSN Living: 100 ways to save money in 2013 
In L.A., hit and runs involving pedestrians occur almost daily, reports NPR. In 2012, the Los Angeles Police Department (LAPD) recorded more than 2,500 motor vehicle vs. pedestrian incidents ranging from minor injury to death. Pedestrian traffic fatalities in Los Angeles are nearly triple the national average, cites a study by the University of Michigan Transportation Research Institute.
More on MSN Living: 50 best celebrity makeovers of all times
"Just in the last few days, we've had three pedestrians who were killed when they were crossing the street," Detective Bill Busto, the office in charge of LAPD's Valley Traffic Division was quoted. He says that lie many cities across the country, L.A. drivers and pedestrians are increasingly distracted by electronic devices.
"Here we live in our vehicle practically, we commute everywhere we go," Busto was quoted.
Bing: Traffic fatalities by state
"There's so much – so many cases, so many victims, and not enough hours in the day," LAPD officer Rhiannon Talley was quoted.
The need is clear: It is important to continue to keep overall traffic fatalities down and educate the public on driver distraction, red light running and speed in our intersections.
Drivers, pedestrians and cyclists – how do you practice caution and share the road?
Photo: Ola Dusegard/Getty Images
More from MSN Living:
Mansion made from trash
2012's worst words
10 facts about guns in America
inspire: live a better life
Study points to benefits of improved living conditions.

Don't leave home without these must-have items.

Handshakes spread 20 times more germs, study says.

Drowning in debt? Maybe there's a silver lining.

"But it's not real life, you know. It's a vacation."

Our list of must-dos before hitting the road.

Summer traditions can be great, but if you're on year six of packing the same people into the same car to go on the same vacation, it's time to switch things up. Surfing in Portugal, perhaps – or cycling through Northern Ireland. We've put together a list of 15 places well off the beaten path that you should go to when you're ready to try something new.

Grab a sleeping bag and head out to one of these amazing campsites.

A dozen adventures that are well worth the trip.

Paper downplays the significance of practice over raw talent.

Survey says American teens aren't great at complex or basic financial tasks.

Fear of Moving Away: How to conquer the latest cultural anxiety and embrace the unknown.