Hit-and-run deaths on the rise
National Highway Traffic Safety Administration reports increase in cyclist and pedestrian fatalities
If you live in Los Angeles or New York, you may want to pay extra close attention on the road. According to the U.S. Department of Transportation's National Highway Traffic Safety Administration (NHTSA), these cities have the highest rates of pedestrian and cyclist deaths.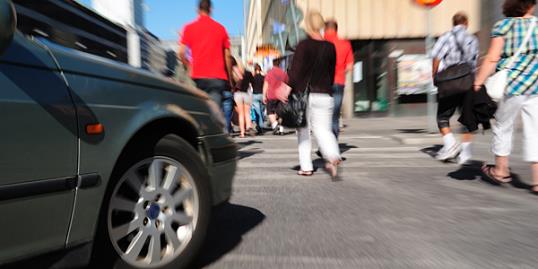 A new study from NHTSA indicates that total fatalities decreased by 1.9 percent from 2010, but cyclist and pedestrian deaths increased. This mixed report shows alarming numbers: 8.7 percent increase in cyclist fatalities and three percent increase in pedestrian fatalities in 2011.
More on MSN Living: 100 ways to save money in 2013 
In L.A., hit and runs involving pedestrians occur almost daily, reports NPR. In 2012, the Los Angeles Police Department (LAPD) recorded more than 2,500 motor vehicle vs. pedestrian incidents ranging from minor injury to death. Pedestrian traffic fatalities in Los Angeles are nearly triple the national average, cites a study by the University of Michigan Transportation Research Institute.
More on MSN Living: 50 best celebrity makeovers of all times
"Just in the last few days, we've had three pedestrians who were killed when they were crossing the street," Detective Bill Busto, the office in charge of LAPD's Valley Traffic Division was quoted. He says that lie many cities across the country, L.A. drivers and pedestrians are increasingly distracted by electronic devices.
"Here we live in our vehicle practically, we commute everywhere we go," Busto was quoted.
Bing: Traffic fatalities by state
"There's so much – so many cases, so many victims, and not enough hours in the day," LAPD officer Rhiannon Talley was quoted.
The need is clear: It is important to continue to keep overall traffic fatalities down and educate the public on driver distraction, red light running and speed in our intersections.
Drivers, pedestrians and cyclists – how do you practice caution and share the road?
Photo: Ola Dusegard/Getty Images
More from MSN Living:
Mansion made from trash
2012's worst words
10 facts about guns in America
inspire: live a better life
Three out of four of you say the most anxiety-inducing part of your job is your boss. Sound familiar?

The holidays are upon us, so whether you're heading to your hometown, getting away for New Year's, or just taking a few days off to relax with friends and family, it's almost time to set your OOO (out-of-office) message.

Become a master of your own fate and maximize your happiness with a few easy tweaks.

Sure, you realize that your daily lattes aren't exactly necessities. But once you discover what they, and other regular purchases, add up to, you'll realize it's time to think twice about shelling out. Trim the fat from your budget with these expert tips for saving big.

When you stumble upon an unflattering photo of yourself, you can make excuses for it, or you can change your ways.

For those who would rather pay it forward, proceeds from this gift guide go to deserving charities — and these presents happen to be pretty fabulous as well. Plus, shop more gifts for stylish women.