Hit-and-run deaths on the rise
National Highway Traffic Safety Administration reports increase in cyclist and pedestrian fatalities
If you live in Los Angeles or New York, you may want to pay extra close attention on the road. According to the U.S. Department of Transportation's National Highway Traffic Safety Administration (NHTSA), these cities have the highest rates of pedestrian and cyclist deaths.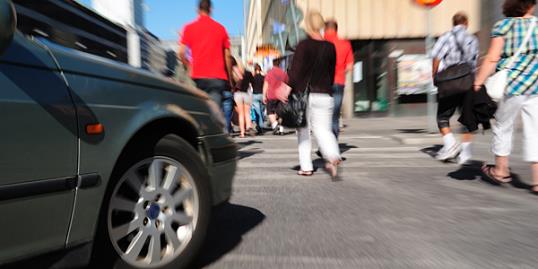 A new study from NHTSA indicates that total fatalities decreased by 1.9 percent from 2010, but cyclist and pedestrian deaths increased. This mixed report shows alarming numbers: 8.7 percent increase in cyclist fatalities and three percent increase in pedestrian fatalities in 2011.
More on MSN Living: 100 ways to save money in 2013 
In L.A., hit and runs involving pedestrians occur almost daily, reports NPR. In 2012, the Los Angeles Police Department (LAPD) recorded more than 2,500 motor vehicle vs. pedestrian incidents ranging from minor injury to death. Pedestrian traffic fatalities in Los Angeles are nearly triple the national average, cites a study by the University of Michigan Transportation Research Institute.
More on MSN Living: 50 best celebrity makeovers of all times
"Just in the last few days, we've had three pedestrians who were killed when they were crossing the street," Detective Bill Busto, the office in charge of LAPD's Valley Traffic Division was quoted. He says that lie many cities across the country, L.A. drivers and pedestrians are increasingly distracted by electronic devices.
"Here we live in our vehicle practically, we commute everywhere we go," Busto was quoted.
Bing: Traffic fatalities by state
"There's so much – so many cases, so many victims, and not enough hours in the day," LAPD officer Rhiannon Talley was quoted.
The need is clear: It is important to continue to keep overall traffic fatalities down and educate the public on driver distraction, red light running and speed in our intersections.
Drivers, pedestrians and cyclists – how do you practice caution and share the road?
Photo: Ola Dusegard/Getty Images
More from MSN Living:
Mansion made from trash
2012's worst words
10 facts about guns in America
inspire: live a better life
Your boss. You might like her, you probably respect her, but do you know how to approach someone who seems so different from you? (Spoiler: She's actually not.)

Over the weekend, Oprah decluttered her Montecito mansion and three other properties in a Santa Barbara yard sale that brought in more than $600,000(!). (Proceeds will benefit her girls' leadership academy in South Africa, and not half of a Crate and Barrel chair, the traditional end goal of yard-sale proceeds.)

Exclusively for MSN, we bring you a six-part series from the new book: MISS MANNERS MINDS YOUR BUSINESS by Judith and Nicholas Ivor Martin.

Miss Manners weighs in on the financial burdens of remote weddings

How Miss Manners suggests dealing with out of town guest who want tour guide services

Exclusively for MSN, we bring you a six-part series from the new book: MISS MANNERS MINDS YOUR BUSINESS by Judith and Nicholas Ivor Martin.

Miss Manners offers perspective on a mother's concern over her daughter's friendships

Working through lunch has been proven to slow you down later in the day. Here's how to take back your lunch break.

A college education has both tangible and intangible benefits, from increasing your income to enriching your life in countless ways. Here are 10 benefits of earning a college degree that make the work worthwhile. By Larry West

Experts say there's money in hills of clothes, junk, and paperwork at home. We'll help you find it.

No matter how much you plan ahead, Thanksgiving always end up being stressful. These three tips will keep you calm on Turkey Day.

One of the great lessons of my adulthood is realizing that outer order contributes to inner calm — far more than you might expect. Yet as much as you want to stay organized, it's tough. You may blame the sheer tediousness of trying to keep clutter at bay, but I think we often buy into certain notions about decluttering that make it harder to maintain order. Read on to discover 8 myths that will keep you stuck with too much stuff — plus easy ways to conquer clutter and find happiness.