Hit-and-run deaths on the rise
National Highway Traffic Safety Administration reports increase in cyclist and pedestrian fatalities
If you live in Los Angeles or New York, you may want to pay extra close attention on the road. According to the U.S. Department of Transportation's National Highway Traffic Safety Administration (NHTSA), these cities have the highest rates of pedestrian and cyclist deaths.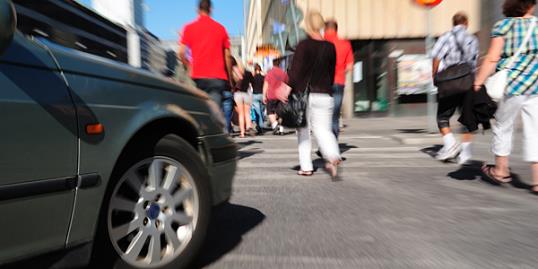 A new study from NHTSA indicates that total fatalities decreased by 1.9 percent from 2010, but cyclist and pedestrian deaths increased. This mixed report shows alarming numbers: 8.7 percent increase in cyclist fatalities and three percent increase in pedestrian fatalities in 2011.
More on MSN Living: 100 ways to save money in 2013 
In L.A., hit and runs involving pedestrians occur almost daily, reports NPR. In 2012, the Los Angeles Police Department (LAPD) recorded more than 2,500 motor vehicle vs. pedestrian incidents ranging from minor injury to death. Pedestrian traffic fatalities in Los Angeles are nearly triple the national average, cites a study by the University of Michigan Transportation Research Institute.
More on MSN Living: 50 best celebrity makeovers of all times
"Just in the last few days, we've had three pedestrians who were killed when they were crossing the street," Detective Bill Busto, the office in charge of LAPD's Valley Traffic Division was quoted. He says that lie many cities across the country, L.A. drivers and pedestrians are increasingly distracted by electronic devices.
"Here we live in our vehicle practically, we commute everywhere we go," Busto was quoted.
Bing: Traffic fatalities by state
"There's so much – so many cases, so many victims, and not enough hours in the day," LAPD officer Rhiannon Talley was quoted.
The need is clear: It is important to continue to keep overall traffic fatalities down and educate the public on driver distraction, red light running and speed in our intersections.
Drivers, pedestrians and cyclists – how do you practice caution and share the road?
Photo: Ola Dusegard/Getty Images
More from MSN Living:
Mansion made from trash
2012's worst words
10 facts about guns in America
inspire: live a better life
Here's some tips to get to happiness going forward in your life.

People 60 to 82 did best on cognitive tasks before 10:30am.

Lucille Ball was born in 1911, and though we lost her long ago, her legacy as America's favorite redhead lives on through the timeless classic, "I Love Lucy." People of all generations still enjoy Lucy's antics as much as they did over 60 years ago when the show first premiered.

Summer is coming to an end, and in a few weeks, kids will be forced to trade in their beach bags for backpacks. But just because the season is fading away doesn't mean the memories from the past few months have to disappear with it.

Confidence and perceived competence are key, study finds.

Features lead to assumptions about character, study says.

Great gear for an afternoon spent shoreside.

Read on for surefire strategies to boost your bliss.

Use these bucket-list ideas to enjoy the little time you have left.

Study points to benefits of improved living conditions.

Don't leave home without these must-have items.

Handshakes spread 20 times more germs, study says.