Hotel kindly requests that you SHADDUP
Budget chain installs noise meters to keep guests quiet.
Even if you're too old to jump up and down on the beds, an overnight in a hotel is still kinda fun. Room service, housekeeping and a concierge are all on hand to grant every wish, but the one thing a hotel can't guarantee a guest is a good night's sleep. The biggest aggravator? Other guests.
But Premier Inn aims to keep every other guest quiet so that you can get some shut-eye once your $13.95 in-room movie concludes. At the budget chain's 690 locations, newly installed noise meters detect excessive commotion in the corridors. When a thoughtless neighbor gets loud in the hall after hours, the meter is tripped and a wall-mounted sign flashes a message to please be quiet.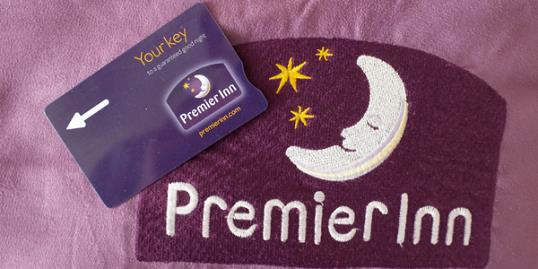 More on MSN Living: 50 things everyone should know about marriage
Will Premier's shush meter do the trick? Stay over sometime and see for yourself. It's an affordable place, though you first have to get to a country in Europe, India or the Arabian Gulf where the chain operates.
It's hard to imagine that a wall sign is going to muzzle the gang stumbling back to their rooms from the bar, but Premier is banking on the keep-quiet tech to make good on their "Good Night Guarantee" — and to save themselves a few bucks in refunds. According to the Daily Mail, Premier issues most of its refunds to sleepless guests who complain of being kept awake by the other clods in the hotel.
More on MSN Living: The top 10 traits women want in a man
Keeping a building full of strangers quiet at night while simultaneously indulging every guest's desire is a challenge all hotels face. City hotels often place white-noise machines or fans in their rooms, and Travelodge in the United Kingdom once instituted sleep wardens to patrol their halls, as noted by NBC News. Without an assist, though, sleepy guests are left with few options other than covering their ears with a pillow or banging on the wall and crying out for some peace.
The quiet meters are Premier's latest attempt at instilling some decency. For a time, the chain tried to silence rowdy night owls by giving them lollipops as they came through the lobby. But for many people taking leave of normal routines for a hotel stay, consideration goes on break as well.
Photo: Rex Features
Subscribe to the Daily Dose
Bing: Find hotel deals.
More from MSN Living:
25 things she finds sexiest about you
8 words that give away a liar
The trends men love ... and the ones they hate

inspire: live a better life
Summer and winter tend to hog all the glory when it comes to travel high seasons. Sure, you want to soak up all the time at the beach you can during the summer, and you just want to escape the cold during the last months of the year.

Who just wants to stand around and watch the red and gold leaves slowly fall from their tree branches to the ground as we move from summer to fall? Instead, take in the changing seasons while you're on the move.

In September, I'll turn 38. I'm at the age now where, when people ask how old I am, it takes me a minute to remember. I don't know if that's because I've already been 37 different ages and it's hard to keep straight which one I am now, or if it's because I'm in denial, or if it's because I am going senile. Maybe a combination of all of the above. Regardless, my 30s have flown by and soon they will be but a memory. So, in an effort to preserve the memory I have left (or at least keep a record of it), and to celebrate what has been an amazing decade so far, here are 30 things that have happened to me in my 30s (and will probably happen to you too):

Traveling doesn't have to be stressful. And what you can fit in your carry-on can make all the difference (and not just a fresh pair of socks), especially when you get that low battery signal.

Volunteering (and these other rituals) might be just as good as exercise when it comes to extending your life.

Use these tricks to set a better tone for the rest of the week.

Whether it involves a food fight, mermaids or a torch-lit procession, people the world over know how to have a good time. Here are some of the biggest, boldest, booziest celebrations around, along with some tips to get the full experience.

Research could mean more effective treatment for human disorders.

An entry a day might keep the doctor away (or at least the shrink).

One woman's shout-outs to daily moments of joy — and how to cultivate them.

Our best health and fitness tips including the one move that tones all, berry news, and more.