Hotel kindly requests that you SHADDUP
Budget chain installs noise meters to keep guests quiet.
Even if you're too old to jump up and down on the beds, an overnight in a hotel is still kinda fun. Room service, housekeeping and a concierge are all on hand to grant every wish, but the one thing a hotel can't guarantee a guest is a good night's sleep. The biggest aggravator? Other guests.
But Premier Inn aims to keep every other guest quiet so that you can get some shut-eye once your $13.95 in-room movie concludes. At the budget chain's 690 locations, newly installed noise meters detect excessive commotion in the corridors. When a thoughtless neighbor gets loud in the hall after hours, the meter is tripped and a wall-mounted sign flashes a message to please be quiet.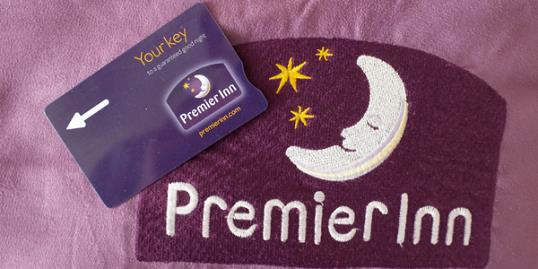 More on MSN Living: 50 things everyone should know about marriage
Will Premier's shush meter do the trick? Stay over sometime and see for yourself. It's an affordable place, though you first have to get to a country in Europe, India or the Arabian Gulf where the chain operates.
It's hard to imagine that a wall sign is going to muzzle the gang stumbling back to their rooms from the bar, but Premier is banking on the keep-quiet tech to make good on their "Good Night Guarantee" — and to save themselves a few bucks in refunds. According to the Daily Mail, Premier issues most of its refunds to sleepless guests who complain of being kept awake by the other clods in the hotel.
More on MSN Living: The top 10 traits women want in a man
Keeping a building full of strangers quiet at night while simultaneously indulging every guest's desire is a challenge all hotels face. City hotels often place white-noise machines or fans in their rooms, and Travelodge in the United Kingdom once instituted sleep wardens to patrol their halls, as noted by NBC News. Without an assist, though, sleepy guests are left with few options other than covering their ears with a pillow or banging on the wall and crying out for some peace.
The quiet meters are Premier's latest attempt at instilling some decency. For a time, the chain tried to silence rowdy night owls by giving them lollipops as they came through the lobby. But for many people taking leave of normal routines for a hotel stay, consideration goes on break as well.
Photo: Rex Features
Subscribe to the Daily Dose
Bing: Find hotel deals.
More from MSN Living:
25 things she finds sexiest about you
8 words that give away a liar
The trends men love ... and the ones they hate

inspire: live a better life
Editor's note: We will now be publishing Miss Manners articles twice weekly, but you will only see one question and answer per article. You can expect to see these articles appear on Tuesdays and Thursdays going forward.

President Harry S. Truman was behind efforts to establish the first Armed Forces Day in 1950, and decades later the nation continues to set aside the third Saturday in May to recognize and thank members of the U.S. military for their patriotic service. With these five homecoming images, we salute all service members at home and abroad.

There's much to be desired about working from home: the stress-free commute, flexible hours, and improved work-life balance.

Wishing for the fountain of youth? You may not need it. We've rounded up real-women secrets, tried-and-true beauty tips, and the latest research to help you fight aging.

Experts weigh in on when to bite your tongue at the office.

Oh, the places you'll go — to get some "me" time, that is. REDBOOK readers confess all on Facebook.

How much money you make isn't nearly as important as how you use it, according to Elizabeth Dunn and Michael Norton, authors of the new book Happy Money.

Plus, how do you ask people to not bring gifts to a shower?

Looking for a career upgrade? Follow these tips for a foot in the door.

These tanning and skin cancer myths aren't just wrong — they can do serious harm. Wise up and head into a healthier future. P.S. You'll look a lot younger too.

It's possible to rejigger your brain circuitry and feel more joy, even on Monday mornings. Here's how.

Inner peace just got easier. You don't need quiet, incense or hours to meditate, and you can scrap the chanting. Better: Ninety-five percent of you say you're calmer after a single 10-minute session. Whatever your excuse (see ours), get your om on and reap the rewards.