Molly: This is what it means
A sweet name for a dangerous substance.
Chances are you have not heard of it. You're not meant to, either, because the Molly we're talking about isn't some sweet-faced, all-American girl. It's the street name for a drug that's booming in clubs, on college campuses and at suburban house parties.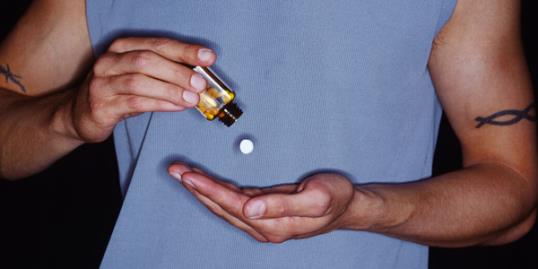 Molly is the second big wave of the psychoactive substance MDMA. The first wave was ecstacy, which flooded into the rave scene years ago and, by some accounts, rivals marijuana for attracting first-time drug users. Molly has a reputation as a more pure form of MDMA, promising a longer, cleaner, higher high.
Related: Use of ecstasy, speed by teens tied to later depression
Users describe a heightened state in which lights glow brighter, music sounds better, and everybody — strangers and friends alike — are more lovable. The sense of touch is intensified as well, contributing to the characterization of Molly as a sex drug. Getting "the sweats" is a hallmark of a Molly high as it causes body temperature to rise. Partyers down a lot of water while they're buzzing, and may take the edge off the intensity by smoking pot.
Related: Sex, drugs, rock 'n' roll -- and 5 surprising new boomer health risks
The high lasts between three and six hours. After that, the comedown is hard.
Teens interviewed on CBS News this week described the crash as a catatonic depression.
"It just kind of zombified me," said one teenaged boy.
A girl who found the aftermath of a Molly high unbearable reported that she "just laid in bed all day, never wanted to get up. You don't want to eat anything and you don't want to drink, don't want to talk to anyone."
MDMA causes a surge of serotonin, a feel-good hormone that normally helps regulate attention, behavior, mood and body temperature. But MDMA depletes the brain's serotonin reserves, throwing brain and body out of balance. Serotonin syndrome is marked by agitation, confusion, heavy sweating and headache. At its most severe, the serotonin imbalance from MDMA increases body temperature, potentially leading to seizures and cardiac arrest.
Bing: More about Molly
For the newbies who tried their first experiments with X, Molly is just a baby step away. But despite claims of purity that help move more drugs, Molly is typically cut with other substances (e.g., extra methamphetamine, talc, caffeine, cough suppressant) that are easily disguised. Even the dealer who palms a Baggie to a kid with a nod and a fist bump doesn't know what's in it. A "bath salt" high — named for an adulterated batch of MDMA that resembles epsom salt, though there's no bath salt in it — is notoriously bad.
According to a New York Post piece in which a reporter tailed a team of dealers, Molly sells on the streets of NYC for about $150 per gram. The drug is most commonly made available — very easily available, according to kids — in powder form or in capsules containing the powder.
More from Daily Dose:
Paralyzed by a pretty face
Is less stuff the key to happiness?
4 women who are changing the world
Love content like this? Friend us on Facebook, follow us on Twitter and find us on Pinterest
Photo: George Doyle/Getty Images
inspire: live a better life
Editor's note: We will now be publishing Miss Manners articles twice weekly, but you will only see one question and answer per article. You can expect to see these articles appear on Tuesdays and Thursdays going forward.

President Harry S. Truman was behind efforts to establish the first Armed Forces Day in 1950, and decades later the nation continues to set aside the third Saturday in May to recognize and thank members of the U.S. military for their patriotic service. With these five homecoming images, we salute all service members at home and abroad.

There's much to be desired about working from home: the stress-free commute, flexible hours, and improved work-life balance.

Wishing for the fountain of youth? You may not need it. We've rounded up real-women secrets, tried-and-true beauty tips, and the latest research to help you fight aging.

Experts weigh in on when to bite your tongue at the office.

Oh, the places you'll go — to get some "me" time, that is. REDBOOK readers confess all on Facebook.

How much money you make isn't nearly as important as how you use it, according to Elizabeth Dunn and Michael Norton, authors of the new book Happy Money.

Plus, how do you ask people to not bring gifts to a shower?

Looking for a career upgrade? Follow these tips for a foot in the door.

These tanning and skin cancer myths aren't just wrong — they can do serious harm. Wise up and head into a healthier future. P.S. You'll look a lot younger too.

It's possible to rejigger your brain circuitry and feel more joy, even on Monday mornings. Here's how.

Inner peace just got easier. You don't need quiet, incense or hours to meditate, and you can scrap the chanting. Better: Ninety-five percent of you say you're calmer after a single 10-minute session. Whatever your excuse (see ours), get your om on and reap the rewards.