Where's My Flying Car?
Self-driving cars will be cruising Nevada roadways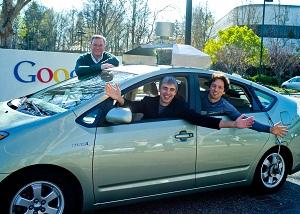 Ordinarily, we wouldn't be writing about the Department of Motor Vehicles unless we had something new to say about the unique brand of torment we've all sustained at a local branch. But there's actually something progressive going on at the DMV offices in Nevada. The state has just issued Google its first license to test three self-driving cars on public roadways.
Google has been lobbying hard to test their autonomous cars, and the Silver State, home to Las Vegas, is primed to roll the dice. As the Washington Post notes, the Vegas strip is just the kind of place where a robotic car could be a great idea, keeping everyone on the street a little safer as one less car swerves hard to the left as its driver gapes at the neon and nakedness and countless Godzilla-sized distractions.
According to Google and other makers of autonomous cars, safety and efficiency are the drivers of the technology. Given that human error is the cause of most car accidents, and given the world's desperate need to be more fuel-efficient, automated cars like Google's modified Prius could go a long way toward reducing injuries and air pollution.
With these acknowledgments, can we be forgiven for saying that it just doesn't seem — what's the right expression — fun? Sure, nothing says good times like a Prius, and several - shall we say geeky? - test-drivers have been delighted on a closed track as the tires squeal at a breathtaking 43 mph. But, jeez, is this what the future was supposed to look like? Isn't it here yet? We figured we'd be in hovercrafts by now. We were counting on traveling to the mall by air and beaming our new gravity sneakers back home. Even this band name lodges a complaint.
Nonetheless, there's a laundry list of significant potential benefits in a car that can (when laws allow) drop you off and park itself, drop the kids off at school, and transport passengers in various stages of incapacity, whether handicapped or just inebriated. Given, there other remarkable modes of transportation that can actually carry many passengers who don't need to drive or control the vehicle; perhaps you've heard of such advances as "the bus" and "the train." But autonomous cars hold great promise to save lives and Mother Earth when they become publicly available, which could be within three or five years. 
Tell us on Facebook: Would you try a self-driving car?

Photo: Eric Schmidt, Larry Page & Sergey Brin in a self-driving Google car; courtesy of Google.

inspire: live a better life
Drowning in debt? Maybe there's a silver lining.

"But it's not real life, you know. It's a vacation."

Our list of must-dos before hitting the road.

Summer traditions can be great, but if you're on year six of packing the same people into the same car to go on the same vacation, it's time to switch things up. Surfing in Portugal, perhaps – or cycling through Northern Ireland. We've put together a list of 15 places well off the beaten path that you should go to when you're ready to try something new.

Grab a sleeping bag and head out to one of these amazing campsites.

A dozen adventures that are well worth the trip.

Paper downplays the significance of practice over raw talent.

Survey says American teens aren't great at complex or basic financial tasks.

Fear of Moving Away: How to conquer the latest cultural anxiety and embrace the unknown.

Adulthood has no eureka moment.

Just like your body, your brain needs a regular workout too.

Being a winner is a good feeling to have — especially in life. Winning doesn't solely relate to competitions or Charlie Sheen's coining of the term back in 2011. From achieving success to maintaining a work-life balance, find out what characteristics mean your life is going the way it should be. You may just even find an inspiration or two that you'll want to incorporate into your daily routine!