Study: Cute Pics Improve Work Skills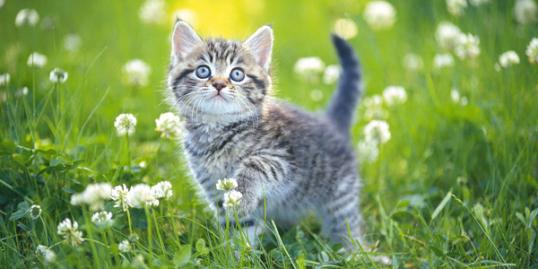 Hang in there, baby — Friday's coming. And if that sentiment doesn't automatically make you feel better, reread it while looking at a kitten dangling from a rope.
See that? It worked. Friday's here.
As that one woman in your office can tell you (or if you are her, no need), cute pictures of snuggly, doe-eyed little critters touch a soft spot in us humans. Baby schema — the set of features that make young animals appealing, such as big eyes and a head too big for the body — have been shown in experiments to capture people's attention, make them smile and even induce caregiving to others. Oh sure, the boss may seem tough, but one look at a basket full of puppies and he'll want to rub you right on your little belly.
A study published online this week by the journal PloS ONE suggests that viewing cute images not only makes people feel better, but improves performance in completing certain tasks.
The study comes out of Hiroshima University in Japan, home of Hello Kitty and countless anime beings. Researchers sought to understand the effect of images described as kawaii, loosely translated as "cute," on behavior. In the first of three experiments, student subjects playing a game similar to Operation exhibited improved fine-motor dexterity after looking at photos of kittens and puppies, just as real surgeons do. A quote from the study nodding to earlier work reads:
"The improvement in the accuracy of this task can be interpreted as an index of increased attention to and control of motor actions.… That is, the tenderness elicited by cute images is more than just a positive affective feeling state. It can make people more physically tender in their motor behavior."
A second experiment produced similar results for visual tasks, supporting the researchers' hypothesis that cute images narrow focus and attention. Control subjects shown pictures of adult animals, and presumably some pretty darn ugly ones, showed no performance improvement in either experiment.
The third experiment involved a visual challenge with groups of subjects viewing either baby animal pictures, adult animal pictures or more neutral "images of pleasant foods." There was no improved performance evidence in the food group. It doesn't really seem reasonable, anyway, that looking at — what's "pleasant food" anyway? — a chocolate muffin, say, would sharpen your typing skills. But how about eating it? That seems worth a try.
"Cute features not only make objects more user friendly and approachable," the study concludes, "but also induce careful behavioral tendencies in the users, which is beneficial in specific situations, such as driving and office work."
We're not sure why exactly this warrants a scientific study but we're going to stare at a baby marmoset right now and, with improved concentration, wait for the answer to emerge.
Photo: Fotosearch/Getty Images
inspire: live a better life
Editor's note: We will now be publishing Miss Manners articles twice weekly, but you will only see one question and answer per article. You can expect to see these articles appear on Tuesdays and Thursdays going forward.

President Harry S. Truman was behind efforts to establish the first Armed Forces Day in 1950, and decades later the nation continues to set aside the third Saturday in May to recognize and thank members of the U.S. military for their patriotic service. With these five homecoming images, we salute all service members at home and abroad.

There's much to be desired about working from home: the stress-free commute, flexible hours, and improved work-life balance.

Wishing for the fountain of youth? You may not need it. We've rounded up real-women secrets, tried-and-true beauty tips, and the latest research to help you fight aging.

Experts weigh in on when to bite your tongue at the office.

Oh, the places you'll go — to get some "me" time, that is. REDBOOK readers confess all on Facebook.

How much money you make isn't nearly as important as how you use it, according to Elizabeth Dunn and Michael Norton, authors of the new book Happy Money.

Plus, how do you ask people to not bring gifts to a shower?

Looking for a career upgrade? Follow these tips for a foot in the door.

These tanning and skin cancer myths aren't just wrong — they can do serious harm. Wise up and head into a healthier future. P.S. You'll look a lot younger too.

It's possible to rejigger your brain circuitry and feel more joy, even on Monday mornings. Here's how.

Inner peace just got easier. You don't need quiet, incense or hours to meditate, and you can scrap the chanting. Better: Ninety-five percent of you say you're calmer after a single 10-minute session. Whatever your excuse (see ours), get your om on and reap the rewards.