LOLcats on TV?
Huh iz in ur television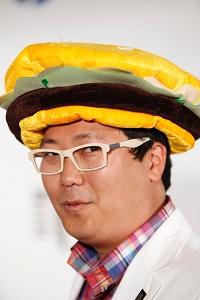 …Nerd alert…Nerd alert…
Another wizard of the Web is coming out from behind the scenes. While the trajectory of Mark Zuckerberg's meteoric career was captured in the film The Social Network, the life of Ben Huh is now to become the subject of a new reality series on Bravo, according to Time.com.
Ben who? Ben wha?
Ben Huh is the 34-year-old CEO of Cheezburger, a network of Internet sites led by the improbable and inexplicable phenom icanhascheezburger.c​om. Still lost? That's the original home of LOLcats, where images of felines and other varmints are posted with boldface, boldly misspelled captions — make that capshunz — with the intent of having you laugh and pass it along. Just last week, the latest Cheezburger-style meme featured a string of captions on a "ridiculously photogenic guy" running a foot race. The caption writers apparently couldn't get over how good-looking the guy was; the rest of the Web couldn't get over the captions.
Whether the show, which reportedly has the working title Huh?, will draw an audience is yet to be seen, but Bravo is betting on the numbers. Television viewers are hard won and hard to count, but Web viewers can be easily quantified. MSN will know, for example, exactly how many of you have looked at this page. The Cheezburger network is currently drawing approximately 375 million views per month — an extraordinary number despite the less-than-extraordin​ary content. To put that number in perspective, the most watched U.S. television show ever was the M*A*S*H finale viewed in about 50 million households. One of the highest attended films of all time, Titanic, was seen in theaters by about 123 million people — still less than a third of the people choking on LOLcat hairballs every month.
Television has been cross-pollinating with the Internet at an increasing rate. To capture eyeballs it has steadily been losing to the Web, producers for shows like America's Funniest Home Videos and Tosh.0 cruise YouTube for content they can repurpose as their own. Some industry insiders see it as television's last-ditch effort to capture the young digital natives who would sooner stare into laptops and mobile devices than switch on the old boob tube.
If Bravo makes the show about LOLcats, the bar on television programming may be lowered to a level that even reality shows haven't limbo'd beneath. But if the program is about Huh himself (who has said he's allergic to cats, btw), it could amount to a shrewd move. By offering a glimpse into the mind of Huh, a savvy entrepreneur, Bravo would have the first series following a hero of the digital generation rather than freeloading off the content he's produced.
inspire: live a better life
Drowning in debt? Maybe there's a silver lining.

"But it's not real life, you know. It's a vacation."

Our list of must-dos before hitting the road.

Summer traditions can be great, but if you're on year six of packing the same people into the same car to go on the same vacation, it's time to switch things up. Surfing in Portugal, perhaps – or cycling through Northern Ireland. We've put together a list of 15 places well off the beaten path that you should go to when you're ready to try something new.

Grab a sleeping bag and head out to one of these amazing campsites.

A dozen adventures that are well worth the trip.

Paper downplays the significance of practice over raw talent.

Survey says American teens aren't great at complex or basic financial tasks.

Fear of Moving Away: How to conquer the latest cultural anxiety and embrace the unknown.

Adulthood has no eureka moment.

Just like your body, your brain needs a regular workout too.

Being a winner is a good feeling to have — especially in life. Winning doesn't solely relate to competitions or Charlie Sheen's coining of the term back in 2011. From achieving success to maintaining a work-life balance, find out what characteristics mean your life is going the way it should be. You may just even find an inspiration or two that you'll want to incorporate into your daily routine!