LOLcats on TV?
Huh iz in ur television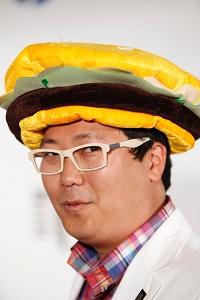 …Nerd alert…Nerd alert…
Another wizard of the Web is coming out from behind the scenes. While the trajectory of Mark Zuckerberg's meteoric career was captured in the film The Social Network, the life of Ben Huh is now to become the subject of a new reality series on Bravo, according to Time.com.
Ben who? Ben wha?
Ben Huh is the 34-year-old CEO of Cheezburger, a network of Internet sites led by the improbable and inexplicable phenom icanhascheezburger.c​om. Still lost? That's the original home of LOLcats, where images of felines and other varmints are posted with boldface, boldly misspelled captions — make that capshunz — with the intent of having you laugh and pass it along. Just last week, the latest Cheezburger-style meme featured a string of captions on a "ridiculously photogenic guy" running a foot race. The caption writers apparently couldn't get over how good-looking the guy was; the rest of the Web couldn't get over the captions.
Whether the show, which reportedly has the working title Huh?, will draw an audience is yet to be seen, but Bravo is betting on the numbers. Television viewers are hard won and hard to count, but Web viewers can be easily quantified. MSN will know, for example, exactly how many of you have looked at this page. The Cheezburger network is currently drawing approximately 375 million views per month — an extraordinary number despite the less-than-extraordin​ary content. To put that number in perspective, the most watched U.S. television show ever was the M*A*S*H finale viewed in about 50 million households. One of the highest attended films of all time, Titanic, was seen in theaters by about 123 million people — still less than a third of the people choking on LOLcat hairballs every month.
Television has been cross-pollinating with the Internet at an increasing rate. To capture eyeballs it has steadily been losing to the Web, producers for shows like America's Funniest Home Videos and Tosh.0 cruise YouTube for content they can repurpose as their own. Some industry insiders see it as television's last-ditch effort to capture the young digital natives who would sooner stare into laptops and mobile devices than switch on the old boob tube.
If Bravo makes the show about LOLcats, the bar on television programming may be lowered to a level that even reality shows haven't limbo'd beneath. But if the program is about Huh himself (who has said he's allergic to cats, btw), it could amount to a shrewd move. By offering a glimpse into the mind of Huh, a savvy entrepreneur, Bravo would have the first series following a hero of the digital generation rather than freeloading off the content he's produced.
inspire: live a better life
Happify shares their results of a recent study on how money affects our happiness.

A top exec reveals the company's secret code

Pro tips from the guy who's done it four times

Not all mistakes are as blatant as posting party pics when you're 'sick' at home.

Everyone struggles through weekday drudgery to reach their weekend fun. But what if you could reclaim every day of your life?

Zooming up the ladder is great, but questioning yourself 24/7 is no way to succeed. Manage your stressed self with these surefire tips.

Forget trying to control every little detail. Life is lots more fun (and less stressful) when you let go from the get-go.

So, what exactly is this thing we call "happiness" and how do we get it?

Mark Zuckerberg has an even bigger effect on your life than you thought.

Everyone makes mistakes, but some mistakes can be devastating. Here are 10 icons who fell from grace, and what they can do to redeem themselves.

Twitter turns eight years old today.

Try these anything-but-ordinary ideas for a healthier, more productive mid-day break.