LOLcats on TV?
Huh iz in ur television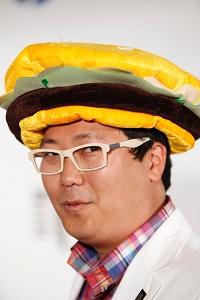 …Nerd alert…Nerd alert…
Another wizard of the Web is coming out from behind the scenes. While the trajectory of Mark Zuckerberg's meteoric career was captured in the film The Social Network, the life of Ben Huh is now to become the subject of a new reality series on Bravo, according to Time.com.
Ben who? Ben wha?
Ben Huh is the 34-year-old CEO of Cheezburger, a network of Internet sites led by the improbable and inexplicable phenom icanhascheezburger.c​om. Still lost? That's the original home of LOLcats, where images of felines and other varmints are posted with boldface, boldly misspelled captions — make that capshunz — with the intent of having you laugh and pass it along. Just last week, the latest Cheezburger-style meme featured a string of captions on a "ridiculously photogenic guy" running a foot race. The caption writers apparently couldn't get over how good-looking the guy was; the rest of the Web couldn't get over the captions.
Whether the show, which reportedly has the working title Huh?, will draw an audience is yet to be seen, but Bravo is betting on the numbers. Television viewers are hard won and hard to count, but Web viewers can be easily quantified. MSN will know, for example, exactly how many of you have looked at this page. The Cheezburger network is currently drawing approximately 375 million views per month — an extraordinary number despite the less-than-extraordin​ary content. To put that number in perspective, the most watched U.S. television show ever was the M*A*S*H finale viewed in about 50 million households. One of the highest attended films of all time, Titanic, was seen in theaters by about 123 million people — still less than a third of the people choking on LOLcat hairballs every month.
Television has been cross-pollinating with the Internet at an increasing rate. To capture eyeballs it has steadily been losing to the Web, producers for shows like America's Funniest Home Videos and Tosh.0 cruise YouTube for content they can repurpose as their own. Some industry insiders see it as television's last-ditch effort to capture the young digital natives who would sooner stare into laptops and mobile devices than switch on the old boob tube.
If Bravo makes the show about LOLcats, the bar on television programming may be lowered to a level that even reality shows haven't limbo'd beneath. But if the program is about Huh himself (who has said he's allergic to cats, btw), it could amount to a shrewd move. By offering a glimpse into the mind of Huh, a savvy entrepreneur, Bravo would have the first series following a hero of the digital generation rather than freeloading off the content he's produced.
inspire: live a better life
Where in the world do you want to go? Somewhere unique? Any of the places described here are sure to make your next world-travel adventure truly memorable.

It's easy to lead, but it takes courage and conviction to be a truly great leader. Here are 10 inspiring leaders and what we can learn from them.

Some say it's a small world. We beg to differ. Earth has so many wondrous places worth exploring, and most of us are lucky to see a handful of them. Here are 30 of the top trips of a lifetime.

You'll stave off credit card debt by the end of the year if you account for these often-forgotten expenses.

Mark Zuckerberg has an even bigger effect on your life than you thought.

Take this advice to finally tackle that nagging to-do list.

The iconic storyteller would have been 110-years-old

Take the time to appreciate women's contributions to society. Here are some of the women who inspire us by their example.

Cast of the iconic TV show reunites for Florence Henderson's birthday

We couldn't be more excited to watch the best athletes in the world compete at the Winter Olympics in Sochi. This year, about 44 percent of the competitors are women according to the International Olympic Committee—which is awesome but wasn't always the case. Let's look back at some of the amazing women who paved the way with incredible, memorable feats of girl power.

Still pulling yourself out of holiday credit card debt? Ready to pool some funds for that beach vacation you've been dreaming about at your desk? We're with you 100 percent.

"FOMO, the fear of missing out, is a form of social anxiety," says psychiatrist Gail Saltz. "This type of fear tends to cause compulsive behaviors, like checking out other social situations even as you are in the middle of one currently."