Did you know? Drug offenders can't collect food stamps
A little-known law excludes one group of ex-cons from food and cash subsidies.
Based on a federal welfare law passed in 1996, anyone convicted of a drug-related felony is banned for life from receiving food stamps or cash assistance. All ex-cons who have been found guilty of selling, using or possessing drugs are unilaterally blocked by the law, including pregnant women, those who now abstain from drugs, and former inmates with successful job histories.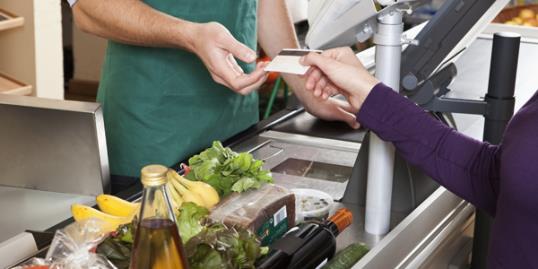 The law is exclusive to drug felons — the same ban does not apply to other offenders, including those convicted of first-degree murder.
The law is a little-known provision tucked into Section 115 of the Personal Responsibility and Work Opportunity Act of 1996, a bill popularly known as welfare reform legislation. The one loophole is that states can opt out of the ban or enact laws to modify it. Many states have opted out or sanctioned modifications, but the law remains on the books in its complete, original form in about a dozen states.
More from MSN Living: Women who inspire us
A study to be published in the next issue of the journal "AIDS Education and Prevention" explains how forcing former offenders and their families to go hungry may be pushing desperate young mothers to prostitution, an editorial in the  "New York Times" noted yesterday. The study, conducted by Yale University School of Medicine, covered 110 newly released inmates, including about a third who had minor children at home and more than a third living on the streets.
More from MSN Living: 11 best baby memes of all time
Researchers found that ninety percent of the subjects were uncertain how they were going to feed themselves and their families — and noted that people who are hungry are more likely to engage in risky behaviors such as exchanging sex for money, said the "Times."
Is the law fair and appropriate?
Supporters of the ban include some who cite the significant budgetary impact and inefficiencies of food subsidies provided by the USDA's food stamp program, known officially as the Supplemental Nutrition Assistance Program. Opponents [pdf] say the drug felons have paid their debt to society and that the potential economic implications for states (eg, subsequent incarcerations, foster care, child welfare, and healthcare aid for families impacted by AIDS) are matched by undue emotional and economic hardship for ex-cons and their families.
More from Daily Dose:
Paralyzed by a pretty face
Is less stuff the key to happiness?
4 women who are changing the world
Love content like this? Friend us on Facebook, follow us on Twitter and find us on Pinterest
Photo: Food stamps / Antenna/Getty Images

I never new that the feeling of hunger equals the act of a drug offense.  Something is terribly wrong with this law.  The United States would allow their own people to die of hunger for a
mistake......wow....​yet
you will feed death row inmates everyday and inmates serving life....these people have the amenities not to only eat but they also have free dental and health care....the Incredible America we live in.....
Are you sure you want to delete this comment?
inspire: live a better life
Editor's note: We will now be publishing Miss Manners articles twice weekly, but you will only see one question and answer per article. You can expect to see these articles appear on Tuesdays and Thursdays going forward.

President Harry S. Truman was behind efforts to establish the first Armed Forces Day in 1950, and decades later the nation continues to set aside the third Saturday in May to recognize and thank members of the U.S. military for their patriotic service. With these five homecoming images, we salute all service members at home and abroad.

There's much to be desired about working from home: the stress-free commute, flexible hours, and improved work-life balance.

Wishing for the fountain of youth? You may not need it. We've rounded up real-women secrets, tried-and-true beauty tips, and the latest research to help you fight aging.

Experts weigh in on when to bite your tongue at the office.

Oh, the places you'll go — to get some "me" time, that is. REDBOOK readers confess all on Facebook.

How much money you make isn't nearly as important as how you use it, according to Elizabeth Dunn and Michael Norton, authors of the new book Happy Money.

Plus, how do you ask people to not bring gifts to a shower?

Looking for a career upgrade? Follow these tips for a foot in the door.

These tanning and skin cancer myths aren't just wrong — they can do serious harm. Wise up and head into a healthier future. P.S. You'll look a lot younger too.

It's possible to rejigger your brain circuitry and feel more joy, even on Monday mornings. Here's how.

Inner peace just got easier. You don't need quiet, incense or hours to meditate, and you can scrap the chanting. Better: Ninety-five percent of you say you're calmer after a single 10-minute session. Whatever your excuse (see ours), get your om on and reap the rewards.