A marathon every day for US vets
A veteran is running across America — 26 miles every day — planting flags for fallen soldiers.
"Seeing America this way is very pure," says Mike Ehredt. "I think back to the first people who came here, how they crossed our country on foot. I appreciate each mile and each person a little bit more."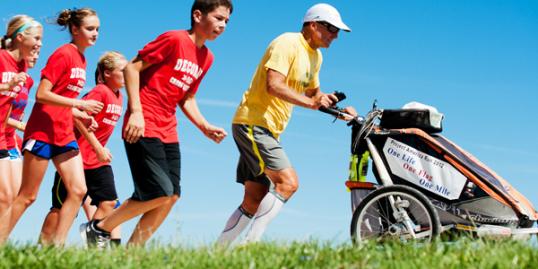 Mike is running as he talks — I can hear his feet hitting the ground as steadily as a metronome. Since Aug. 23 he's been covering the distance of a marathon every single day and will continue doing so until Nov. 11, Veteran's Day. At each mile he stops and places a flag for a fallen soldier killed in the war in Afghanistan.
This morning finds him on the beautiful Natchez Trace Parkway just outside of Raymond, Miss. A specially designed app on his phone indicates he is 1,691 miles into his 2,100 mile run — a path that bisects the country from International Falls, Minn., to Galveston, Texas.
More from MSN Living: Tips to make your workout fun
In preparation for Project America Run, the soldiers' names were written out on 1,500 feet of yellow ribbon in the chronological order of when they died. With his phone, Mike assigns a GPS location for each and every flag so that a soldier's family can see online where it's located. When his run is complete, a wall of flags will wave from the shores of the Rainy River separating the U.S. and Canada to the Gulf of Mexico.
It's the second time Mike has run to honor and remember American soldiers. In 2010 he ran from the coast of Oregon to the coast of Maine — from sea to shining sea — as a personal tribute. No political agenda, no protest, just a gesture of thanks and appreciation from a fellow service member. Mike served in the Army from 1979 to 1983.
"It just took me a long time to figure out that my service wasn't quite finished," he says.
More on MSN Living: Money rules that'll make you rich
Thanks to social media and a geo-locator on the PAR site, Mike sometimes encounters people waiting along the way to say thanks or run a few miles alongside him. Occasionally he speaks at schools.
"At the end of each talk I tell the kids, 'Look, I'm nothing special. I'm a 51-year-old grandpa. If a grandpa can go across the country and do this, and be thankful for what somebody else has done for him, what can you do in your life?'"
Just as I ask who the next soldier is to be remembered, Mike's footsteps are slowing to a stop. He's placing flag No. 1692 for an Army Private First Class. The soldier's name is Cody Baker. He was 19 years old and from Holton, Kan.
"I'm going to place the flag in the ground now," Mike says. "I'll salute him. Keep your hand over your heart."
Mike places the flag and salutes Pfc. Baker. And then he runs on.
Subscribe to the Daily Dose
Photo: Amy Hayek/J&A Designs Photography
Bing: Get the latest marathon news.
More from MSN Living:
Awkward family vacation stories
9 fabulous family rooms
10 juiciest mom confessions
inspire: live a better life
Editor's note: We will now be publishing Miss Manners articles twice weekly, but you will only see one question and answer per article. You can expect to see these articles appear on Tuesdays and Thursdays going forward.

President Harry S. Truman was behind efforts to establish the first Armed Forces Day in 1950, and decades later the nation continues to set aside the third Saturday in May to recognize and thank members of the U.S. military for their patriotic service. With these five homecoming images, we salute all service members at home and abroad.

There's much to be desired about working from home: the stress-free commute, flexible hours, and improved work-life balance.

Wishing for the fountain of youth? You may not need it. We've rounded up real-women secrets, tried-and-true beauty tips, and the latest research to help you fight aging.

Experts weigh in on when to bite your tongue at the office.

Oh, the places you'll go — to get some "me" time, that is. REDBOOK readers confess all on Facebook.

How much money you make isn't nearly as important as how you use it, according to Elizabeth Dunn and Michael Norton, authors of the new book Happy Money.

Plus, how do you ask people to not bring gifts to a shower?

Looking for a career upgrade? Follow these tips for a foot in the door.

These tanning and skin cancer myths aren't just wrong — they can do serious harm. Wise up and head into a healthier future. P.S. You'll look a lot younger too.

It's possible to rejigger your brain circuitry and feel more joy, even on Monday mornings. Here's how.

Inner peace just got easier. You don't need quiet, incense or hours to meditate, and you can scrap the chanting. Better: Ninety-five percent of you say you're calmer after a single 10-minute session. Whatever your excuse (see ours), get your om on and reap the rewards.