A marathon every day for US vets
A veteran is running across America — 26 miles every day — planting flags for fallen soldiers.
"Seeing America this way is very pure," says Mike Ehredt. "I think back to the first people who came here, how they crossed our country on foot. I appreciate each mile and each person a little bit more."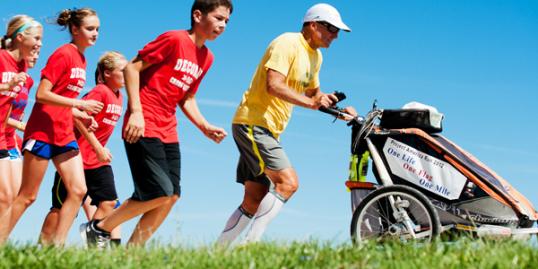 Mike is running as he talks — I can hear his feet hitting the ground as steadily as a metronome. Since Aug. 23 he's been covering the distance of a marathon every single day and will continue doing so until Nov. 11, Veteran's Day. At each mile he stops and places a flag for a fallen soldier killed in the war in Afghanistan.
This morning finds him on the beautiful Natchez Trace Parkway just outside of Raymond, Miss. A specially designed app on his phone indicates he is 1,691 miles into his 2,100 mile run — a path that bisects the country from International Falls, Minn., to Galveston, Texas.
More from MSN Living: Tips to make your workout fun
In preparation for Project America Run, the soldiers' names were written out on 1,500 feet of yellow ribbon in the chronological order of when they died. With his phone, Mike assigns a GPS location for each and every flag so that a soldier's family can see online where it's located. When his run is complete, a wall of flags will wave from the shores of the Rainy River separating the U.S. and Canada to the Gulf of Mexico.
It's the second time Mike has run to honor and remember American soldiers. In 2010 he ran from the coast of Oregon to the coast of Maine — from sea to shining sea — as a personal tribute. No political agenda, no protest, just a gesture of thanks and appreciation from a fellow service member. Mike served in the Army from 1979 to 1983.
"It just took me a long time to figure out that my service wasn't quite finished," he says.
More on MSN Living: Money rules that'll make you rich
Thanks to social media and a geo-locator on the PAR site, Mike sometimes encounters people waiting along the way to say thanks or run a few miles alongside him. Occasionally he speaks at schools.
"At the end of each talk I tell the kids, 'Look, I'm nothing special. I'm a 51-year-old grandpa. If a grandpa can go across the country and do this, and be thankful for what somebody else has done for him, what can you do in your life?'"
Just as I ask who the next soldier is to be remembered, Mike's footsteps are slowing to a stop. He's placing flag No. 1692 for an Army Private First Class. The soldier's name is Cody Baker. He was 19 years old and from Holton, Kan.
"I'm going to place the flag in the ground now," Mike says. "I'll salute him. Keep your hand over your heart."
Mike places the flag and salutes Pfc. Baker. And then he runs on.
Subscribe to the Daily Dose
Photo: Amy Hayek/J&A Designs Photography
Bing: Get the latest marathon news.
More from MSN Living:
Awkward family vacation stories
9 fabulous family rooms
10 juiciest mom confessions
inspire: live a better life
Summer and winter tend to hog all the glory when it comes to travel high seasons. Sure, you want to soak up all the time at the beach you can during the summer, and you just want to escape the cold during the last months of the year.

Who just wants to stand around and watch the red and gold leaves slowly fall from their tree branches to the ground as we move from summer to fall? Instead, take in the changing seasons while you're on the move.

In September, I'll turn 38. I'm at the age now where, when people ask how old I am, it takes me a minute to remember. I don't know if that's because I've already been 37 different ages and it's hard to keep straight which one I am now, or if it's because I'm in denial, or if it's because I am going senile. Maybe a combination of all of the above. Regardless, my 30s have flown by and soon they will be but a memory. So, in an effort to preserve the memory I have left (or at least keep a record of it), and to celebrate what has been an amazing decade so far, here are 30 things that have happened to me in my 30s (and will probably happen to you too):

Traveling doesn't have to be stressful. And what you can fit in your carry-on can make all the difference (and not just a fresh pair of socks), especially when you get that low battery signal.

Volunteering (and these other rituals) might be just as good as exercise when it comes to extending your life.

Use these tricks to set a better tone for the rest of the week.

Whether it involves a food fight, mermaids or a torch-lit procession, people the world over know how to have a good time. Here are some of the biggest, boldest, booziest celebrations around, along with some tips to get the full experience.

Research could mean more effective treatment for human disorders.

An entry a day might keep the doctor away (or at least the shrink).

One woman's shout-outs to daily moments of joy — and how to cultivate them.

Our best health and fitness tips including the one move that tones all, berry news, and more.