A marathon every day for US vets
A veteran is running across America — 26 miles every day — planting flags for fallen soldiers.
"Seeing America this way is very pure," says Mike Ehredt. "I think back to the first people who came here, how they crossed our country on foot. I appreciate each mile and each person a little bit more."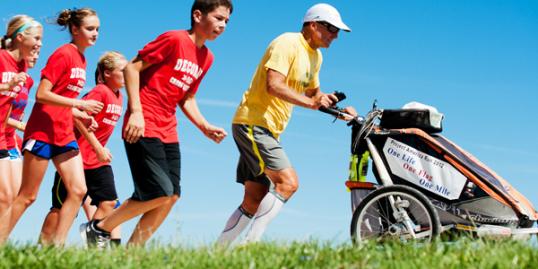 Mike is running as he talks — I can hear his feet hitting the ground as steadily as a metronome. Since Aug. 23 he's been covering the distance of a marathon every single day and will continue doing so until Nov. 11, Veteran's Day. At each mile he stops and places a flag for a fallen soldier killed in the war in Afghanistan.
This morning finds him on the beautiful Natchez Trace Parkway just outside of Raymond, Miss. A specially designed app on his phone indicates he is 1,691 miles into his 2,100 mile run — a path that bisects the country from International Falls, Minn., to Galveston, Texas.
More from MSN Living: Tips to make your workout fun
In preparation for Project America Run, the soldiers' names were written out on 1,500 feet of yellow ribbon in the chronological order of when they died. With his phone, Mike assigns a GPS location for each and every flag so that a soldier's family can see online where it's located. When his run is complete, a wall of flags will wave from the shores of the Rainy River separating the U.S. and Canada to the Gulf of Mexico.
It's the second time Mike has run to honor and remember American soldiers. In 2010 he ran from the coast of Oregon to the coast of Maine — from sea to shining sea — as a personal tribute. No political agenda, no protest, just a gesture of thanks and appreciation from a fellow service member. Mike served in the Army from 1979 to 1983.
"It just took me a long time to figure out that my service wasn't quite finished," he says.
More on MSN Living: Money rules that'll make you rich
Thanks to social media and a geo-locator on the PAR site, Mike sometimes encounters people waiting along the way to say thanks or run a few miles alongside him. Occasionally he speaks at schools.
"At the end of each talk I tell the kids, 'Look, I'm nothing special. I'm a 51-year-old grandpa. If a grandpa can go across the country and do this, and be thankful for what somebody else has done for him, what can you do in your life?'"
Just as I ask who the next soldier is to be remembered, Mike's footsteps are slowing to a stop. He's placing flag No. 1692 for an Army Private First Class. The soldier's name is Cody Baker. He was 19 years old and from Holton, Kan.
"I'm going to place the flag in the ground now," Mike says. "I'll salute him. Keep your hand over your heart."
Mike places the flag and salutes Pfc. Baker. And then he runs on.
Subscribe to the Daily Dose
Photo: Amy Hayek/J&A Designs Photography
Bing: Get the latest marathon news.
More from MSN Living:
Awkward family vacation stories
9 fabulous family rooms
10 juiciest mom confessions
inspire: live a better life
Some say it's a small world. We beg to differ. Earth has so many wondrous places worth exploring, and most of us are lucky to see a handful of them. Here are 30 of the top trips of a lifetime.

You'll stave off credit card debt by the end of the year if you account for these often-forgotten expenses.

Mark Zuckerberg has an even bigger effect on your life than you thought.

Take this advice to finally tackle that nagging to-do list.

The iconic storyteller would have been 110-years-old

Take the time to appreciate women's contributions to society. Here are some of the women who inspire us by their example.

Cast of the iconic TV show reunites for Florence Henderson's birthday

We couldn't be more excited to watch the best athletes in the world compete at the Winter Olympics in Sochi. This year, about 44 percent of the competitors are women according to the International Olympic Committee—which is awesome but wasn't always the case. Let's look back at some of the amazing women who paved the way with incredible, memorable feats of girl power.

Still pulling yourself out of holiday credit card debt? Ready to pool some funds for that beach vacation you've been dreaming about at your desk? We're with you 100 percent.

"FOMO, the fear of missing out, is a form of social anxiety," says psychiatrist Gail Saltz. "This type of fear tends to cause compulsive behaviors, like checking out other social situations even as you are in the middle of one currently."

When The Shriver Report was released in early January, we shared some of the more interesting statistics about income equality, the wage gap, and other issues confronting women.

Clay Aiken to run for public office.