The weirdness of US presidents
Skinny-dippers, cheerleaders and male models -- we've elected them all.
Presidents Day is a time to reflect on the greatness of the presidential institution and to reflect on the men who have brought honor to our nation's highest office. It's also a good chance to remember just how weird and unpredictable some of these guys could be.
• Gerald Ford (1974–1977) was a model in his younger years, and appeared on the April 1942 cover of Cosmopolitan. Wife Betty Ford was also once a fashion model and a dancer.
More from MSN News: JFK items auctioned 50 years after his assassination
• John Quincy Adams (1825–1829) was a strong swimmer, and would often walk from the White House to the Potomac River for an early-morning skinny dip. A female reporter once snatched his clothes on the riverside and sat on them until Adams agreed to an interview.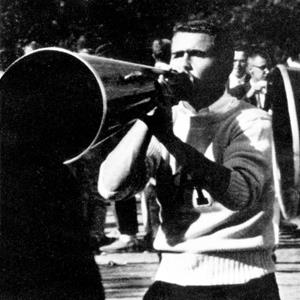 More from MSN Living: 10 habits that keep marriages strong
• Calvin Coolidge (1923–1929) is remembered as a shy but witty man. According to a story told by Coolidge's wife, a young woman sitting next to him at a dinner party once urged Coolidge to have a conversation, explaining that she had made a bet she could get at least three words out of the president. Coolidge coolly responded, "You lose." Somewhat less presidentially, Coolidge used to have Vaseline rubbed on his head while he ate breakfast in bed.
• George W. Bush (2001– 2009) was the head cheerleader in his senior year at Phillips Academy, a boarding school in Massachusetts that was at the time all male. He continued his cheerleading career while at Yale before taking on a more serious membership in the Skull and Bones Society.
• Warren G. Harding (1921–1923) was an avid poker player and regularly scared up games with his advisers, who became known collectively as "the poker cabinet" (Harding is also remembered for appointing dishonest cronies to public office). An unconfirmed story claims that Harding once lost a set of White House China in a poker game.
More from MSN Living: 40 time-saving tips
• William Howard Taft (1909–1913) was the heaviest president, tipping the scales at around 340 pounds. A book written by the chief White House usher during Taft's presidency claims that Taft would get stuck in chairs and once could not remove himself from a White House bathtub. Prior to a trip to inspect the Panama Canal, a special oversized bathtub was ordered by a ship captain to accommodate Taft's substantial frame. A newspaper report described the tub as having "pondlike dimensions."
• Theodore Roosevelt (1901–1909) was both a naturalist and an avid hunter. His five children practically ran a zoo at the White House, and kept not only dogs and cats but  guinea pigs, rats, a snake, mice, badgers, raccoons, a parrot and a Shetland pony named Algonquin. Roosevelt's son Quentin once took Algonquin to the second floor of the White House by elevator to cheer his brother Archie, who was sick in bed with the measles. (Other notable presidential pets: Thomas Jefferson's two bears, John Adams' alligator, and James Buchanan's elephant.)
More from The Daily Dose:
Are Americans happy?
NASA finds nearby black hole
Homeless man lives with dead people for 15 years
Love content like this? Friend us on Facebook, follow us on Twitter and find us on Pinterest
Photo: George W. Bush as a cheerleader / REX Features
inspire: live a better life
When The Shriver Report was released in early January, we shared some of the more interesting statistics about income equality, the wage gap, and other issues confronting women.

Clay Aiken to run for public office.

Here's how to boost your joy — and put more cash in your pocket.

Our personal finance guru, Tanisha A. Sykes, shares how small investments can pay off big. Here's what you can do with the following:

You may have a corner office, a big paycheck, or a political following, but these flubs will plummet your appeal--and fast track you to the front door.

Influence anyone with these sneaky tricks.

An investment in gratitude pays valuable dividends, especially when times are tough.

Scoring big in your career means being off-target more times than you hit the bull's-eye. Learn how to make all those misses lead to success.

Raise your hand if you've been here: It's Monday morning, and you've been up all night wiping your runny nose, coughing, and feeling achy all over.

5 proven tips to maximize your productivity.

These 'experts' underperform the markets year after year.

You love your friends—so why does it sting when one of them reaches a life-changing goal before you do? How to stop the comparathon.