NASA experiment to study twin astronauts
Astronaut Mark Kelly, husband of Gabrielle Giffords, and his brother conceive an unprecedented study.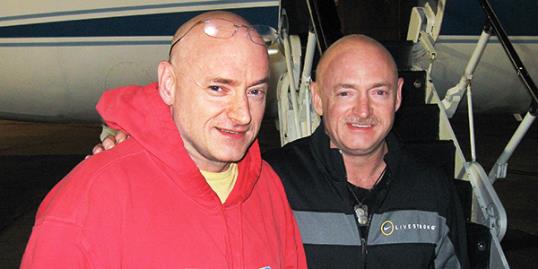 Twins…In...Space!
It sounds like the trailer for a campy science fiction flick, but this time the science is for real. Thanks to twin astronauts Mark and Scott Kelly, NASA is seizing on a rare opportunity to study the effects of spaceflight on human genetics.
The Kelly brothers themselves initiated the idea in what NASA describes as "a spark of astronaut, and possibly familial, curiosity."
Mark and Scott have already made history as the only siblings, not to mention the only twins, to have traveled in space together. And Mark Kelly, you may remember, is the humble astronaut husband of former Arizona Congresswoman Gabrielle Giffords. After flying the final mission of the Endeavour shuttle in 2011, he retired from NASA to tend to Giffords following the shopping mall shooting rampage in January of that year that nearly took her life.

NASA has long made a formal study of the effects of space travel on the human body, and recognizes this chance to study two people with identical genetic makeups as an exceptionally rare experiment — NASA called it "tantalizing" (but let's remember they're kinda geeky). Adverse impact on astronauts' vision, bone density and other physiological factors weigh heavily into agency decisions on how long their people should stay in space and how deep into space they can go.
The mission giving rise to the research concept is Scott Kelly's year-long spaceflight aboard the International Space Station, planned for March 2015. Scott's flight will be the longest space mission ever assigned to a NASA astronaut. As a veteran astronaut with two space shuttle flights and a six-month space station mission behind him, Scott will return with a cumulative 540 days in low-Earth orbit on the record books.

Mark has a cumulative 54 days in low-Earth orbit, and has retired as an astronaut. He will be the study's control subject. That is, Mark will live at home in Arizona while brother Scott floats around overhead. But that is precisely the value of the Kelly brothers' concept. Having carbon copies of a human genome available for comparing genetic data before and after an extensive space flight is an unprecedented scientific opportunity for NASA, and will very likely pave the way for future studies.
What precisely NASA should study remains undetermined and open to suggestion. As part of the Human Exploration Research Opportunities Program, NASA is asking potential researchers to propose experiments for observational comparison between the Kelly twins.
Are you sure you want to delete this comment?
inspire: live a better life
Research could mean more effective treatment for human disorders.

An entry a day might keep the doctor away (or at least the shrink).

One woman's shout-outs to daily moments of joy — and how to cultivate them.

Volunteering (and these other rituals) might be just as good as exercise when it comes to extending your life.

Use these tricks to set a better tone for the rest of the week.

In September, I'll turn 38. I'm at the age now where, when people ask how old I am, it takes me a minute to remember. I don't know if that's because I've already been 37 different ages and it's hard to keep straight which one I am now, or if it's because I'm in denial, or if it's because I am going senile. Maybe a combination of all of the above. Regardless, my 30s have flown by and soon they will be but a memory. So, in an effort to preserve the memory I have left (or at least keep a record of it), and to celebrate what has been an amazing decade so far, here are 30 things that have happened to me in my 30s (and will probably happen to you too):

Our best health and fitness tips including the one move that tones all, berry news, and more.

Who just wants to stand around and watch the red and gold leaves slowly fall from their tree branches to the ground as we move from summer to fall? Instead, take in the changing seasons while you're on the move.

Here's some tips to get to happiness going forward in your life.

People 60 to 82 did best on cognitive tasks before 10:30am.

Lucille Ball was born in 1911, and though we lost her long ago, her legacy as America's favorite redhead lives on through the timeless classic, "I Love Lucy." People of all generations still enjoy Lucy's antics as much as they did over 60 years ago when the show first premiered.