NASA experiment to study twin astronauts
Astronaut Mark Kelly, husband of Gabrielle Giffords, and his brother conceive an unprecedented study.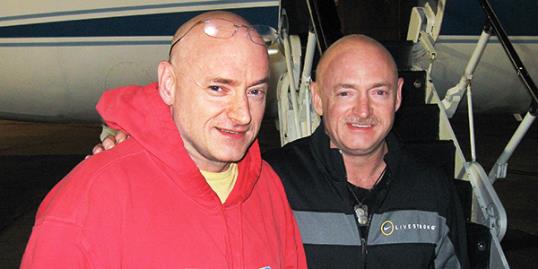 Twins…In...Space!
It sounds like the trailer for a campy science fiction flick, but this time the science is for real. Thanks to twin astronauts Mark and Scott Kelly, NASA is seizing on a rare opportunity to study the effects of spaceflight on human genetics.
The Kelly brothers themselves initiated the idea in what NASA describes as "a spark of astronaut, and possibly familial, curiosity."
Mark and Scott have already made history as the only siblings, not to mention the only twins, to have traveled in space together. And Mark Kelly, you may remember, is the humble astronaut husband of former Arizona Congresswoman Gabrielle Giffords. After flying the final mission of the Endeavour shuttle in 2011, he retired from NASA to tend to Giffords following the shopping mall shooting rampage in January of that year that nearly took her life.

NASA has long made a formal study of the effects of space travel on the human body, and recognizes this chance to study two people with identical genetic makeups as an exceptionally rare experiment — NASA called it "tantalizing" (but let's remember they're kinda geeky). Adverse impact on astronauts' vision, bone density and other physiological factors weigh heavily into agency decisions on how long their people should stay in space and how deep into space they can go.
The mission giving rise to the research concept is Scott Kelly's year-long spaceflight aboard the International Space Station, planned for March 2015. Scott's flight will be the longest space mission ever assigned to a NASA astronaut. As a veteran astronaut with two space shuttle flights and a six-month space station mission behind him, Scott will return with a cumulative 540 days in low-Earth orbit on the record books.

Mark has a cumulative 54 days in low-Earth orbit, and has retired as an astronaut. He will be the study's control subject. That is, Mark will live at home in Arizona while brother Scott floats around overhead. But that is precisely the value of the Kelly brothers' concept. Having carbon copies of a human genome available for comparing genetic data before and after an extensive space flight is an unprecedented scientific opportunity for NASA, and will very likely pave the way for future studies.
What precisely NASA should study remains undetermined and open to suggestion. As part of the Human Exploration Research Opportunities Program, NASA is asking potential researchers to propose experiments for observational comparison between the Kelly twins.
Are you sure you want to delete this comment?
inspire: live a better life
Summer traditions can be great, but if you're on year six of packing the same people into the same car to go on the same vacation, it's time to switch things up. Surfing in Portugal, perhaps – or cycling through Northern Ireland. We've put together a list of 15 places well off the beaten path that you should go to when you're ready to try something new.

Grab a sleeping bag and head out to one of these amazing campsites.

A dozen adventures that are well worth the trip.

Paper downplays the significance of practice over raw talent.

Survey says American teens aren't great at complex or basic financial tasks.

Fear of Moving Away: How to conquer the latest cultural anxiety and embrace the unknown.

Adulthood has no eureka moment.

Just like your body, your brain needs a regular workout too.

Being a winner is a good feeling to have — especially in life. Winning doesn't solely relate to competitions or Charlie Sheen's coining of the term back in 2011. From achieving success to maintaining a work-life balance, find out what characteristics mean your life is going the way it should be. You may just even find an inspiration or two that you'll want to incorporate into your daily routine!

Sometimes it seems like you need a vacation from your vacation.

That'll get you and your 2 kids a house, SUV, and more, per a 'USA Today' analysis.

While most of us associate the Fourth of July with fireworks and barbecue (and taking a long weekend off from work), it's also an important day to give thanks to the people who help keep us safe.