NASA experiment to study twin astronauts
Astronaut Mark Kelly, husband of Gabrielle Giffords, and his brother conceive an unprecedented study.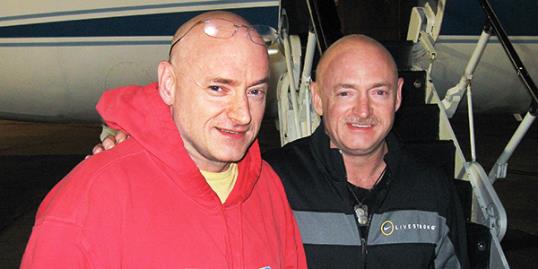 Twins…In...Space!
It sounds like the trailer for a campy science fiction flick, but this time the science is for real. Thanks to twin astronauts Mark and Scott Kelly, NASA is seizing on a rare opportunity to study the effects of spaceflight on human genetics.
The Kelly brothers themselves initiated the idea in what NASA describes as "a spark of astronaut, and possibly familial, curiosity."
Mark and Scott have already made history as the only siblings, not to mention the only twins, to have traveled in space together. And Mark Kelly, you may remember, is the humble astronaut husband of former Arizona Congresswoman Gabrielle Giffords. After flying the final mission of the Endeavour shuttle in 2011, he retired from NASA to tend to Giffords following the shopping mall shooting rampage in January of that year that nearly took her life.

NASA has long made a formal study of the effects of space travel on the human body, and recognizes this chance to study two people with identical genetic makeups as an exceptionally rare experiment — NASA called it "tantalizing" (but let's remember they're kinda geeky). Adverse impact on astronauts' vision, bone density and other physiological factors weigh heavily into agency decisions on how long their people should stay in space and how deep into space they can go.
The mission giving rise to the research concept is Scott Kelly's year-long spaceflight aboard the International Space Station, planned for March 2015. Scott's flight will be the longest space mission ever assigned to a NASA astronaut. As a veteran astronaut with two space shuttle flights and a six-month space station mission behind him, Scott will return with a cumulative 540 days in low-Earth orbit on the record books.

Mark has a cumulative 54 days in low-Earth orbit, and has retired as an astronaut. He will be the study's control subject. That is, Mark will live at home in Arizona while brother Scott floats around overhead. But that is precisely the value of the Kelly brothers' concept. Having carbon copies of a human genome available for comparing genetic data before and after an extensive space flight is an unprecedented scientific opportunity for NASA, and will very likely pave the way for future studies.
What precisely NASA should study remains undetermined and open to suggestion. As part of the Human Exploration Research Opportunities Program, NASA is asking potential researchers to propose experiments for observational comparison between the Kelly twins.
Are you sure you want to delete this comment?
inspire: live a better life
For those who would rather pay it forward, proceeds from this gift guide go to deserving charities — and these presents happen to be pretty fabulous as well. Plus, shop more gifts for stylish women.

Miss Manners considers when to celebrate milestones

Miss Manners provides guidance on meeting others

No, money doesn't grow on Christmas trees, but you can green up your holiday with readers' savviest money-saving tips.

A look back on all of the tiny tasks that 30 years of technology has saved you from.

What sets you apart from everyone else looking for a new job or bigger paycheck? Your profile!

With all those deals you snagged on Black Friday, Small Business Saturday, and Cyber Monday, today is your chance to give back to those in need with #GivingTuesday.

Miss Manners provides guidance on how to handle a request for party contributions

Miss Manners instructs on why tit-for-tat never works

Miss Manners offers thoughts on guests who disregard dinner party instructions

Make big bucks, from home, having fun? These women got creative and figured out a way to have it all. You can too.