Today is e Day
A day that claims to be just as cool as that other day dedicated to an infinite number.
Pi Day may reign among math nerds everywhere but there is another day dedicated to yet another infinite number. Today, Feb.7, otherwise known as e Day (more on Bing), is named after Euler's Constant.
The actual number, 2.718281828459045235​36028747135266249775​724709369995…, is a mathematical constant recurring in number theory and it goes on for
ever. Feb. 7 is known as e Day because the first two digits of e are 2.7.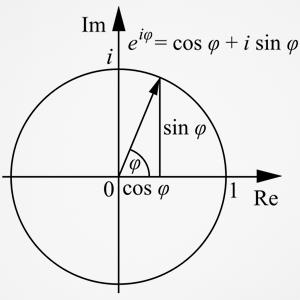 Wired.com defines e as 'the number that if you raise that number to the power x, the slope of the function is the same value as the function."
The prominent 17th century mathematician Jacob Bernoulli discovered the constant through trials around compound interest.
Nerdy enough for you yet? Happy e Day!
More from Daily Dose:
Girl Scout, 99, recalls traditions, values of 100-year-old group
Life found above Earth
Facebook can't get you fired
Image: Euler's formula / Wikipedia
inspire: live a better life
Some say it's a small world. We beg to differ. Earth has so many wondrous places worth exploring, and most of us are lucky to see a handful of them. Here are 30 of the top trips of a lifetime.

You'll stave off credit card debt by the end of the year if you account for these often-forgotten expenses.

Mark Zuckerberg has an even bigger effect on your life than you thought.

Take this advice to finally tackle that nagging to-do list.

The iconic storyteller would have been 110-years-old

Take the time to appreciate women's contributions to society. Here are some of the women who inspire us by their example.

Cast of the iconic TV show reunites for Florence Henderson's birthday

We couldn't be more excited to watch the best athletes in the world compete at the Winter Olympics in Sochi. This year, about 44 percent of the competitors are women according to the International Olympic Committee—which is awesome but wasn't always the case. Let's look back at some of the amazing women who paved the way with incredible, memorable feats of girl power.

Still pulling yourself out of holiday credit card debt? Ready to pool some funds for that beach vacation you've been dreaming about at your desk? We're with you 100 percent.

"FOMO, the fear of missing out, is a form of social anxiety," says psychiatrist Gail Saltz. "This type of fear tends to cause compulsive behaviors, like checking out other social situations even as you are in the middle of one currently."

When The Shriver Report was released in early January, we shared some of the more interesting statistics about income equality, the wage gap, and other issues confronting women.

Clay Aiken to run for public office.