Too Complex For A Computer, But Not For Your Brain
Defending the dwellers of meatspace.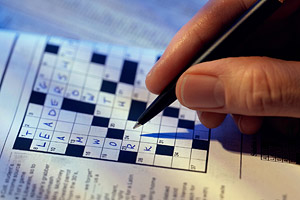 Ever wonder how you measure up against a computer? Well, truth be told, you probably don't have the memory of your household PC or the intel of an i7 chip. And you're probably not as svelt as a Mac Air. Perhaps your drives are still floppy and you frequently need a restart. But your brain can do things even a supercomputer only dreams of.
According to the Mother Nature Network, where they stick up for their own, there are several challenges a human brain manages more effectively and efficiently than a computer can. The list isn't made up entirely of activities in which humans should be expected to dominate, either, though we're well within our rights to lord our skills over the silicon masses. They can't strike up a conversation, can't make a decent martini, and look completely ridiculous in a hat. Nonetheless, one would assume a computer's chipset would beat our assets, particularly in tasks that entail heavy computations and predictions. Not so fast, Hal.
Here are five things Mother Nature herself says your brain does better than a computer.
Play Go.  The eons-old Chinese board game Go features a 19 by 19 grid and uncountable strategic scenarios. It takes something a Jedi mind to beat a professional Go master, known as a dan, and doing so will fry a computer's brain faster than your own.
Solve crossword puzzles.  A computer program designed to solve crossword puzzles was entered into a competition back in 1999. The Proverb software never ascended beyond 147th place. Ha. What's an 8-letter word beginning with C meaning "machine that stinks at word games"?
Play StarCraft.  Computers have put up a respectable fight against human competitors playing StarCraft, a real-time video game of universal dominance. They can calculate competitive algorithms faster than people can, but artificial intelligence comes up short on long-term strategy.
Create art.  Mother Nature notes the progressive work of Raymond Kurzweil in developing CyberArt, and technology often assists contemporary visual artists in creating works in various media. But on their own, computers haven't produced anything with much more depth than a dot-matrix print-out. We've got Michelangelo's David, they've got the tubes screensaver. Advantage humans.
Write.  The "infinite monkey theorum" holds that, given enough time, a monkey hitting random keys will eventually type out the Bible or the works of Shakespeare. How long before your PC can do that? We're not just protecting our jobs here when we say that computers are a long way from knocking out their own blogs, poems, or works of fiction. Our money is on the primate.
Photo: Tony Hutchings/Getty Images
"back in 1999" That was 13 years ago! Have any of you seen the Jeopardy episode with Watson? I'm willing to bet that with a few modifications, Watson could kick butt at crossword puzzles just like it did at trivia. And of course they can't write novels! Novels and other literature intended for entertainment requires opinions and creativity, neither of which computers can have.
Are you sure you want to delete this comment?
inspire: live a better life
Miss Manners advises on how to respond when one gets unsolicited advice about weight issues.

Editor's note: We will now be publishing Miss Manners articles twice weekly, but you will only see one question and answer per article. You can expect to see these articles appear on Tuesdays and Thursdays going forward.

President Harry S. Truman was behind efforts to establish the first Armed Forces Day in 1950, and decades later the nation continues to set aside the third Saturday in May to recognize and thank members of the U.S. military for their patriotic service. With these five homecoming images, we salute all service members at home and abroad.

There's much to be desired about working from home: the stress-free commute, flexible hours, and improved work-life balance.

Wishing for the fountain of youth? You may not need it. We've rounded up real-women secrets, tried-and-true beauty tips, and the latest research to help you fight aging.

Experts weigh in on when to bite your tongue at the office.

Oh, the places you'll go — to get some "me" time, that is. REDBOOK readers confess all on Facebook.

How much money you make isn't nearly as important as how you use it, according to Elizabeth Dunn and Michael Norton, authors of the new book Happy Money.

Plus, how do you ask people to not bring gifts to a shower?

Looking for a career upgrade? Follow these tips for a foot in the door.

These tanning and skin cancer myths aren't just wrong — they can do serious harm. Wise up and head into a healthier future. P.S. You'll look a lot younger too.

It's possible to rejigger your brain circuitry and feel more joy, even on Monday mornings. Here's how.