Too Complex For A Computer, But Not For Your Brain
Defending the dwellers of meatspace.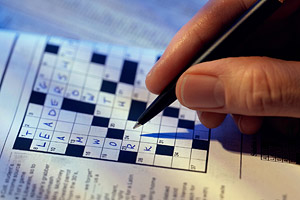 Ever wonder how you measure up against a computer? Well, truth be told, you probably don't have the memory of your household PC or the intel of an i7 chip. And you're probably not as svelt as a Mac Air. Perhaps your drives are still floppy and you frequently need a restart. But your brain can do things even a supercomputer only dreams of.
According to the Mother Nature Network, where they stick up for their own, there are several challenges a human brain manages more effectively and efficiently than a computer can. The list isn't made up entirely of activities in which humans should be expected to dominate, either, though we're well within our rights to lord our skills over the silicon masses. They can't strike up a conversation, can't make a decent martini, and look completely ridiculous in a hat. Nonetheless, one would assume a computer's chipset would beat our assets, particularly in tasks that entail heavy computations and predictions. Not so fast, Hal.
Here are five things Mother Nature herself says your brain does better than a computer.
Play Go.  The eons-old Chinese board game Go features a 19 by 19 grid and uncountable strategic scenarios. It takes something a Jedi mind to beat a professional Go master, known as a dan, and doing so will fry a computer's brain faster than your own.
Solve crossword puzzles.  A computer program designed to solve crossword puzzles was entered into a competition back in 1999. The Proverb software never ascended beyond 147th place. Ha. What's an 8-letter word beginning with C meaning "machine that stinks at word games"?
Play StarCraft.  Computers have put up a respectable fight against human competitors playing StarCraft, a real-time video game of universal dominance. They can calculate competitive algorithms faster than people can, but artificial intelligence comes up short on long-term strategy.
Create art.  Mother Nature notes the progressive work of Raymond Kurzweil in developing CyberArt, and technology often assists contemporary visual artists in creating works in various media. But on their own, computers haven't produced anything with much more depth than a dot-matrix print-out. We've got Michelangelo's David, they've got the tubes screensaver. Advantage humans.
Write.  The "infinite monkey theorum" holds that, given enough time, a monkey hitting random keys will eventually type out the Bible or the works of Shakespeare. How long before your PC can do that? We're not just protecting our jobs here when we say that computers are a long way from knocking out their own blogs, poems, or works of fiction. Our money is on the primate.
Photo: Tony Hutchings/Getty Images
"back in 1999" That was 13 years ago! Have any of you seen the Jeopardy episode with Watson? I'm willing to bet that with a few modifications, Watson could kick butt at crossword puzzles just like it did at trivia. And of course they can't write novels! Novels and other literature intended for entertainment requires opinions and creativity, neither of which computers can have.
Are you sure you want to delete this comment?
inspire: live a better life
Summer traditions can be great, but if you're on year six of packing the same people into the same car to go on the same vacation, it's time to switch things up. Surfing in Portugal, perhaps – or cycling through Northern Ireland. We've put together a list of 15 places well off the beaten path that you should go to when you're ready to try something new.

Grab a sleeping bag and head out to one of these amazing campsites.

A dozen adventures that are well worth the trip.

Paper downplays the significance of practice over raw talent.

Survey says American teens aren't great at complex or basic financial tasks.

Fear of Moving Away: How to conquer the latest cultural anxiety and embrace the unknown.

Adulthood has no eureka moment.

Just like your body, your brain needs a regular workout too.

Being a winner is a good feeling to have — especially in life. Winning doesn't solely relate to competitions or Charlie Sheen's coining of the term back in 2011. From achieving success to maintaining a work-life balance, find out what characteristics mean your life is going the way it should be. You may just even find an inspiration or two that you'll want to incorporate into your daily routine!

Sometimes it seems like you need a vacation from your vacation.

That'll get you and your 2 kids a house, SUV, and more, per a 'USA Today' analysis.

While most of us associate the Fourth of July with fireworks and barbecue (and taking a long weekend off from work), it's also an important day to give thanks to the people who help keep us safe.