Seismologists reveal earthquake hotspots
Where will the strongest earthquakes strike?
Every time a major earthquake hits, scientists and pundits line up to speculate as to when and where the "really big one" will occur. Using a variety of models, they have pointed everywhere from the coast of Japan to New York City to the San Andreas fault — the continental crack ultimately causing California to sink into the Pacific while creating beachfront property for desert-dwelling Arizonans . . . at least in speculative fiction.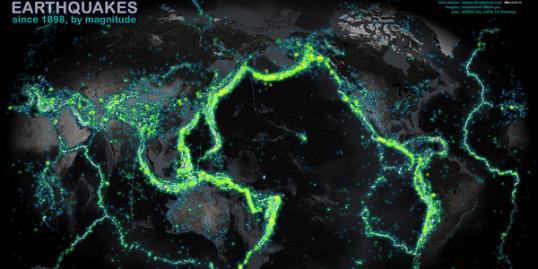 Turns out, though, that everyone's predictions about the big one might really be nothing more than speculative fiction (a fact that might have prevented the recent trial and conviction of six Italian scientists for failing to predict the 2009 L'Aquila earthquake).
According to a paper written by geoscientists at Australia's University of Sydney and published in the scientific journal Solid Earth, the predictive models and hazard location maps that science has used over the last century don't factor in data related to superquakes — because most of those monster shakedowns occurred hundreds of years before anyone was doing earthquake research.
More on MSN Living: 10 habits that keep marriages strong
Technically called supercycle or giant subduction earthquakes, they occur roughly every 1,000 years and register an eight or better on the Richter Scale. It's believed that last year's nine-point Tohoku quake off the coast of Japan was part of a supercycle — and it came from an area of the ocean that many hadn't considered to be a major earthquake threat. Therein lies the problem: science has been looking at the places where earthquakes routinely occur, and most of those wouldn't make varsity in the subduction earthquake league.
The hypothesis is that superquakes are created when underwater mountains move, not unlike glaciers, into the convergent area between tectonic plates. After years of tension, the moment of release expels the requisite force to create massive quakes. Researchers have identified 25 areas that could be candidates for supercycle quakes. They're situated along the Java, Japan, Aleutian, Central and South American, Scotia, Lesser Antilles and Cascadia trenches.
More on MSN Living: Best sweater for your body type
The Cascadia trench is close to home: it runs from northern California to Vancouver. There have been no measurable subduction quakes in the Cascadia since the invention of earthquake measuring devices. The last time one hit the region was January 26, 1700 — according to geological studies, it was a full-on Richter 9. There is also evidence that more than a dozen have taken place along Cascadia over the past 7500 years, showing up about once every 600 years. That means we should have about 300 years till the next one, so there's still time for you to move inland or get your affairs in order.
Image: Copyright 2012 IDV Solutions, LLC created by John Nelson
More from MSN Living:
Worst cringe-worthy style and beauty fashions of 2012
The best beauty and style looks of the year
Marriage counselors: The trickiest issues we've ever solved

I bought a book about tent camping for beginners off Amazon. Forget those disaster preparedness books, they're way overblown with stuff about the Mayan calendar, polar shifts, and radiation blasts. A camping guide with the basics will serve as an excellent kit for earthquakes and other events.

Are you sure you want to delete this comment?
inspire: live a better life
Miss Manners advises on how to respond when one gets unsolicited advice about weight issues.

Editor's note: We will now be publishing Miss Manners articles twice weekly, but you will only see one question and answer per article. You can expect to see these articles appear on Tuesdays and Thursdays going forward.

President Harry S. Truman was behind efforts to establish the first Armed Forces Day in 1950, and decades later the nation continues to set aside the third Saturday in May to recognize and thank members of the U.S. military for their patriotic service. With these five homecoming images, we salute all service members at home and abroad.

There's much to be desired about working from home: the stress-free commute, flexible hours, and improved work-life balance.

Wishing for the fountain of youth? You may not need it. We've rounded up real-women secrets, tried-and-true beauty tips, and the latest research to help you fight aging.

Experts weigh in on when to bite your tongue at the office.

Oh, the places you'll go — to get some "me" time, that is. REDBOOK readers confess all on Facebook.

How much money you make isn't nearly as important as how you use it, according to Elizabeth Dunn and Michael Norton, authors of the new book Happy Money.

Plus, how do you ask people to not bring gifts to a shower?

Looking for a career upgrade? Follow these tips for a foot in the door.

These tanning and skin cancer myths aren't just wrong — they can do serious harm. Wise up and head into a healthier future. P.S. You'll look a lot younger too.

It's possible to rejigger your brain circuitry and feel more joy, even on Monday mornings. Here's how.