A black hole in our backyard
NASA may have identified the nearest black hole in our galaxy.
Man has been wonderstruck by the sky since he first thought to look up. Glimpsing celestial bodies, even with the naked eye, can be awe-inspiring whether you have a child's curiosity or the wisdom of the ages. But it takes a scientist to look up there and get excited about what can't be seen.
It was not the something but the nothing observed that told a young astrophysicist she might be looking at a black hole.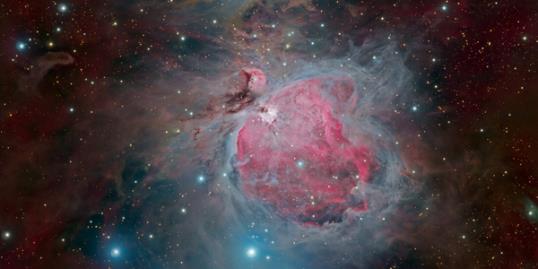 Laura Lopez knew that when a massive star is destroyed by a supernova explosion, it usually leaves behind a neutron star; a dense, spinning core made of the star material that isn't blasted away. But while studying the supernova remnant W49B at NASA's Chandra X-Ray Observatory (some objects in space can only be observed by X-ray), she saw no evidence of a neutron star. The very unusual way in which this particular star met its end indicates that it may have left behind an even more anomalous object: a black hole.
More from MSN Living: 40 time-saving tips
Researchers have discovered black holes in our Milky Way galaxy before but rarely one so close to home, and never one so young.
Lopez was initially drawn to study W49B when she came across a theory that the remnant was caused by a gamma-ray burst, an extreme kind of supernova that's been observed in stellar explosions billions of light years away. But W49B is only 26,000 light years away — just a few neighborhoods from Earth, in galactic terms. W49B is also understood to be just 1,000 years old as seen from Earth; that is, a thousand years not counting the time it took for its light to travel here. Though this exceptional supernova remnant probably did not originate from a gamma-ray burst as first imagined, the knowledge that it's both nearby and recent presents an unprecedented opportunity for astrophysical research.
More from MSN Living: 7 easy ways to get better sleep
Lopez, a NASA Einstein Fellow and Pappalardo Fellow in Physics at MIT, is the lead author of a paper on the possible black-hole discovery due to appear in an astrophysics journal this weekend. For those laypeople willing to make their way through a little space jargon, Lopez has boiled down the astronomically complex science behind her finding in a guest blog for NASA.
Bing: See photos of black holes.
More from The Daily Dose:
The most common job for women?
Chinese New Year: Which animal are you?
Boy Scout gay policy: What would change?
Sources: NASA, Chandra X-Ray Observatory, Cornell University Library
Love content like this? Friend us on Facebook, follow us on Twitter and find us on Pinterest
Photo: Marco Lorenz/Getty Images
inspire: live a better life
Miss Manners advises on how to respond when one gets unsolicited advice about weight issues.

Editor's note: We will now be publishing Miss Manners articles twice weekly, but you will only see one question and answer per article. You can expect to see these articles appear on Tuesdays and Thursdays going forward.

President Harry S. Truman was behind efforts to establish the first Armed Forces Day in 1950, and decades later the nation continues to set aside the third Saturday in May to recognize and thank members of the U.S. military for their patriotic service. With these five homecoming images, we salute all service members at home and abroad.

There's much to be desired about working from home: the stress-free commute, flexible hours, and improved work-life balance.

Wishing for the fountain of youth? You may not need it. We've rounded up real-women secrets, tried-and-true beauty tips, and the latest research to help you fight aging.

Experts weigh in on when to bite your tongue at the office.

Oh, the places you'll go — to get some "me" time, that is. REDBOOK readers confess all on Facebook.

How much money you make isn't nearly as important as how you use it, according to Elizabeth Dunn and Michael Norton, authors of the new book Happy Money.

Plus, how do you ask people to not bring gifts to a shower?

Looking for a career upgrade? Follow these tips for a foot in the door.

These tanning and skin cancer myths aren't just wrong — they can do serious harm. Wise up and head into a healthier future. P.S. You'll look a lot younger too.

It's possible to rejigger your brain circuitry and feel more joy, even on Monday mornings. Here's how.