9/11 museum unveils Survivor Tree seedling program
Three "resiient commuities" have already been chosen.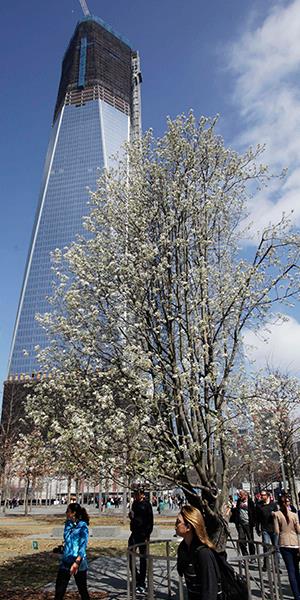 NEW YORK (AP) — The National September 11 Memorial & Museum is launching a seedling program based on the Survivor Tree, a pear tree pulled from the World Trade Center rubble after 9/11.
The museum says seedlings from the tree will be sent to what it calls "resilient communities" that embody "the spirit of the Survivor Tree."
Three communities have been selected for the inaugural launch.
MSN: Solemn ceremonies mark 9/11 anniversary
They are Boston, in honor of the marathon bombing in April that killed three people and injured more than 260; Prescott, Ariz., for the 19 firefighters who died battling a wildfire in June; and the Far Rockaways in New York City, which were devastated last year by Superstorm Sandy.
Representatives from each community will attend a ceremony Wednesday at Citi Field to announce the program.
More from Daily Dose:
007 'submarine car' sells for $865,000
Why majority of Americans oppose action in Syria
Ohio man who threatened police holds 'idiot' sign
Subscribe to the Daily Dose | Friend us on Facebook, follow us on Twitter and find us on Pinterest.
Photo: Visitors to the Sept. 11 memorial pass the Survivor Tree on March 20, 2012, at the World Trade Center in New York. The Callery pear, salvaged from the rubble following the attacks of Sept. 11, 2001, was nursed back to health and replanted at the memorial. (Mark Lennihan/AP) 

inspire: live a better life
Summer traditions can be great, but if you're on year six of packing the same people into the same car to go on the same vacation, it's time to switch things up. Surfing in Portugal, perhaps – or cycling through Northern Ireland. We've put together a list of 15 places well off the beaten path that you should go to when you're ready to try something new.

Grab a sleeping bag and head out to one of these amazing campsites.

A dozen adventures that are well worth the trip.

Paper downplays the significance of practice over raw talent.

Survey says American teens aren't great at complex or basic financial tasks.

Fear of Moving Away: How to conquer the latest cultural anxiety and embrace the unknown.

Adulthood has no eureka moment.

Just like your body, your brain needs a regular workout too.

Being a winner is a good feeling to have — especially in life. Winning doesn't solely relate to competitions or Charlie Sheen's coining of the term back in 2011. From achieving success to maintaining a work-life balance, find out what characteristics mean your life is going the way it should be. You may just even find an inspiration or two that you'll want to incorporate into your daily routine!

Sometimes it seems like you need a vacation from your vacation.

That'll get you and your 2 kids a house, SUV, and more, per a 'USA Today' analysis.

While most of us associate the Fourth of July with fireworks and barbecue (and taking a long weekend off from work), it's also an important day to give thanks to the people who help keep us safe.