9/11 museum unveils Survivor Tree seedling program
Three "resiient commuities" have already been chosen.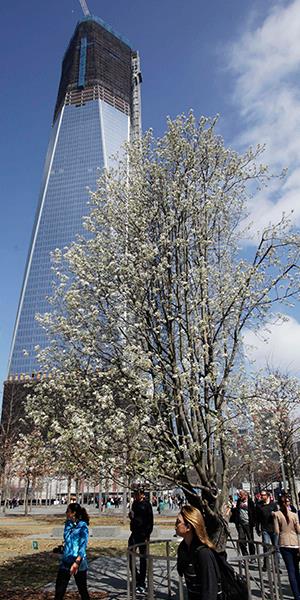 NEW YORK (AP) — The National September 11 Memorial & Museum is launching a seedling program based on the Survivor Tree, a pear tree pulled from the World Trade Center rubble after 9/11.
The museum says seedlings from the tree will be sent to what it calls "resilient communities" that embody "the spirit of the Survivor Tree."
Three communities have been selected for the inaugural launch.
MSN: Solemn ceremonies mark 9/11 anniversary
They are Boston, in honor of the marathon bombing in April that killed three people and injured more than 260; Prescott, Ariz., for the 19 firefighters who died battling a wildfire in June; and the Far Rockaways in New York City, which were devastated last year by Superstorm Sandy.
Representatives from each community will attend a ceremony Wednesday at Citi Field to announce the program.
More from Daily Dose:
007 'submarine car' sells for $865,000
Why majority of Americans oppose action in Syria
Ohio man who threatened police holds 'idiot' sign
Subscribe to the Daily Dose | Friend us on Facebook, follow us on Twitter and find us on Pinterest.
Photo: Visitors to the Sept. 11 memorial pass the Survivor Tree on March 20, 2012, at the World Trade Center in New York. The Callery pear, salvaged from the rubble following the attacks of Sept. 11, 2001, was nursed back to health and replanted at the memorial. (Mark Lennihan/AP) 

inspire: live a better life
Our best health and fitness tips including the one move that tones all, berry news, and more.

Who just wants to stand around and watch the red and gold leaves slowly fall from their tree branches to the ground as we move from summer to fall? Instead, take in the changing seasons while you're on the move.

Here's some tips to get to happiness going forward in your life.

People 60 to 82 did best on cognitive tasks before 10:30am.

Lucille Ball was born in 1911, and though we lost her long ago, her legacy as America's favorite redhead lives on through the timeless classic, "I Love Lucy." People of all generations still enjoy Lucy's antics as much as they did over 60 years ago when the show first premiered.

Summer is coming to an end, and in a few weeks, kids will be forced to trade in their beach bags for backpacks. But just because the season is fading away doesn't mean the memories from the past few months have to disappear with it.

Confidence and perceived competence are key, study finds.

Features lead to assumptions about character, study says.

Great gear for an afternoon spent shoreside.

Use these bucket-list ideas to enjoy the little time you have left.

Study points to benefits of improved living conditions.