9/11 museum unveils Survivor Tree seedling program
Three "resiient commuities" have already been chosen.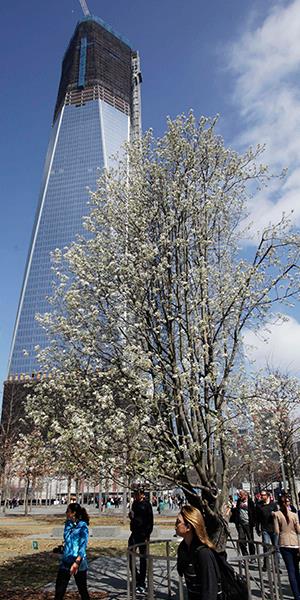 NEW YORK (AP) — The National September 11 Memorial & Museum is launching a seedling program based on the Survivor Tree, a pear tree pulled from the World Trade Center rubble after 9/11.
The museum says seedlings from the tree will be sent to what it calls "resilient communities" that embody "the spirit of the Survivor Tree."
Three communities have been selected for the inaugural launch.
MSN: Solemn ceremonies mark 9/11 anniversary
They are Boston, in honor of the marathon bombing in April that killed three people and injured more than 260; Prescott, Ariz., for the 19 firefighters who died battling a wildfire in June; and the Far Rockaways in New York City, which were devastated last year by Superstorm Sandy.
Representatives from each community will attend a ceremony Wednesday at Citi Field to announce the program.
More from Daily Dose:
007 'submarine car' sells for $865,000
Why majority of Americans oppose action in Syria
Ohio man who threatened police holds 'idiot' sign
Subscribe to the Daily Dose | Friend us on Facebook, follow us on Twitter and find us on Pinterest.
Photo: Visitors to the Sept. 11 memorial pass the Survivor Tree on March 20, 2012, at the World Trade Center in New York. The Callery pear, salvaged from the rubble following the attacks of Sept. 11, 2001, was nursed back to health and replanted at the memorial. (Mark Lennihan/AP) 

inspire: live a better life
A look back on all of the tiny tasks that 30 years of technology has saved you from.

What sets you apart from everyone else looking for a new job or bigger paycheck? Your profile!

With all those deals you snagged on Black Friday, Small Business Saturday, and Cyber Monday, today is your chance to give back to those in need with #GivingTuesday.

Miss Manners provides guidance on how to handle a request for party contributions

Miss Manners instructs on why tit-for-tat never works

Miss Manners offers thoughts on guests who disregard dinner party instructions

Make big bucks, from home, having fun? These women got creative and figured out a way to have it all. You can too.

Your boss. You might like her, you probably respect her, but do you know how to approach someone who seems so different from you? (Spoiler: She's actually not.)

Over the weekend, Oprah decluttered her Montecito mansion and three other properties in a Santa Barbara yard sale that brought in more than $600,000(!). (Proceeds will benefit her girls' leadership academy in South Africa, and not half of a Crate and Barrel chair, the traditional end goal of yard-sale proceeds.)

Exclusively for MSN, we bring you a six-part series from the new book: MISS MANNERS MINDS YOUR BUSINESS by Judith and Nicholas Ivor Martin.

Miss Manners weighs in on the financial burdens of remote weddings